Crawfish for a Cure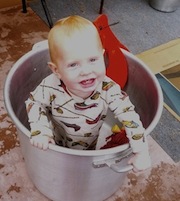 Crawfish Boil...in Southern California? You better believe it! Each year, the Jensen family hosts the event in their backyard near San Diego, California. The 2013 Crawfish Boil occurs Saturday, May 18th and promises to be the most successful fundraiser and crawfish party yet! For more information or to watch the event via livestream in real time, click here to go to the 2013 Crawfish Boil event page.
2013 Jensen Crawfish Boil
The 2012 event occurred in early June and included 150 friends and family, all of whom came by for crawfish shipped in fresh from Louisiana, then boiled with sausage, corn, mushrooms, potatoes and some tasty spices. Live music from the band The Weener Pigs, a crawfish-shaped cake and some refreshments rounded out the event that is an annual favorite for many of the Jensen's family and friends.     
Early this year, the family considered not holding the festivities after Taylor Jensen and her young son River were diagnosed with myotonic dystrophy type 1, a form of muscular dystrophy. But the family realized that as people learned about the diagnosis, they wanted some way to show their support and that this year could mark the beginning of a very special tradition. Their annual event is now a fundraiser to support the efforts of the Myotonic Dystrophy Foundation. "We saw a great opportunity to get the word out about this disorder and raise funds so we can help find treatments and a cure soon, and so River will never feel the effects of this disease," said Taylor.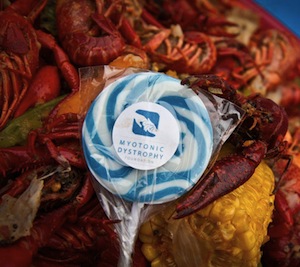 The generosity of their friends surprised even the Jensens as they met and surpassed their original goal of $10,000, raising $12,020. Part of what made the event such a success was the silent auction, which included over 20 gifts from local businesses and friends. Click here to see the Jensen Crawfish Boil Donor List. Said Taylor after the event, "We are so blessed to have such good friends and family to help and support us in finding a cure. We realized we are not in this alone."
Click Donate to join the Jensens in supporting MDF.