News
On Friday, September 26, 2014, the MD-CARE Amendments were signed into law by President Obama!
The 2014 MDF Annual Conference, which occurred Friday, September 12 and Saturday, September 13, was a singular success, featuring oversold registration, an unparalleled number of researchers, pharma and biotech partners and federal agency representatives, and a number of impressive programmatic "firsts."
Researchers from Dr. Matthew Disney's lab at the Scripps Research Institute of Florida recently published an article describing a new chemical they designed to inhibit the unhealthy repeat-containing RNA molecule seen in DM2.
Blog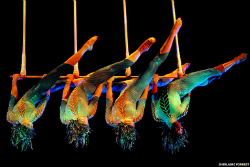 I am often asked the question, "How do you cope with all this DM stuff?" The questioner's purpose, I assume, is to decide how they should be dealing with it themselves.
Saturday, October 25, 2014 - 12:30pm

Saturday, October 25, 2014 - 2:00pm

Saturday, October 25, 2014 - 3:00pm

Saturday, November 1, 2014 (All day)

Tuesday, November 4, 2014 - 7:00pm