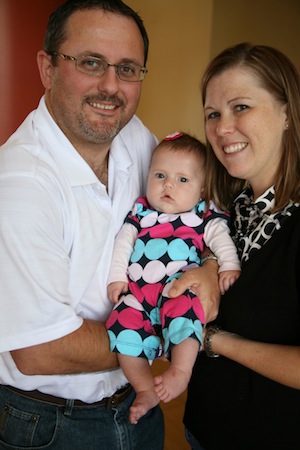 "Live One Day at a Time, Laugh Often and Love Generously"
Life was a picture of good health for the Conte family of Northern Florida until the birth of their second child, Katherine Elizabeth, known as Kate. Kate appeared healthy until sixteen hours after her birth, when she experienced a serious choking episode and was transferred immediately to the NICU at Wolfson Children's Hospital in Jacksonville, Florida. Over the weeks and months, Kate was treated for hypotonia, poor feeding, and a club foot. On Kate's 3-month birthday, she was diagnosed with congenital myotonic dystrophy.
Parents David and Elizabeth admit the first seven days after diagnosis were awful. Then, they decided they couldn't live life in depression and mourning. Instead, they would focus on doing everything in their power to make sure their daughter had the best care possible. Elizabeth connected online with Lisa Vittek and the Conte's soon became part of the MDF family. David, Elizabeth and Kate attended the Family Conference in Los Angeles last October. Elizabeth says the experience was invaluable; hearing the latest research news from those at the forefront of the field, attending the breakout sessions, and meeting and making so many new, wonderful friends.
Now, Kate is 9 months old and improving every day. She receives ninety minutes of physical therapy and an hour of speech therapy each week. Elizabeth says "It's been a rollercoaster ride, emotionally speaking, but we try to live our lives by our new mantra: "live one day at a time, laugh often and love generously." She continues, "We believe that Kate is a special gift and that her sweet and gentle disposition will help her find grace as she grows and learns so many new things in life." David admits that at times, it's hard to balance everything, especially for Kate's big brother Charlie. Kate get's so much attention and they have to be sure he gets enough of his parent's time too. They note that Charlie dotes on Kate and is the first to sooth her with a song when she cries.
The Contes have always been active philanthropists, raising funds and donating time to organizations like Children's Miracle Network, American Heart Association and Susan G. Komen Race for the Cure. It's a a trait that David's grandmother (93 years young) instilled in him. Their efforts are now focused on raising awareness and funds for myotonic dystrophy. They are encouraged by the news this year about potential therapies and want to do their part in helping Kate get closer to a cure.