Making Progress at the 2015 MDF Annual Conference
Every year, the MDF Conference provides a friendly, welcoming place for people with DM to learn from one another and hear from an incredibly diverse array of scientists, researchers, advocates and community members with one thing in common: a belief that every person with DM deserves a high quality of life, and that learning from each other strengthens us all.
The conference is the largest, most dynamic social gathering of people with the disease in the US, some newly-diagnosed and many who have been part of the DM community for years. People who come from far and wide to share their hopes and fears, their determination, struggles and hard won wisdom.
"Nothing is more powerful [than] connections with people who know your fight, with people who know your heart, and with people who remind you that you are not alone, and never alone," reflected Mindy Kim of Greensboro, NC, in a post she penned to her blog right after the conference.
Popular opinion, on Facebook and beyond, has it that this year's conference was a resounding success. "It was the best one ever, mostly because we got to know each other better," wrote Loraine Dressler of Huntington Beach, CA, on the MDF DM1 Facebook Group.
Pre-Conference Features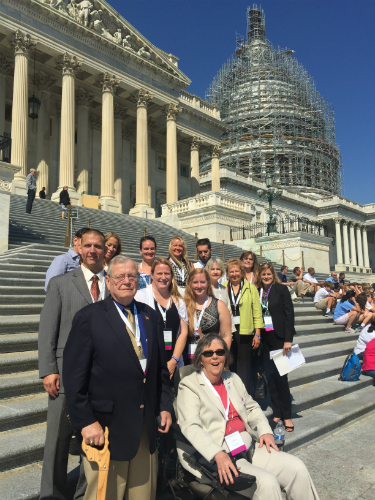 For the past few years, pre-conference sessions on Friday have given smaller groups of participants the chance to take part in more interactive activities, and this year was no exception.
On Friday morning over 80 participants from 21 states and 41 Congressional districts took Capitol Hill by storm. Nearly 45 meetings were held with members of Congress that day, and overwhelmingly the response from legislators was positive. Nearly every office agreed on the importance of medical research funding and expressed their support for the 21st Century Cures Act and the Senate Innovation for Healthier Americans Initiative.
Following the excitement of the day's meetings, many advocates attended MDF's first Congressional briefing. We were joined by Congressional staffers as well as representatives from industry and academia, and filled the room with nearly 100 people. Dr. S. Subramony, MD, of the University of Florida, and Dr. Gersham Dent, PhD, of Biogen, spoke to the crowd about the importance for federal support for research and drug development for rare diseases like myotonic dystrophy, and were then joined by two community members - Joachim Boekelmann of Princeton, NJ, and Lee Baker of Roanoke, VA - for an inspiring question-and-answer session.
The highlight of the briefing was getting a chance to hear from not one, but two members of Congress themselves! Rep. Gus Bilirakis (R-FL), a leading champion of 21st Century Cures, joined the briefing to talk about access to treatments. The event ended with Rep. Michael Burgess (R-TX), the primary House sponsor of last year's MD-CARE Amendments, thanking our advocates for their work in getting Congress to pass the historic muscular dystrophy legislation.
Back at the hotel, as part of MDF's new Health and Wellness University, attendees had the chance to participate in yoga and meditation and to learn about acupuncture for pain and gastrointestinal issues. An art therapy session for adults living with juvenile-onset DM1 produced resulted in beautiful paintings that were displayed throughout the rest of the weekend. Several of the presenters during the Health & Wellness University were professionals with significant experience working with people who are affected by the disease.
Conference Highlights
Current and future research on DM was a central theme of this year's event, as MDF sought to offer concrete, accessible information about what has been learned thus far and what it will take to develop new drugs for myotonic dystrophy.
Post-doctoral researchers who are funded by MDF and represent "the next generation" of scientists to investigate the inner workings of the disease shared insights about the projects they are undertaking in their laboratories during a panel session entitled Funding the Next Generation: MDF Fellows Report Out.
Community members who are curious about exactly what lies ahead on the path to developing new drugs for DM will find the presentation Accelerating Research by MDF's Chief Science Officer Dr. Sharon Hesterlee, PhD, very informative. Dr. Hesterlee spoke about the need to make the path to FDA approval of a potential drug treatment for DM as smooth as possible, and strategies to make sure that future drug treatments will be affordable for families. Patient involvement in the research process, she explained, is the key to making sure that researchers in academia and at pharmaceutical companies have what they need to forge ahead. The Myotonic Dystrophy Family Registry and biobanks like one at Stanford University help deliver the biological tissue (human cells) of individuals with DM to researchers when and where they are needed. And information about clinical trials and who is eligible to participate is always available on MDF's Study & Trial Resource Center.
In a panel on exercise titled Staying Strong, community members Dr. Leslie Krongold, EdD, and Mike Hamlin shared their personal experience with setting goals (and rewards!) and motivating themselves and other juvenile onset adults to embrace a regular routine. Physical therapist Dr. Katie Eichinger, PT, DPT, assured the packed room that no goal is too minimal to set - the key is regular resistance exercise that's not overly taxing on the body. "The more you do it, the better you feel. The better you feel, the more you do it. The hardest thing is to get started," explained Edibell Stone after the session. Edibell is an accomplished advocate and fundraiser for the DM community and a proponent of daily self-care. For years she has made swimming a central physical activity she does regularly with her affected sons.
More than 100 people attended the Heart Health presentation by Dr. Saman Nazarian, MD, PhD, a specialist in cardio electrophysiology at Johns Hopkins University. Dr. Nazarian offered a detailed but accessible look at research into how the heart's conduction system is affected by DM, the causes of heart trouble, and the circumstances that lead him to recommend a pacemaker or a defibrillator. After taking many questions from the audience, Dr. Nazarian offered his email address to DM patients who need referrals or other information and encouraged the community to contact him with any further questions or concerns.
For Laurence Mignon, PhD, of Isis Pharmaceuticals, the conference was gratifying. Dr. Mignon wrapped up the conference by sharing an update on DMPK-Rx, a therapy currently in clinical trials for DM1, and was treated to a standing ovation after she finished her talk.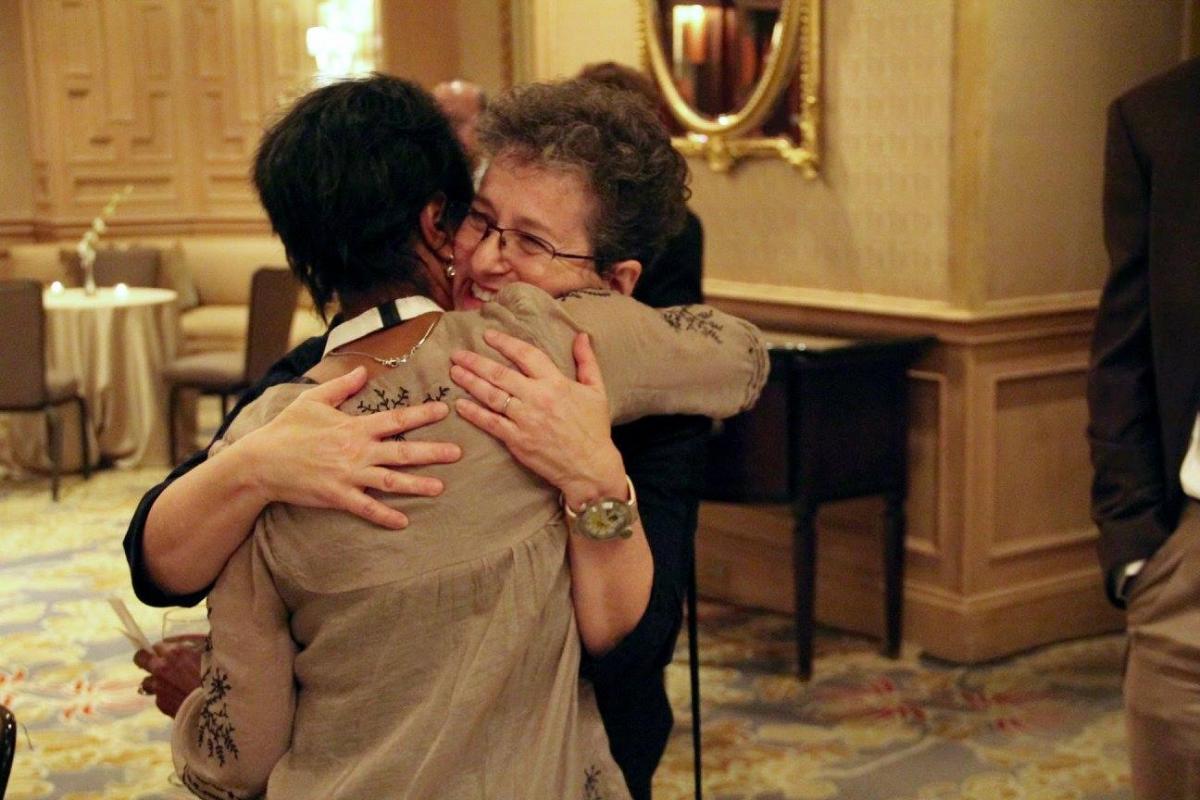 Even with so many topics and so much activity, the MDF conference still had an intimate feel. A track led by community members featured a special session for female caregivers only on maintaining intimacy. Another, for male caregivers who are unaffected, offered a chance to talk with candor about the challenges of caring for spouses and children. In a session on coping strategies, three young-to-middle aged adults opened up about how they initially responded to the diagnosis and the coping skills they have developed to surmount depression and denial and adjust the dreams and expectations they hold as parents. These courageous presenters stressed being kind to one's self and getting support from family and friends, as well as the unfortunate but familiar advice, "Be prepared to know more than your doctor."
And for Teresa Buffone of Ontario, Canada, and Belen Esparis and David Kugler of Miami, FL, the conference brought a shock of surprise and delight. Tears began to flow - theirs and others' - as they were awarded the Advocacy Champion and Humanitarian Awards, respectively, for their outstanding work on behalf of the DM community. (Regina Thompson of Murfreesboro, TN, received the TeamMDF Volunteer Award, but was not in attendance at the conference.)
You can watch recordings of the 2015 MDF Annual Conference sessions on MDF's Digital Academy, and view photos from the weekend on MDF's Facebook page.
09/24/2015