MDF's third annual Grandparents Campaign was a great success! Over ninety people donated more than $39,000 for myotonic dystrophy research and support. This is triple the amount raised last year. We thank all of you who supported these loving grandparents who are working to create a brighter future for their grandchildren.
Special thanks go to Betty Couch for offering a generous matching gift to help inspire her friends, family and community to donate. Betty shared her experience with us, saying, "[My granddaughter] Clara, her parents and I are so touched by the outpouring of heartfelt support we received during this Grandparents Campaign. We are grateful to know we're not alone, and that research progress is providing hope for a cure so Clara and others like her will be able to strive for their future dreams and aspirations."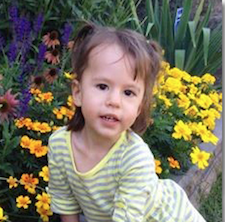 Another big thank you goes to Cecile LeComte, who has participated in the Grandparents Campaign since its inception in 2013. For the past three years, Cecile has raised funds on behalf of her three-year old granddaughter, Addison Chin, with the help of dedicated family and friends. This year was her most successful year yet, with over thirty generous supporters making contributions in Addison's name. Cecile shared with us, "We appreciate all of the help and support we received from family, friends and all who attended our fundraising event this year. The MDF Grandparents Campaign is a great way for me to raise awareness about myotonic dystrophy and to actually help impact my granddaughter's future."
Lisa Payne not only conducted a Grandparents Campaign outreach effort to her friends and family this year, she also partnered with Loraine Dressler and other grandmoms to create Miles the Myotonic Lyon, who is busy traveling internationally to raise visibilty and funds for myotonic dystrophy research and care. Many thanks to Lisa!
We are also deeply grateful to Margaret and Fred Schuber, who have again generously supported the campaign in honor of their grandson, Jackson.
If you would like more information about the Grandparents Campaign, please contact Jessica Powers, MDF Development Director, at 415-800-7687 or by email.  We hope you will join us in September 2016 for the 4th Annual MDF Grandparents Campaign.