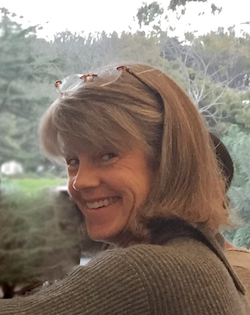 Marsha Dugan likes to describe herself as simply a stay-at-home mom, and avoids talking about her MBA and experience in international business, finance and marketing. Marsha, 60, who stepped back from the business world to raise her two sons, joined the board of the Myotonic Dystrophy Foundation in January 2017.
She became one of the first members of the board who does not have myotonic dystrophy, a family member with the disease, or a biomedical background. What Marsha does have is close ties to members of the MDF community and a commitment to the organization's growth and evolution from its earliest days.
Marsha's sons attended elementary school with the sons of MDF co-founders Jeremy and Erica Kelly, and knew them before Erica and her two sons were diagnosed with DM1. The two families grew close, and Marsha and her husband Tom have been contributors to MDF and participated in Kelly family fundraising and organizational development efforts that followed their diagnosis about 13 years ago. 
"Because of the way they have approached this news and this reality in their lives with such courage, strength, class and energy, people are drawn to them," said Marsha. "It's really a neat thing to be a part of. You want to help them and the other community members who are living with this disease along with them." Marsha, who has served on the boards of several nonprofits, hopes to bring her experience in board governance and best practices to help the organization as it grows, help keep it on track to meet its goals, and do what she can to foster an environment where the work is meaningful and fulfilling to keep people engaged.
Expanding Boundaries
A native of Oklahoma, Marsha grew up in Edmond, Oklahoma, about 15 miles north of Oklahoma City. She earned a bachelor's degree in political science from Randolph-Macon Woman's College (now called Randolph College) in Lynchburg, Virginia, but despite thoughts of working in Washington, D.C., she returned home because her mother died and she still had a younger sister in Edmond. After 12 years working in the oil and gas exploration industry, Marsha went on to earn an MBA at the University of North Carolina at Chapel Hill. Though she's long since left Oklahoma, a mild accent remains that serves to provide a soft delivery to her gentle frankness. "It was a great place to grow up," she said, "and a great place to have in my rearview mirror."  
After graduating from the MBA program in 1992, she joined the MBA Enterprise Corps, a program designed to allow recent MBA graduates to serve as consultants to businesses in developing countries. Marsha spent 18 months working for banks first in Bratislava, Slovakia, and then in Prague, Czech Republic, where she met her husband. The two later moved to the San Francisco Bay Area and Marsha took a job with Bank of America in its middle-market credit group; the experience confirmed in her mind that she didn't enjoy working in a large corporate environment. She was then recruited to the brand and marketing consulting firm Prophet, where she performed financial market research. Marsha and her husband settled in Mill Valley, California, a city just north of San Francisco, and she gave birth to the first of their two sons at the end of 1997. He is now in college.
Making a Difference
As Marsha's family grew closer to the Kelly family, they became involved with the Kellys' efforts to raise awareness about and combat myotonic dystrophy. They contributed, helped craft fundraising appeals, and had the opportunity to meet with and come to know MDF Chief Executive Officer Molly White. For Marsha, her relationship with the Kellys has enabled her to understand some of the concrete impacts that a progressive disease can have on people and families, and has given her the opportunity to make a difference. When Marsha attended the MDF Board's two-day strategic planning retreat in January 2017, she learned in detail about MDF's efforts to drive Care and a Cure for myotonic dystrophy: to help people with disease manage their symptoms, live better lives, and to accelerate efforts to find successful therapies.
"Being part of this board and seeing the incredible scientific minds that Molly and Jeremy have brought together to tackle the Cure and a Care side is so exciting," said Marsha. "It's so inspirational. To be a part of moving that ball forward and play some small part in improving the lives of people living with this disease and preventing it from happening in the future -- what better thing can you be asked to be a part of?"