Rare Disease Day 2017
MDF is excited to participate in Rare Disease Day 2017, an annual event that takes place on the last day of February to raise awareness of rare diseases among policy makers, the scientific community and the general public. MDF will roll out the 2017 Every Body Counts! Campaign in February for Rare Disease Day this year. The Every Body Counts! Campaign is designed to get DM community members involved in clinical studies and trials by promoting research and trial opportunities currently available to our community members, and sharing stories from study participants who describe why participating in research was a positive experience for them. 
The Theme - Research
Rare Disease Day takes place every year on the last day of February—the rarest date on the calendar—to underscore the unique nature of rare diseases and what people living with rare diseases face. MDF will join hundreds of patient organizations worldwide in celebrating Rare Disease Day 2017, which will feature research as this year's theme.
Participate and Win a Lab Coat!
Participation in research studies and clinical trials from community members like you is critical to finding therapies for myotonic dystrophy. Many researchers in the DM community have told MDF that they do not have enough community participation from MDF patients and families to adequately drive their studies. We need you! And to thank you for getting involved, the first 10 MDF family members who sign up for new research opportunities will win custom lab coats monogrammed with their names and autographed by leading DM researchers. 
Get Involved!
Click here to see a list of current research study opportunities. Send MDF an email with information about studies you have joined as part of the 2017 Every Body Counts! Campaign. To be eligible to win a custom lab coat, you must enroll in a new research study or trial by March 1, 2017. See more information below.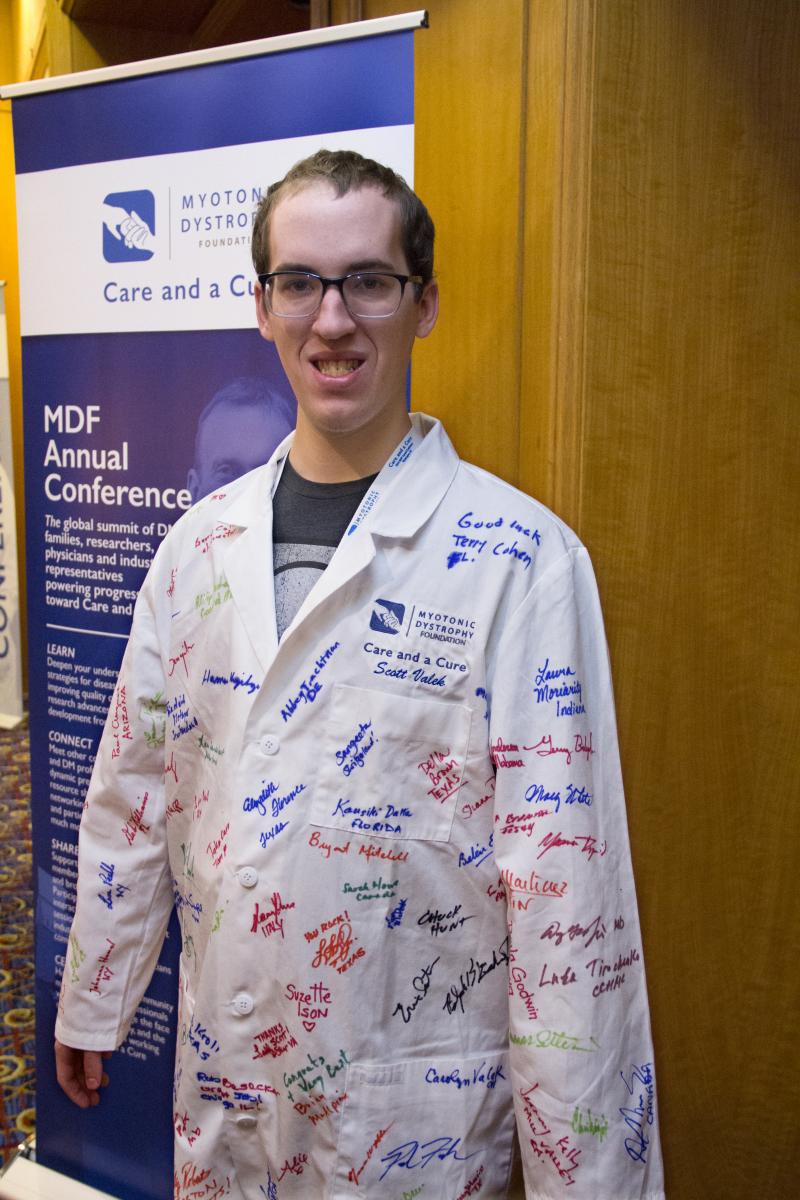 "We've made great strides in advancing research for Care and a Cure, but we won't find treatments or a cure for myotonic dystrophy without the active participation of people living with this disease," said John Porter, MDF chief science officer. "During the 2017 Every Body Counts! campaign I hope all our community members will look for ways to support clinical trials and studies."
"We applaud the Myotonic Dystrophy Foundation for their continued support in raising awareness for rare diseases and educating their community on the significant role patients play in research studies and clinical trials by encouraging their participation," said Kristen Angell, membership manager of the National Organization for Rare Disorders (NORD).
Rare Disease Day is organized by patient advocates who have joined with EURORDIS, a non-governmental patient-driven alliance of patient organizations representing 733 rare disease patient organizations in 64 countries. EURORDIS serves as the voice of 30 million people affected by rare diseases throughout Europe.
Every Body Counts Campaign Information
The first 10 MDF community members who enter a new study or trial before March 1, 2017 will receive a custom lab coat monogrammed with their name and signed by a leading DM researcher. Only MDF patients and family members who sign up for a new research study or trial (not one in which they are already engaged), before March 1, 2017 are eligible to win. Researchers, clinicians and other DM professionals are not eligible to win. Questions about the Every Body Counts! campaign? Email Paul Formaker, MDF Program Director.
(Pictured: Scott Valek Wearing a lab coat)