Stanford University has created a Myotonic Dystrophy Biobank to provide high-quality biological samples to researchers around the world. Because DM is rare, researchers often lack adequate biological samples for their research, posing a critical barrier to advancing science and discoveries. "The DM Biobank will help create a critical mass of samples to support DM research," says Katharine Hagerman PhD, Neurology Research Associate for John Day, MD, PhD, Stanford University.
The Biobank collects blood, muscle, skin biopsies, spinal fluid and other specimens from consenting DM patients and their family members. Samples can be collected by your doctor during a regularly scheduled office procedure, during a research visit, or at the time of death. "The decision to enroll in the DM Biobank is a very personal one that should be discussed with family members," explains Dr. Hagerman. 
Regardless of where you live in the United States, you may enroll in the Stanford Myotonic Dystrophy Biobank, even if you are not a Stanford patient. For more information please contact the Stanford Biobank at stanfordbiobank@lists.stanford.edu or call (650) 497-9807.  
Click here for more information and frequently asked questions.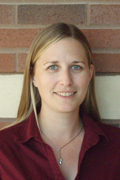 "By participating in the Myotonic Dystrophy Biobank, community members can play an important role in the development of new therapies that may help patients today and for generations to come." -Katharine Hagerman, PhD, Stanford University 
05/21/2014