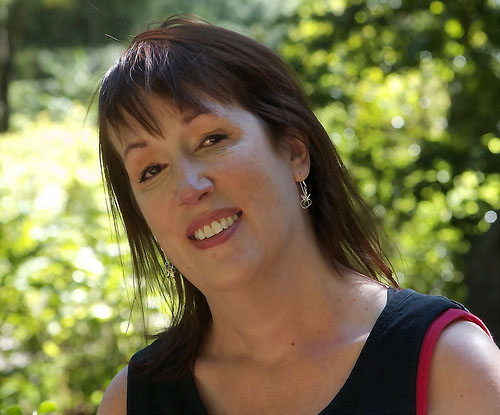 "My condition is not who I am. It does not define me." This is one of many affirmations that Amy Ream adopted after being diagnosed with myotonic dystrophy 17 years ago.
"I've been obsessed about retaining my quality of life, and being stubborn has benefited me greatly," states Amy. Her determination became obvious when she shared her story with Myotonic.
A fitness enthusiast for most of her life, Amy hired a personal trainer to help her enhance her fitness routine just before her 30th birthday. "I had always been a runner but I wanted to really focus on my health and get in shape," she recalls. "But when I started working out with free weights, I couldn't even pick up five pounds." Her trainer and now friend Omar insisted she see a doctor. Amy scheduled an appointment and took time to write down any other minor medical issues that she'd been noticing over the years.
Piecing together a Diagnosis
"Despite being a runner, I'd noticed an aching in my thighs when I was walking up stairs, as well as some pain in my hands," she says. "In addition, when I was about 23 I'd noticed that my tongue was tired and would often cramp in the mornings, causing me to slur my speech." As she wrote down each symptom, she started to wonder if they might all be connected.
"I had no knowledge of a history of DM in my family, so when the doctor mentioned myotonia, it was all new to me," she shares. Her primary care physician referred her to both a neurologist and rheumatologist. It didn't take long for them to put the pieces together. In fact, it was at her first visit to the neurologist in 1997 that Amy had an EMG test and received a pre-diagnosis of DM.  A genetic test later confirmed the diagnosis.
Since then, life has changed but Amy refuses to allow her physical limitations to keep her down. Although no longer able to run, she now walks a mile and a quarter nearly every day. "One doctor predicted I would eventually be unable to walk. He encourages me to take days off when I'm tired, but I'm committed to walking daily, rain or shine. I believe it helps keep me out of a wheelchair," she explains.
Amy's no-holds-barred attitude permeates every aspect of her life. In her youth Amy was an accomplished pianist and was accepted into the UCLA School of Music, but is now unable to play. "In 2011 I was listening to my former piano teacher Nancie Kester play the piano and I just cried," Amy recalls. "Not because I couldn't play, but because I missed my identity as a musician."
Finding Passion in Performance
As a result, Amy decided to study voice and has become "completely obsessed" with singing. In January 2012 she began taking classical singing lessons and decided to plan a performance that would not only allow her to share her love of music with friends and family but would also raise money for one of her favorite non-profit organizations.
In September 2013, just over a year and a half after beginning voice training, Amy performed in the sanctuary of a local church and raised $2,600 for BORP, the Bay Area Outreach and Recreation Program. BORP focuses on helping people with physical disabilities through sports and recreational activities.
"The recital was an amazing experience," Amy recalls. "Singing has become a center of peace for me. I didn't think of myself as a singer before but now I'll sing anywhere. I once even sang at a Verizon store!"
Amy's enthusiasm for life and her determination to live fully despite her diagnosis has not gone unnoticed. She was awarded an MDA "Personal Achievement Award" for the state of California in 2000. "They were looking at how I continue to function and embrace my condition. A lot of people don't embrace change, but with DM you have to," she says.
"A saying I often repeat to myself—and anyone who will listen— is: I may not be able to run, but I can walk. I may not be able to play piano but I can sing. I may not be able to jump for joy but I can laugh with glee. That's me. That's what I'm all about."
You can view Amy Ream's recital on the Amy Ream YouTube channel.