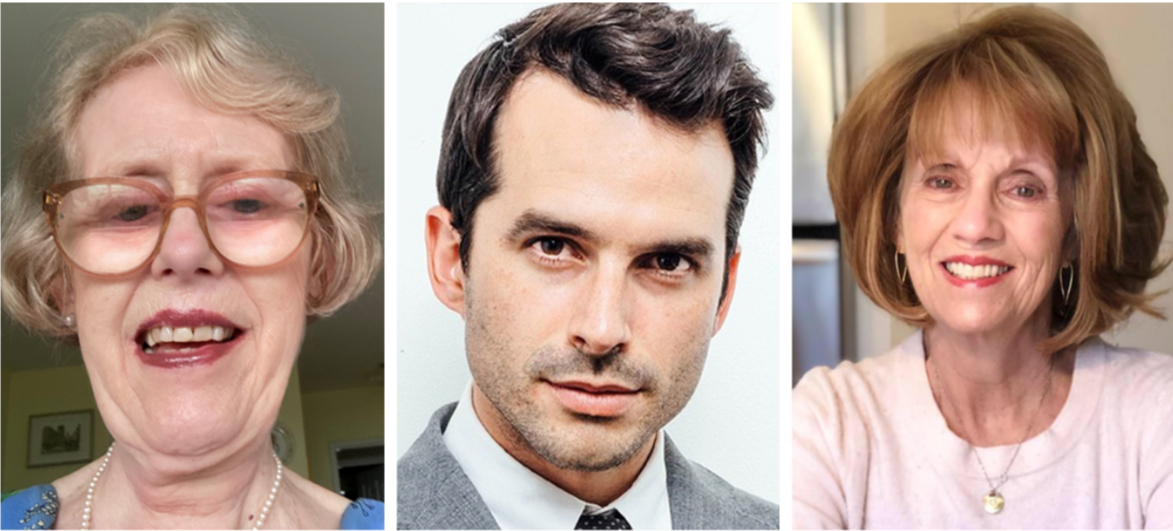 In January 2023, MDF's Health Resources Coordinator, Ruth Sheldon, sat down with New York City MDF Support Group Facilitators, Glenda Winson, Guillermo Zubillaga, and Jan Jaffe.
New York City might evoke an image of Times Square buzzing awake at night. Neon signs and digital screens advertise any number of restaurants, brands, and attractions. I remember my first visit to New York City and the way it made me feel so small. There was comfort in the anonymity; seeing hundreds of people simultaneously crossing the street at a busy intersection was thrilling. I imagine, however, there is also a hint of loneliness. There is something about seeing people busily going about their day and feeling outside of it all. Living with myotonic dystrophy (DM) tends to slow everything down; we might process slower, walk more carefully, or speak with more intention. It would be challenging to exist among the fast-paced lifestyle of Manhattan and surrounding boroughs. That is why it is important, especially as a person living with DM, to have support. One place we can seek out that mutual aid is within a support group. And in New York City, look no further, because Glenda, Guillermo, and Jan are the team of cheerleaders you need in the Big Apple.
Glenda has been living with DM2 for 26 years. Glenda became involved with MDF after attending an MDF Annual Conference. She noted that it was a chance email that made her attend, and she was grateful it arrived in her inbox. Her involvement with MDF has continued on since then; this year, she identified a gap in support groups for New York City and offered to cofacilitate a new group with Jan.
The oldest of eleven children, Jan learned about DM and MDF through the diagnosis of her siblings. Unexplainable symptoms experienced by her brother led to a diagnosis of DM and led some other family members to seek testing. DM proved widespread in her family, and Jan reported that four of her siblings have passed away from the disease. Jan contributes to the support group to hold space for others living with DM and provide words of encouragement to those navigating this highly variable disease. These two women are joined by Guillermo.
Originally from Venezuela, Guillermo now lives and works in New York City in public policy and corporate relations. Guillermo's sister began showing signs of DM but was only diagnosed after having affected children. Guillermo researched DM and learned about MDF as a resource for him and his family. Guillermo has significant experience working within nonprofits, as well as moderating conversations, and engaging stakeholders. The self-proclaimed "tech guy", Guillermo applies his professional expertise to a condition about which he is incredibly passionate.
These three bright and warm souls complement one another beautifully and make up a support team that will make you feel less alone. I was recently listening to an old commencement address given by Maya Angelou in 1983. She was speaking to young college graduates about venturing out in the world. She states, "You are phenomenal… because you come from a phenomenal people... It is wise to remember where you came from... Take everybody on the stage with you all the time. Everyone who has ever loved you… Whenever I have to come up on the stage… whatever I have to do, I take Mamma with me. I know that that's wise. Take everyone kind and bright on the stage with you" (Angelou, 1983). I think I know that these three will be on my stage.
When I watch the traffic lights change from green to yellow, and I feel like I am moving too slow relative to the world and people around me, I will think of these three. These three people are your people, just like they are now my people. "When you are most frightened, think -immediately- think of some particular teacher… Think of an uncle, an aunt, a grandmother. Think! And pull them to you." When I worry about slipping on the ice, or the way the cold winter exacerbates my myotonia, I will pull Glenda, Jan, and Guillermo to me. They are eager to engage with you and the DM community, and they hope you will join them for their next meeting! Click here to view all of MDF's upcoming support groups.
Thank you Glenda, Guillermo, and Jan!