by Niv Joshi
In 1991, Peter Ingraham was an avid guitarist until he started experiencing weakness in his left index finger. At the time, he had recently completed his master's degree and was working in Daytona Beach, FL as a computer engineer. After he sought medical attention help for what seemed to be a minor issue with his finger, Peter was diagnosed with myotonic dystrophy type 1 (DM1) at 30 years old.
 "I had never heard of myotonic dystrophy before the neurologist diagnosed me with it," Peter said. He shared the news with his family and his four siblings subsequently tested positive for DM. "I was the first one diagnosed. Probably because I was the first one to have my life affected because of it."
They determined Peter had inherited the DM gene from his father, whose two siblings had been living with symptoms of the disease. "I had seen my aunt wear leg braces, but her family never told us about DM because we all looked healthy," Peter shared. His father, who was asymptomatic, lived a healthy life until the age of 79. "He had back problems and cataracts, but those are such common symptoms that can happen to anybody as they age."
After the diagnosis, Peter continued to lead an active life. That year alone, he: played ice hockey in a local men's league; played first base for an intra-company softball team; and ran the half-mile leg of the relay-race portion of the "Corporate Cup", the 5K Catfish Festival Race, and the 4-mile Easter Beach Run. His physical decline has been slow but steady over the years, and despite his efforts, Peter has since lost about 40 lbs.
Peter and his wife-to-be, Lorie, who had been dating for around three years at the time of his diagnosis, married two years later in 1993.
Living in Boston for the first five years of their marriage, Peter's commute to work involved a subway ride and 3-mile walk, which gradually became more difficult as years passed and his symptoms became more pronounced. By 1997, he started experiencing issues standing without assistance. Looking for support, Peter decided to visit a Muscular Dystrophy Association (MDA) clinic, who recommended the usage of ankle foot orthosis (AFO). Incredibly, these AFO braces helped him walk without extra help for over 20 years!
As their love for each other grew, Peter and Lorie started thinking about the future of their family. Instead of having children with the possibility of inheriting the disease, they decided to adopt. In 2004, they brought home a baby girl from Guatemala, who is now a sophomore in college.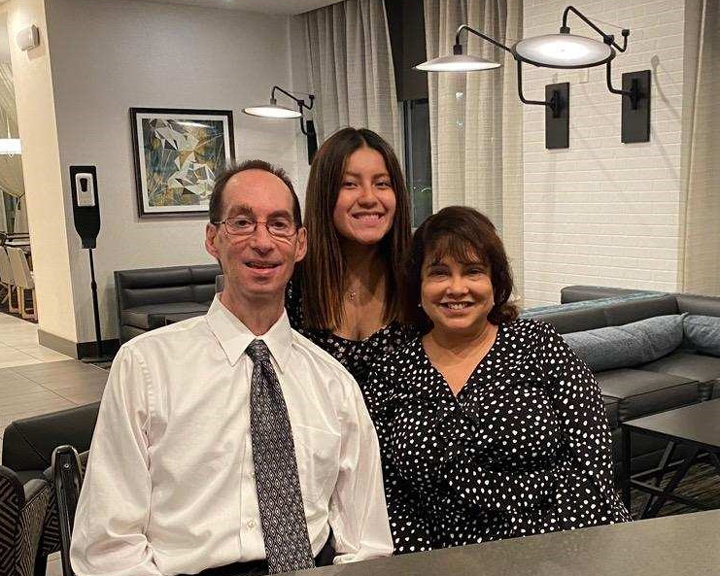 "At 61, I am now fairly disabled. I refer to my inability to do things as tipping points," Peter said. "I do things until I can't, like I can't play guitar anymore, I can't skate anymore, I can't drive anymore, and now I can't walk, so I get around on my scooter these days."
Lately Peter has been an active advocate for the DM Community and has been involved with a number of Myotonic Dystrophy Foundation support groups. "I want to help out the DM community as much as I can," Peter said. "I want to volunteer, advance the cause and advance the research." He has even been involved in clinical trials and studies for myotonic dystrophy, including an antisense pre-trial bio-measures study at the University of Florida in 2014.
Aside from his involvement with the DM community, Peter and Lorie enjoy going to rock concerts. Their recent concerts include Electric Light Orchestra, Elton John, The Eagles, The Doobie Brothers and Santana. Peter has also recently reinvigorated his passion for reading. Science fiction and historical fiction are some of his favorite book genres.
In addition to his love for reading, Peter also enjoys writing. Before his brother and best friend, Bud, passed away in 2019, they were drafting a book together, penning their experiences and stories from when they were growing up in small-town New England. Peter has since finished writing the book and is now collaborating with his wife to edit it.
"My lovely wife Lorie has been with me all the way and is now my personal-care giver, coach and agent. I have a positive attitude thanks to her," Peter shared. "All things considered, I've been very lucky to have the support of such loving family and friends."