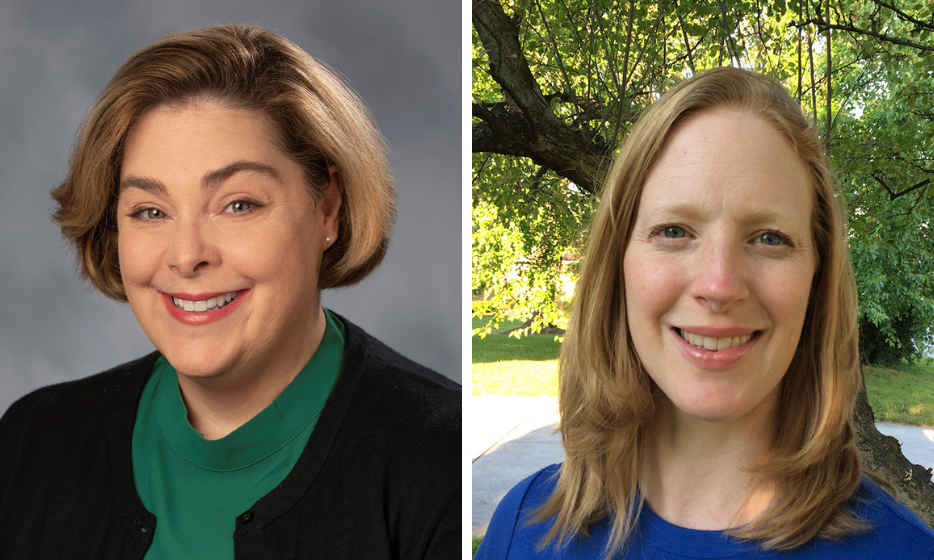 In January 2023, MDF's Health Resources Coordinator, Ruth Sheldon, sat down with Virginia State MDF Support Group Facilitators, Jodie Howell & Samantha Welsh.
My kitchen egg timer has become somewhat of a comforting motif throughout these interviews. As I call the new support group facilitators, I spin the timer until the small arrow points at "fifteen". When I began reaching out to the support group facilitators, I found it important to be mindful of the time being donated; each one of these individuals are volunteering their time and labor. Consciously dedicating hours of their week to support the myotonic dystrophy community, these support group facilitators have decided that they have a higher capacity to contribute. I am quite consistently taken aback by people like Jodie Howell, LPN, CCRP, and Samantha Welsh, who are actively involved in their own communities, but have determined that they have a greater threshold to give.
Jodie has an extensive background in the medical field. Prior to the birth of her sons, Jodie was a nurse, but now she holds the position of Clinical Research Coordinator at Virginia Commonwealth University. Jodie's professional life has placed her centrally within the community of people affected by neuromuscular disease. She has implemented studies and trials for DM1, and for the last three years has focused on the Myotonic Dystrophy Translational Research Program at Virginia Commonwealth University. Jodie found the Myotonic Dystrophy Foundation (MDF) through her work with Dr. Nicholas Johnson in 2019 and has attended several conferences. Jodie has been committed to the DM community for years and sees the high need for individuals to be represented within their communities, and among those who serve them. Thus, her great passion was what motivated her to take on the responsibility of cofacilitating a support group.
Samantha is similarly qualified, having spent much of her professional life in roles that serve her community. As administrator for a large educational program serving children, youth, and adults, Samantha knows the incredible value of mutual aid. In his late thirties, Samantha's husband Jay developed adult-onset DM1. Once a physical trainer, Jay is no longer able to work in the field as a result of his symptoms. Samantha and Jay found MDF through support services and the MDF Annual Conference. Motivated by Jay's incredible attitude, her faith, and her strong community, Samantha has decided to cofacilitate a support group to give back to the community that has so greatly aided her.
Both women have vast professional experience that make them exceedingly qualified to cofacilitate the Virginia area Myotonic Dystrophy Support Group. Members of this support group are privileged to have Jodie and Samantha holding space for the in-depth discussion and encouragement that takes place in their meetings. These two were absolutely lovely to communicate with. I was so eagerly suspended in the conversations that each were abruptly punctuated by my egg timer; the abrasive ringing reminded me of the preciousness of their time.
As I reminisce on each of the exchanges I had with both Jodie and Samantha, I am amused by the way that both involved photographs. Prior to our conversations, the only information I had on these two women were the short paragraphs introducing them on the Myotonic Dystrophy Foundation website. One thing that jumped out at me was Samantha's reference to her two cats. "Well," I thought, "I can certainly relate to that!". As I emailed Samantha to schedule our interview, I attached a few photos of my own cats with hopes that it might help us build rapport (which it did!). Similarly, Jodie and I spoke about the blizzard that recently left nearly a foot of snow on my doorstep. She remarked on the lack of winter precipitation in her region and requested a photo; I happily obliged. Each woman elicited beautiful images of calming entities: cats snuggling on a sofa and quiet mornings with snow blanketing the avenue.
I imagine that the comforting images they brought to our conversations mirror those that they bring to their group. Their unwavering commitment to bettering the world is palpable. They seek connection, and those of us who are lucky enough to cross their paths reap the benefits. Jodie summarized this sentiment beautifully; "Giving a little bit of my time is a small sacrifice to help people find each other. We don't know what is going to show up, but we are there, and we are present… Give each other grace and meet them where they are. Be supportive. That is all we can give and that's enough". It is more than enough.
If you find yourself yearning for connection or are seeking encouragement regarding your life with myotonic dystrophy, Jodie and Samantha warmly invite you to attend their support group! Their next meeting will be held virtually (via Zoom) on January 26th at 7:00pm EST. It costs nothing to join, but you are guaranteed to reap the benefits of fellowship and good conversation! Click here to find all of MDF's upcoming support groups.
Thank you Jodie and Samantha!