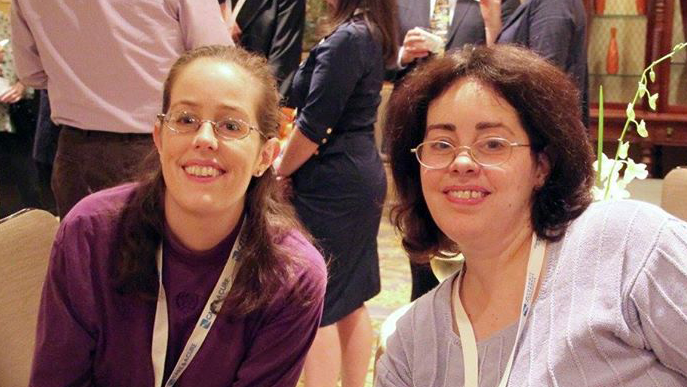 Mary Dowdle, a 40-year-old substance abuse counselor living in Haymarket, Virginia, learned in 2011 that she had DM1, a disease that also affects her sister, Caroline Easterling, and that affected her father during his life. For Mary, the effects of DM1 have so far been manageable – mainly gastrointestinal problems and myotonia – but she watched the toll it took on her father as it disabled him, and she knows what the disease can do.
That's ultimately what prompted her to participate in a study to find biological indicators (biomarkers) of DM1 disease progression and a clinical trial for IONIS-DMPKRx, an experimental compound that targeted the underlying molecular defect in DM1.
"Being in studies allowed me to learn more about the disease, how the research is progressing, and what they're hoping will finally answers the questions (about DM)," Mary says. "It gave me more knowledge about what kind of research is being conducted and what researchers hope the outcome will be; it allowed me to be in the loop when all that information comes out."
Go for It, But Be Prepared
Her advice to those considering study participation is, "Go for it, but be fully prepared and know what it is that you're getting into." She adds, "If people want to get into a study, being part of a registry (see Myotonic Dystrophy Family Registry and National Registry for Myotonic Dystrophy and Facioscapulohumeral Dystrophy or your local country registry for more information) is extremely important."
"Reading the MDF Dispatch every month is really helpful. I encourage anyone who's willing and able to participate to do so. The main reason for me for being in a study is to move the research forward, so we can eventually find a cure."
Starring Role
During the biomarker study, which was part of the Myotonic Dystrophy Clinical Research Network (DMCRN) study that concluded in late 2015, Mary's foot became an unexpected star and won her a seat at a roundtable discussion about new symptoms.
"The researchers at the National Institutes of Health clinic where I participated in the study discovered I had a symptom they had never seen before. It takes my big toes longer to relax after use than it does the rest of the muscles, and they move in an odd way when I release. The toes tend to move upward and then to the side and down. The right one is more profound than the left. So they videotaped my right toe doing that, and I got to be in a roundtable discussion about this new symptom, which was kind of interesting and cool."
Study Staff Supportive
The support from the study investigators and other staff was also a plus. "Dr. Ami Mankodi at NIH [National Institutes of Health in Bethesda, Maryland, a site for the biomarker study] was amazing. She was so nice and accommodating, and she answered all my questions. I was able to reach (study coordinator) Hirity Shimellis, 24-7. Dr. Mankodi gave me her cell phone number, which is usually unheard of with doctors. She was fabulous."
The Ionis clinical trial was a little more demanding in terms of the time required and the number of procedures involved. However, Mary says, "The researchers at Kennedy Krieger Institute (the Baltimore study site for the drug trial) were fabulous. Dr. Doris Leung was our lead person, and I got her cell phone number. She answered all my questions and was extremely personable. All of them were really professional, and they made me feel like I was doing a good thing. They were very appreciative of my being in the trial."
Mary Dowdle and her sister Caroline Easterling participated together in the DM biomarker study at the NIH clinic in Bethesda, Maryland. (To learn more about this and other studies, see the MDF Study and Trial Resource Center. The biomarker study is listed under the Current Studies and Trials tab as "Multicenter Observational Study of DM1".) Both sisters later participated in the study of the experimental Ionis drug at the Kennedy Krieger Institute.
Scientists have repeatedly stated that participation in research studies and clinical trials from community members like Mary Dowdle is critical to finding therapies for myotonic dystrophy. To help get more MDF community members engaged in DM research and support the 2017 Rare Disease Day program, MDF is presenting the Every Body Counts! Campaign throughout the month of February. MDF will award custom lab coats custom monogrammed and autographed by leading DM researchers to the first 10 MDF family members who sign up for new research opportunities.