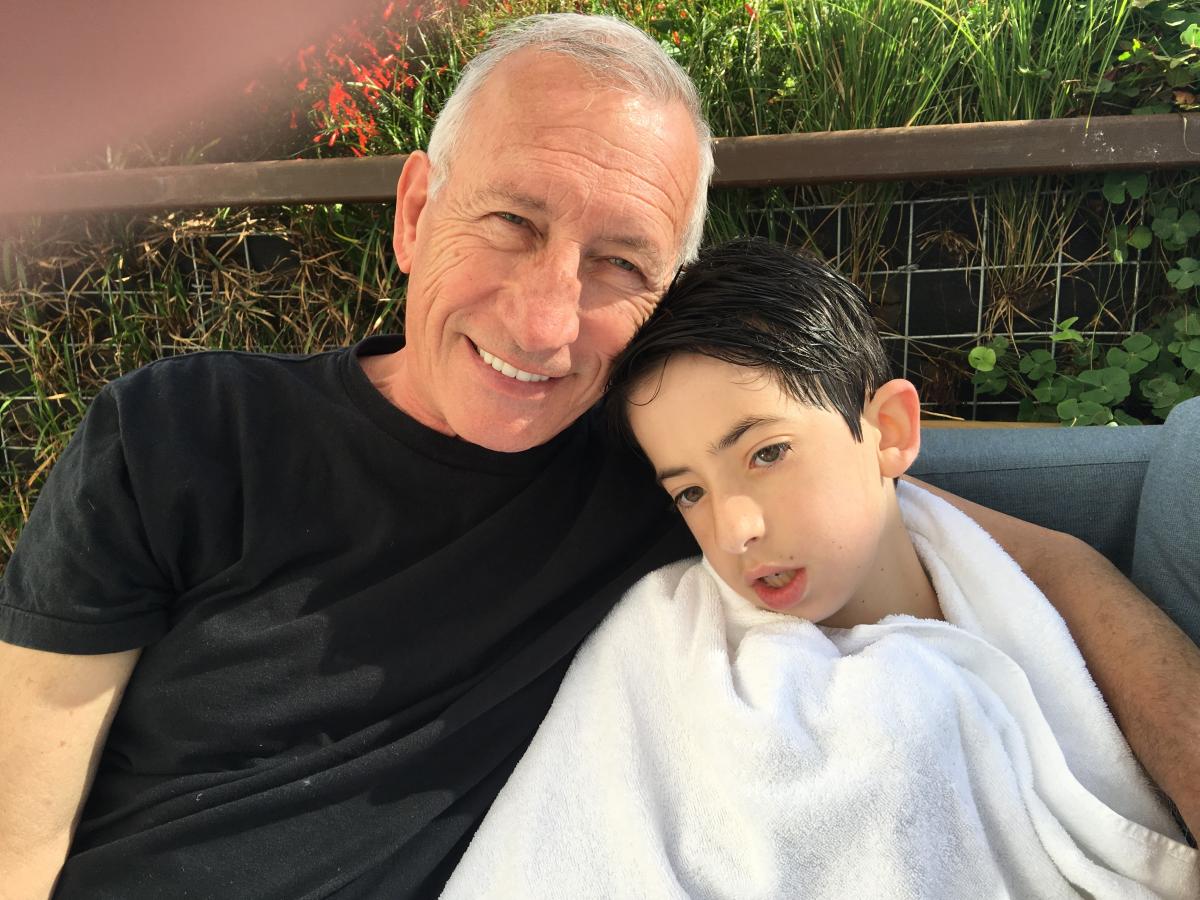 Patrick Welker, a retired telecommunications executive living in Dallas, recently married into the DM community and instantly made a young friend when he developed a special bond with his new wife's 11-year-old grandson, Jack. Jack was born with congenital-onset, type 1 myotonic dystrophy (CDM). Patrick says what helps them connect is that he sees Jack simply "as a young boy rather than a boy with a challenge." The two have become fast friends and spend time together working on puzzles or playing action games on the computer. Patrick views Jack's talents and challenges as interconnected.
"I'll play with him, and quite frankly, I can't beat him. He has a photographic memory. That's what happens when you have challenges. You've got some things that you're not so good at and other things that you excel in." Helping care for Jack helps take care of Patrick too. "Jack just has a gigantic heart. He's got a big smile on his face when he and I do puzzles together."
Grandparents Make Life Better
In DM-affected families, where children and a parent are affected, grandparents can be particularly helpful. "The grandparent's role could be, or should be, that you're providing emotional support for the parent and the child affected by this disease," Patrick says. "I think it's good to have a grandparent come and say, 'Look, we are a family, we are all in this together; let us help you.'"
"I look at it as a three-pronged role. It's providing time, emotional support, and financial assistance when you're able to do it," he says. Patrick knows that simply spending time with grandkids is one of the most valuable services a grandparent can provide. Not just for the kids, but for the parents too. "I spend a month in California with my two grandsons during their summer vacation. They call it 'Grandpa Camp'; nothing could be more enjoyable to me."
"As grandparents, we're providing the resource of time, which they can't get anywhere else. We can spend time with our grandchildren and give the parents a much needed break. They need some time to themselves to enjoy each other and know that their children are having fun, are safe and being taken care of."
The Joy of Giving Back
By the time Patrick met Mollie, a Dallas native and former fashion photographer he would marry, he was no stranger to children with special needs. After he retired, he volunteered at the Children's Advocacy Center of Denton County [Texas], which serves children who have been victims of abuse, and Christ's Haven for Children, which provides foster children a home in a ranch environment in the Dallas/Fort Worth area.
"I felt that was something I'd like to do with my time, and my finances were appropriate to provide whatever I could to help these children," he says. "Quite frankly, I get much more out of helping these children than I probably give." Mollie was already part of the DM community. At 59 years old, she ran a half-marathon (13 miles) to help raise money for Myotonic. Then, in 2013, she helped launch the annual Myotonic fundraising program known as the Grandparents Campaign.
It was only natural for Patrick to get involved when he got to know Mollie. "After attending two Myotonic Annual Conferences, I knew that I wanted to do more," he says. "Last year, all of a sudden I got the idea, why don't I start a support group? I talked to some people at Myotonic and asked how to do that. There was no support group in Dallas, so I put my energy into starting one. We had our first meeting of the Dallas Support Group earlier this year [2016]. The first two meetings have been a great success with the last meeting doubling in attendance to 30 people."
Patrick lets the group take the lead and tries to meet their needs. I look at my role as a facilitator. "The meetings are not about me at all. I just make it happen." Patrick has found a deep sense of satisfaction in helping his own family and the larger DM family.
Can you help a DM family today? Click here to donate now!