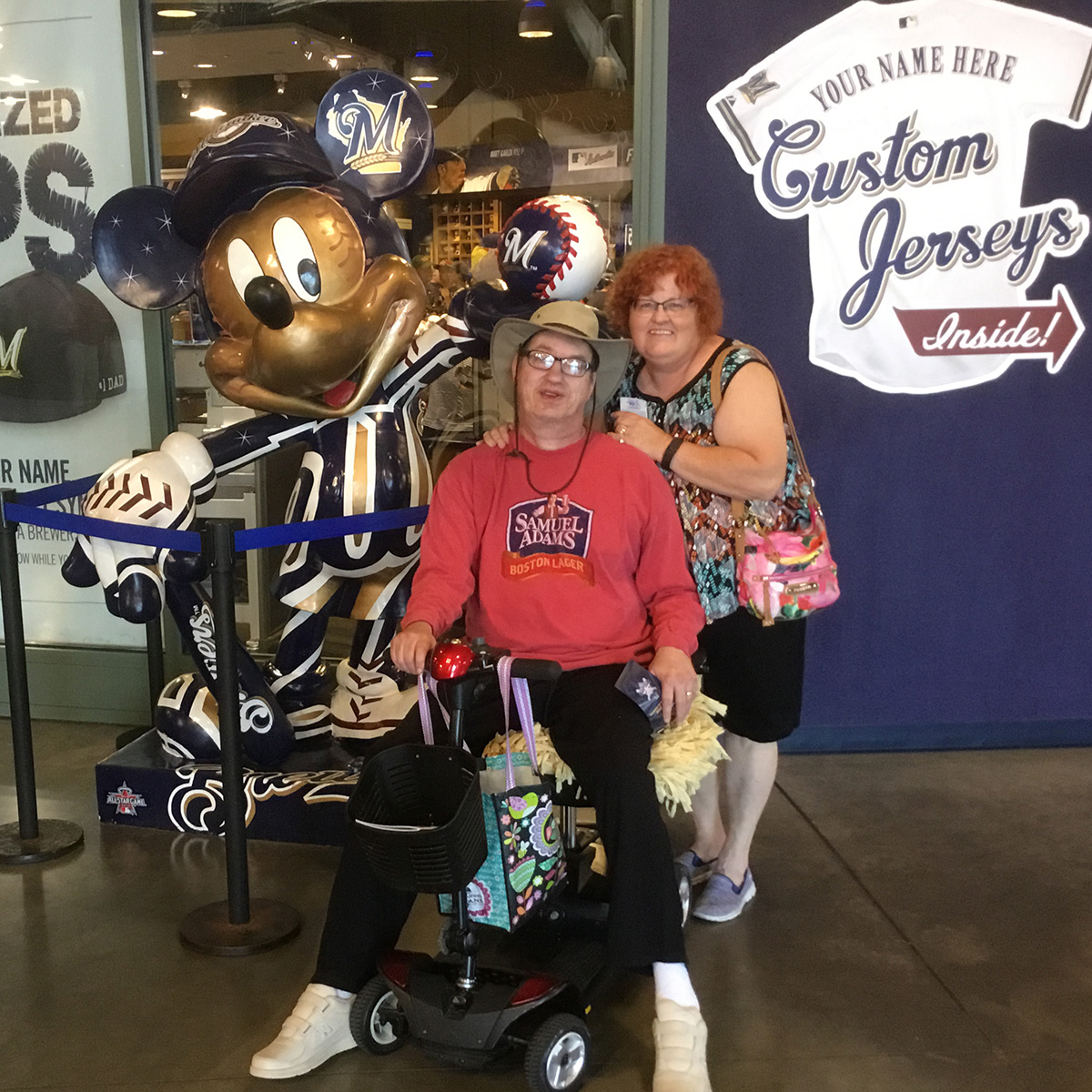 Edward "Bud" Ingraham was serving as a U.S. Army intelligence officer stationed in Nuremberg, Germany when the Berlin Wall fell in 1989. During the time he and his wife Bethany spent in Europe, they developed a taste for travel. But in 1992, at the age of 32, doctors diagnosed Bud with myotonic dystrophy and the army discharged him.
The couple settled in Hebron, Kentucky, about 30 miles west of Cincinnati. Bud went back to school and earned a bachelor's degree in computer science and then took a job as a systems analyst for a bank as the couple raised their two sons. He would be exhausted when he arrived home from work and often fell asleep in his chair after dinner, but his disease remained largely in check.
Things changed after a serious bout of food poisoning in 2006 that landed him in an intensive care unit for two days. He began a noticeable decline. Bethany remembers a family trip to San Francisco where Bud struggled with pain in his legs and throughout his body. The couple had long planned to travel extensively once the kids were grown and out of the house, but Bethany realized that this would probably be the last "crazy trip" they would take. By 2009, Bud would be on disability and Bethany, a clinical research nurse, would be the breadwinner.
A New Way to Travel
As Bethany was helping move her youngest son to Arizona, she had an idea. Traveling across the country, she had noticed several RVs on the road. If she could somehow manage to drive one of those hulking vehicles, perhaps she and Bud could travel as they had planned.
When she returned home, she visited a local RV dealership and took a test drive. Bud's vision had weakened to the point where he was no longer able to drive, so she would have to be the one behind the wheel. "It was a little scary," she said "it's a big piece of equipment!"
Nevertheless, she learned to relax in the driver's seat as the couple upgraded from their first 28-foot RV, to a 32-foot RV with all the comforts of home. It has a king size bed, bathroom with a shower, couch, reclining chair, table that seats four, and three television sets. A newly added lift system made it easier for Bud to get in and out using his wheelchair. Bethany laughed as she noted the RV cost more than their first house.
In the first two years of RV ownership, the couple traveled about 20,000 miles. From April through November, she said, they tried to take at least one trip a month. "Our philosophy is that if we own this, we've got to go," Bethany said.
Ready to Roam
As loyal baseball fans—Bethany for the Cincinnati Reds and Bud for the Boston Red Sox—they liked to make their way to ballparks around the country. They've been to Fenway Park in Boston, Miller Park in Milwaukee, Three Rivers Stadium in Pittsburgh, and of course to the Great American Ball Park to see the Cincinnati Reds.
As they planned, in July of 2018, the two made a trek to up Canada in their accessible RV. They visited several ballparks along the way, and toured the Canadian countryside. In January 2019, they also celebrated the opening of a friend's Brewery in Cincinnati, OH. For shorter weekend trips, they enjoyed traveling the Kentucky Bourbon Trail and visiting distilleries in the region.
The RV allowed the couple to fulfill their dreams of travel. It got Bud out of the house, picked up his spirits, and was liberating for the two of them. And it allowed them to visit their sons in Arizona and Alabama.
When not on the road, Bethany shared that she looks at RVs longingly when passing them. "I love it. I absolutely love it," she says. "I drive to Louisville for work sometimes and I see the RVs on the road, and I am jealous because I cannot get in my RV and go. When I retire, they may never see me at home again because I'll be traveling all the time.
The End of an Era
In the summer of 2020 Bethany shared a sad update to their story: on March 16, 2019 Bud passed away in the comfort of his own home. He did not have a chance to see his youngest son get engaged in March 2020, nor will Bud be there for his son's wedding in September of 2021, yet Bethany is grateful for the incredible adventures they shared, the love they had, and the freedom the RV gave them. She continues to find comfort in her family and friends and holds her happy memories close.