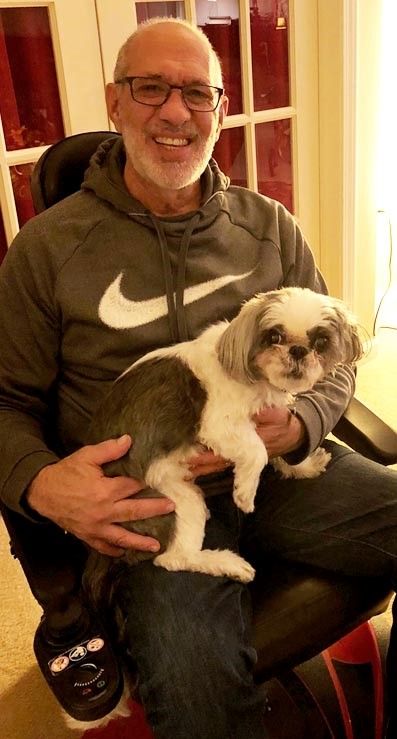 Ask Israel Dubin about himself, and he'll tell you he's a Jewish, 65-year-old retired judge, father of three wonderful adult children, and husband to a great wife. What he's likely not to mention is that he has myotonic dystrophy type 2 (DM2).
That, he says, is because he does not want his disease to define him.
"It required an attitude adjustment," said Israel, who lives in Ewing, New Jersey, just north of Trenton. "I started to see that each cloud does have a silver lining."
In retrospect, Israel recognizes that symptoms from his DM2 began to manifest themselves during his late teens. He recalls diving into a swimming pool and being unable to kick his legs, but dismissed the problem as a result of failing to warm-up beforehand.
In his late thirties and early forties, he would hold his breath for extended periods, but didn't think much about it. He had cataracts removed at 47. And he started snoring, something he saw as less of a health than a marital issue.
But when worsening symptoms and a blood test suggested a serious medical problem was at play, his doctor referred him to a neurologist. An initial test presented one of two possibilities. Dubin either had ALS, a progressive and deadly neurological condition known as Lou Gehrig's disease, or he had DM2. It took three months and the intervention of a congressman to get a diagnosis, because his insurance company refused to reimburse the cost of getting the necessary genetic test. After months of dread, Israel had a diagnosis of DM2.
The silver lining Israel came to embrace was the fact that he didn't have ALS.
Getting Involved with Myotonic
Dubin had been a regular attendee at the Myotonic Annual Conference [link] but grew frustrated by the focus on DM1 and what he saw as only cursory attention being paid to DM2. He expressed his frustration to Myotonic CEO Molly White and threatened to stop attending.
He's been pleased by the response since then and even participated in a panel discussion of DM2 patients at the 2018 Myotonic Annual Conference at the Gaylord Opryland Resort & Convention Center, in Nashville in September. He also had high praise for a luncheon presentation on DM2 research developments, where he said he learned a lot despite having lived with the condition for about nine years.
A New Outlook on Life
A year after he was diagnosed, Israel had to retire from his work as an administrative law judge for the state of New Jersey. The ten-minute drive to his office was so exhausting he needed to take a 30- to 45-minute nap upon arriving at work. When he noticed his cognitive abilities starting to slip, he knew it was time to retire. Nevertheless, he remains upbeat.
"With my general attitude of not being defined by my disease, I look forward to doctors' offices. I schmooze with the receptionist. When my caregiver takes me out two days a week, I chat with cashiers," he said. "There's a lot in life to enjoy because you have two choices with a chronic disease: Either you stay home and feel sorry for yourself and you're miserable, or you convince yourself to get up and go."
Even on days he feels he can't function well or think clearly, he still feels there are things he can do rather than feel sorry for himself. He binge-watches tv, reads, listens to podcasts, or calls friends.
Israel credits his positive attitude to his wife, who he describes as an eternal optimist who has taught him to appreciate the little things in life. He also credits Yoda, a shih tzu his wife got him following his diagnosis, which he calls his "secret weapon."
"He's so wise and knows when I'm not feeling well," said Israel. "He sees if I'm struggling and comes over to me. He just keeps me up and going."
He confesses he wanted to call the dog "Reuben," but his family refused to walk a dog with the name "Rubin Dubin." Yoda, named after the Jedi sage from Star Wars, was a nod to the wisdom he saw in the dog.
Because of repeated falls, Israel is now in a wheelchair (he calls it his "mid-life crisis red convertible"), but Yoda gets him outdoors and keeps him happy. To keep his spirits up he will also watch standup comedians, listen to humorous podcasts, and play funny movies. He's also learned to enjoy simple pleasures, such as a cup of coffee or a good piece of cheesecake.
"There's so much in life to enjoy," he said, "and I never appreciated it until I got sick."