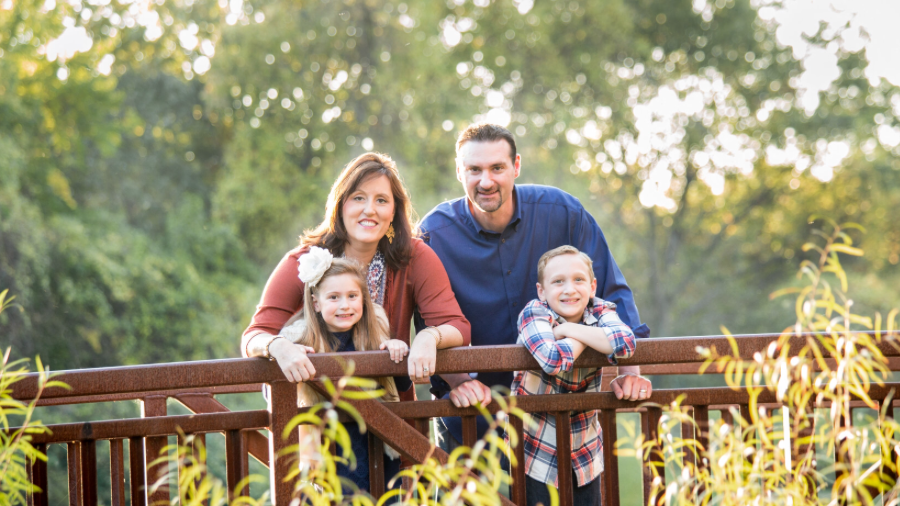 I am Kelly Bormann. I live in Overland Park, Kansas and am married to Steven Bormann. We have 3 beautiful children. Reed (4), Adalyn (2) and our little angel Anna who passed away when she was 6 weeks old. Anna is the reason for this 5K walk called Muscles for Myotonic.
Anna had a disease called Myotonic Dystrophy. It is a genetic disease characterized by wasting of the muscles. There are also many other symptoms that go along with this disease including cataracts, endocrine changes, cognitive impairment, gastrointestinal and cardiac issues, and myotonia, which is slow relaxation after voluntary muscle contraction. There are two major forms: Type 1(DM 1) which has a severe congenital form and milder childhood- and adult-onset forms, and Type 2(DM 2) which is currently considered to be only adult-onset. Anna, my father, and I all fall under Type 1. Both my father and I were unaware we had this disease until Anna was born.
When I was 29 weeks pregnant with Reed and Anna, Reed's water broke. I ended up in the hospital. The next day Reed's cord prolapsed and I had to undergo an emergency C-Section. Reed was born first and by the time they had them both out neither one of them was breathing and both ended up on a ventilator. When I woke up, my husband was the one who had to tell me what was going on and that there was something wrong with Anna. Both babies weighed 3 pounds. Reed was off the ventilator in 6 hours. He was the super hero of the NICU. Anna had a tough 6 weeks ahead of her. She was a tough little girl who tried her hardest to hang on despite all of her issues. After a long and heartbreaking battle, we realized she had gone to be with God and for her it was for the best. We tell Reed and Adalyn they are so lucky because they have their own personal angel that is watching over them all the time and we got to meet her before God called her to heaven.
Never in my wildest dreams would I have believed how much our lives were about to change forever. Every mother pictures herself having a normal birth and taking her baby home to live happily ever after. Our story was definitely not a fairy tale. We left the hospital and went home to a house that was ready for two babies and instead we did not have either of them with us. After about 40 days Reed was able to come home. Before Reed left, we were able to take him to meet his little sister for the first time. The most amazing thing happened. He stretched out his arm and he and Anna held hands. We have beautiful pictures of their time together. Eventually after six hard weeks, we left Children's Mercy Hospital for the last time without our daughter. She was never able to come home.
My father and I continue to fight the battle of living with this disease. However, I truly believe this is a battle he and I, along with many others, will soon beat. The reason for this walk is to raise awareness of this disease, aide in the research of the treatment (which they forsee in the next 5 to 10 years) and eventually find a cure, but most of all to honor my daughter's memory. Our little Angel.
Reed, along with Adalyn, have brought so much joy and happiness to our family. They are our little miracles. Through all of this, with God's healing hands, we have made it through the past several years day by day. We have become a better and stronger family because of it and that is our happily ever after!
We appreciate your participation so we can work towards a brighter future for people with this disease!