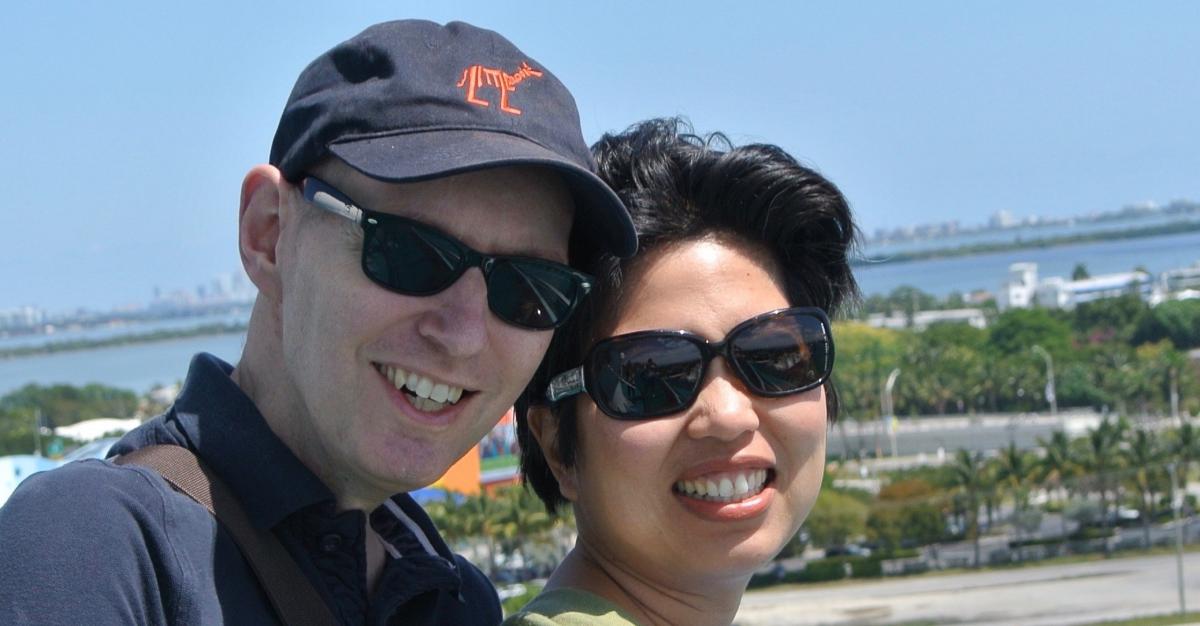 "Marveling at a sunset, travelling (with help) around the world, laughing with friends and family, or simply encouraging others does not require a lot of muscle strength; it only requires me to look beyond my daily DM related challenges."
~ Joachim Boekelmann
The Power of Connection
Joachim Boekelmann, 48, lives in Princeton, N.J., where he's an attorney for a global insurance company, the husband of artist Mic Boekelmann, and the father of two adolescents. Joachim grew up in Germany and studied law there, as well as at Emory University in Atlanta. He also happens to be affected by type 1 myotonic dystrophy (DM1), which he and his sister inherited from their father.
Extremely independent and driven, it was a struggle for Joachim to come to grips with the progressive loss of motor function he has experienced with DM. It was even harder for him to ask for help. Yet, it is in opening up about DM that Joachim has discovered unexpected sources of strength.
"I learned – very reluctantly at first – to acknowledge my limitations and to openly ask for help when necessary. I had to realize the hard (and sometimes embarrassing) way. Pretending to be able to lift a suitcase or a heavy dish when I can't will, at best, be embarrassing and at worst, tremendously dangerous. It does not help in any way." 
It's never easy to share one's vulnerabilities, but Joachim has found relief and deeper connections to family and friends by sharing his experience. 
"When I started sharing more openly with my family, friends and even co-workers, a huge burden – both emotionally and physically – was lifted from my shoulders. Even people you didn't know before are willing to help and to hear what I am facing."
"What surprised me most is that it will often allow others to open up much more about their own special challenges and limitations."
Finding a Community
Joachim's father felt he had to cope with DM alone. "He avoided any contact with anyone else with the same disease. He didn't want to be confronted. The idea of a support group or joining an organization was a no."
When Joachim attended the 2014 MDF Annual Conference, it was the first time in his life he had met anyone outside his family with the disease.
"I was apprehensive," he says, "but then it was liberating and empowering. It's liberating in the sense that you are not alone, that there's a support network. It's empowering to have people with the same limitations, to see people you don't have to explain things to. 
Joachim's English is flawless, but myotonic dystrophy has caused his speech to become nasal and sometimes hard to understand. 
"The biggest challenge in my life is with my speech, which affects my work," he says. "When I went to my first MDF Annual Conference, a speaker had the same issue. He was able to say he had myotonia, and everyone was laughing and understanding. It makes things easy."
Staying Focused
Until about 10 years ago, Joachim was able to run, but these days, even walking can be a challenge. "I can walk without a cane, but I can't walk as fast as others, and I trip at times," he says. Today, he uses walking sticks and wears a cushioned headband to protect him if he falls when he wants to do some serious walking.
Joachim stays focused on what he can do, "We're enjoying life as a family," he says. "There are a lot of things we can do. We can go places, laugh and have fun. I try to focus on the things I still can do."
Joachim also relies on his faith to cope with the very real challenges of DM. "My grace is sufficient for you, for my power is made perfect in weakness," is a piece of scripture that inspires strength and acceptance for him.
Today, Joachim is an advocate and lobbyist helping to raise awareness of DM. He shares his personal experiences to support others in the community.
"It is not a matter of if we will find treatments for DM, but when. In coming together as a community, we find the hope, strength and resources we need, to not only live with DM, but to continue driving the search for a cure," he says.