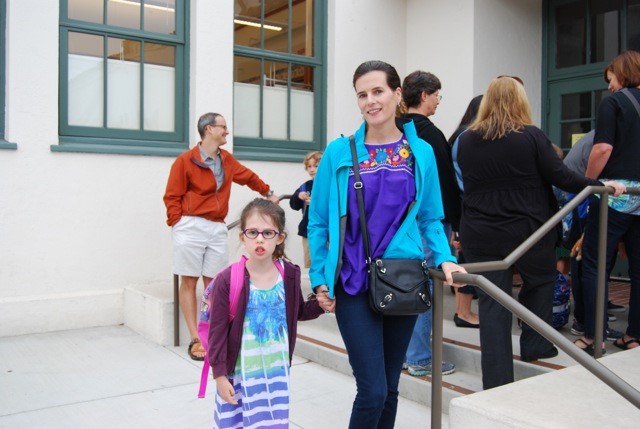 A Story of Hope and Recovery
Sarah Berman distinctly remembers the day seven years ago when she and her newborn daughter Zoé first met with a physical therapist. Zoé, who was diagnosed with congenital myotonic dystrophy shortly after birth, had very little muscle strength and could not move on her own.
"The therapist asked me, 'What are your goals for your daughter?'" Sarah recalls. "There was a child's toy sitting on the table. It was a top that you had to press to make it spin," she explains. "I remember telling her, 'I want my daughter to be able to play with that toy.'"
That day was the start of what Sarah calls "an amazing journey." She spent hours every morning moving Zoé's arms and legs, and the therapist came once a week to sing and play with her daughter. Zoé also received weekly physical therapy at the local hospital.
The hard work and early intervention paid off. "They told me Zoé would likely be permanently confined to a wheelchair, but now she walks and even runs," says Sarah.
Sarah's determination and her belief in her daughter's abilities have remained constant since then. With the support of her husband David, she has sought out the best treatments, services and programs available near their San Francisco Bay Area hometown of Piedmont, California.
Today, Zoé is an active and busy girl. In addition to her school schedule, she receives special tutoring and physical, occupational and speech therapy. She also participates in hippotherapy, a treatment approach that uses movements characteristic of a horse, usually through horseback riding, to provide motor and sensory therapy. Sarah feels this exercise in particular has been very helpful to her daughter, and co-led a presentation on the benefits of working with hippotherapy during the 2014 MDF Annual Conference.
Tackling Multiple Challenges
As Zoé has grown, Sarah has observed other conditions that can accompany a congenital DM diagnosis. More recently, social issues at school have started to emerge and Zoé is enrolled in a social play group to help foster interaction with others.
"There are always new challenges, but Zoé is really a trooper. Nothing fazes her," Sarah explains.
In addition to her role as caregiver for Zoé, Sarah has had to balance care for herself as well. She was diagnosed with DM1 after Zoé was born, and her family subsequently discovered that her father, brother, and other extended family members were also affected.
Support from the MDF Community
While the impact of DM on her family has been far reaching, Sarah says that connecting with the DM community has helped her tremendously. One of her greatest sources of support and information has been the virtual MDF Caregivers Support Group, where she is able to get and share advice and input on issues that arise. Sarah's connection with MDF has also given her a newfound sense of purpose. She helped facilitate a webinar for parents of children with congenital DM, attended the MDF Annual Conference for the first time this year, and has enrolled herself and Zoé in several DM research studies.
"The MDF community is my extended family," says Sarah. "The support I've received has been tremendous - I've met so many amazing people who I have so much in common with."
Sarah feels empowered by the opportunity to share her message and reach out to other parents. She regularly posts to a blog she launched entitled "Zoé's Latest Adventures and Other Stuff." Though the project was started as a way to share her day-to-day experiences with family and friends, Sarah was pleased to learn it has been helpful to other parents raising children with DM.
"This disease is a marathon. It's a life-changing experience," comments Sarah. "It's made me a better person - someone who wants to be involved and to help others along the way.