At MDF's annual conference in September we heard from four of the newest MDF-funded Fellows, and from three pharmaceutical companies involved in early stage drug development for myotonic dystrophy.
Myotonic dystrophy is a genetic disease that occurs when the genetic code around certain genes becomes expanded from one generation to the next. This extra code produces genetic messages that are "sticky" and trap proteins important for cellular functions like maintaining muscle mass and releasing a grip. 
The majority of research funded by MDF is focused on either understanding how the sticky message causes the various symptoms of myotonic dystrophy (DM) or how to keep the sticky message from binding up important proteins.
MDF Fellows
Since 2010 MDF has funded 17 postdoctoral fellows (scientists who have received their PhDs and moved into mentored training positions) for a total of $1,731,925. To date three of these MDF Fellows have gone on to tenure track faculty positions with a focus on myotonic dystrophy. 
The current slate of MDF Fellows provided an overview of their research projects at the conference. Dr. Ranjan Batra of UCSD, Dr. Viachaslu Bernat from the Scripps Research Institute Florida and Dr. Ravi Kanth Rao Saini of the Scripps Research Institute La Jolla all described ways that they were attempting to identify potential new drugs for myotonic dystrophy that would interfere with the sticky genetic message.  
The fourth MDF Fellow, Dr. Melissa Hinman of the University of Oregon, described how she had made zebrafish (the small stripey minnow-looking fish that you see at pet stores) with the genetic mutation for myotonic dystrophy type I. Dr. Hinman is using the zebrafish, which are transparent when young, to study the effects of the DM mutation on the digestive system with the goal of gaining a better understanding of the gastrointestinal problems that can accompany myotonic dystrophy in humans.
Early Stage Drug Development
In a later session, three companies that are in the early stages of developing treatments for myotonic dystrophy type 1 also provided overviews of their strategies. These companies are all in the "discovery" stage of drug development, meaning that they have identified good cellular targets for new drugs and are now working to develop the molecules that can interact with these targets. This stage of research typically takes at least five years before drug candidates are ready to enter clinical testing.
Michael French of Marina Biotech presented his company's approach, which uses creative ways to deliver pieces of genetic code such as "Smarticles" (a play on "particles") that could work in various ways to stop the actions of the sticky message. French made the point that a multisystem disease like DM may require multiple strategies so Marina Biotech was keeping an open-mind about the right approach.
Friedrich Metzger PhD of the pharmaceutical company Roche described a $1M collaboration with the venture capital firm AmorChem to license technology from Dr. PascalChartrand's group at the University of Montreal. Roche is focused on developing small molecule drugs for myotonic dystrophy that can be taken orally. Metzger highlighted Roche's successes with this strategy in another rare disease, spinal muscular atrophy (SMA).
Takako Moriguchi PhD of Genzyme, a Sanofi company specializing in rare disease drugs, described multiple strategies for developing DM drugs including the use of oligonucleotides, small molecules, biologics (pieces of proteins) and gene therapy. The gene therapy approach would involve adding back into the cell nucleus more of one of the important cellular proteins (MBNL) that gets stuck to the sticky message in myotonic dystrophy. 
Phase I/II Trial Update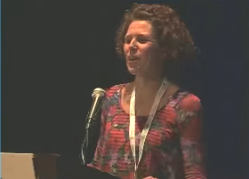 The last, and much-awaited research presentation at the conference came from Laurie Mignon PhD, Clinical Trial Lead at Isis Pharmaceuticals, who provided an update on the ongoing DMPKRx clinical trial. DMPKRx is a drug that has been created from pieces of nucleic acids called "antisense oligonucleotides" that can recognize and bind to the sticky message created by the myotonic dystrophy type I mutation. In early 2014 Isis Pharmaceuticals, in collaboration with Biogen Idec, launched a phase I/II clinical trial to test DMPKRx in people with myotonic dystrophy.
Dr. Mignon reported that the phase I/II study is going well and the first few participants are finishing the trial, although there are no results available yet. The study's primary objectives are to understand the safety and tolerability of repeated injections of DMPKRx, with a secondary objective of understanding the changes that occur in the blood and muscle as a result. How well the drug works to improve symptoms of myotonic dystrophy will be examined as an exploratory endpoint only at this stage.
If the phase I/II trial meets its safety and tolerability endpoints, a phase II trial, which will be larger and enroll more patients, is expected to start in the first half of 2017.  If results from the phase II trial are positive, the company will move into a phase III "registration trial"—the final study meant to collect data in support of a new drug approval application to the FDA.
NOTE: The phase I/II study is still enrolling—those interested in participating can read more here.