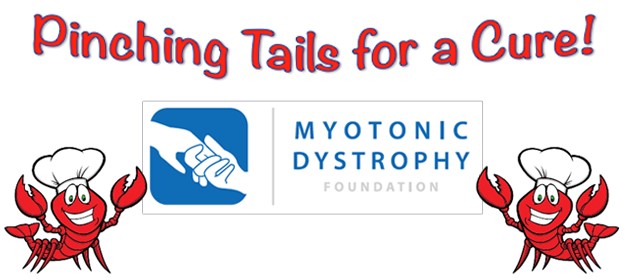 Pinching Tails for a Cure!
Join us for the
Annual Jensen Crawfish Boil and
Myotonic Dystrophy Foundation Fundraiser!
Saturday, June 1st at 2:00 PM
4430 Santa Cruz Avenue
San Diego, CA 92107
Join Taylor, Eric, and River Jensen for what has become one of the most famous community-led fundraisers in the MDF community. This family-friendly back yard party includes delicious food (fresh Louisiana crawfish, wood-fired pizza, and more), great music and incredible raffle prizes. All proceeds support the Myotonic Dystrophy Foundation's research and drug development program.
The Jensen family has had a long standing tradition of hosting an authentic Louisiana crawfish boil with live music for their family and friends in San Diego. In 2012, after Taylor and her son River were diagnosed with DM, the family decided to turn their annual backyard party into a fundraiser for MDF to help fund research focused on finding treatments and a cure for DM. Since starting this new tradition, the Jensens have raised over $100,000 for MDF!
We need your help! We are seeking monetary donations to enable MDF to pursue its mission of Care and a Cure.