MDF Advocates Ask Congress to Fund DM Research!
Learn how to be an MDF Research Advocate! As the new Congress begins work on the fiscal year 2024 budget that includes important federal biomedical research funding, MDF advocates from across the country will be urging our U.S. Senators to include DM as an eligible research condition under the Peer Review Medical Research Program (PRMRP) for the 7th year in a row. Our advocacy has helped DM researchers secure $16 million in new myotonic dystrophy research funding since our inclusion in the program which has helped advance our understanding of this rare genetic disorder. Together, we are changing the world and improve the lives of everyone living with DM. Click here to watch our 2023 Rare Disease Day webinar and join the movement!
Join Us for the 2023 MDF Annual Conference in Washington, D.C. on September 7th - 9th. MDF's National Advocacy Committee (NAC). will be leading grassroots advocacy trainings (virtual prior to the conference and an in-person the first morning of the conference) and all community members are invited to participate in in-person meetings with their Members of Congress and their staff at the start of the conference. MDF will be hosting a special briefing in the U.S. Senate on DM research and raising awareness of the urgent need for more federal funding. Click here to learn more about the 2023 MDF Annual Conference.
Raise Your Voice
The myotonic dystrophy community must raise our voices to make change! When we speak up, we influence research funding budgets, the development of new therapies, clinical trial efforts, and initiatives to improve the quality and cost of care.
Federal funding for myotonic dystrophy (DM) research still ranks near the bottom of all federally funded disease research. Today, the federal government spends approximately $11 million on DM research out of a total budget of $43 billion at the National Institutes of Health (NIH).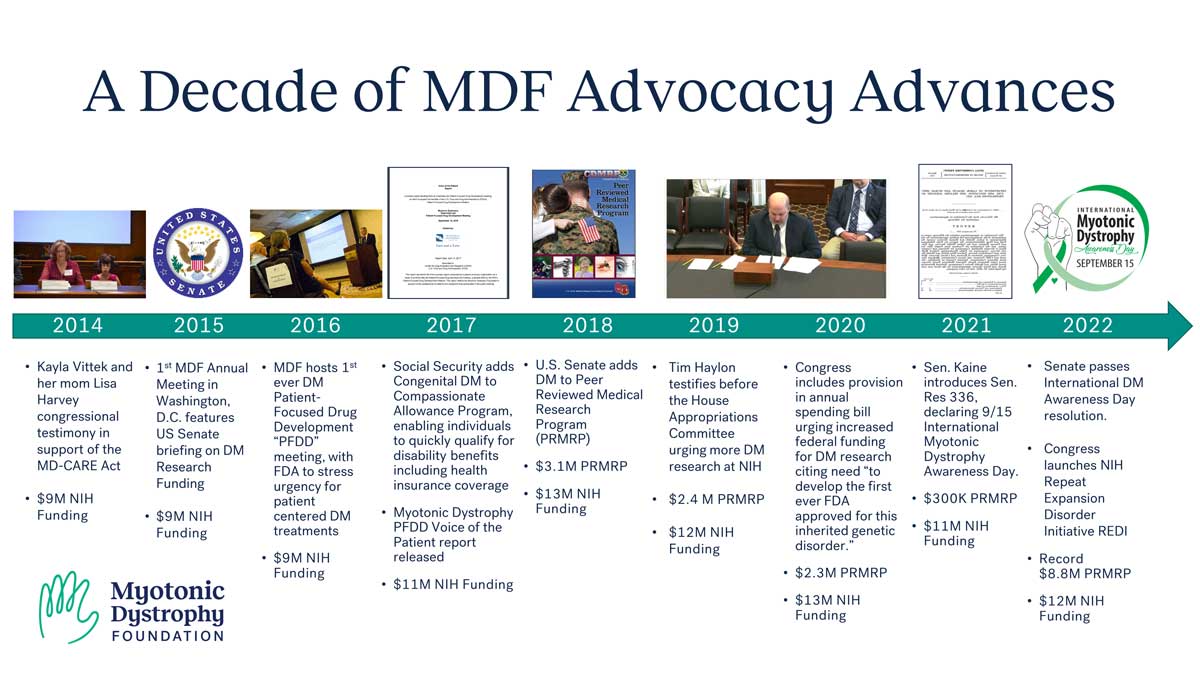 What We're Working On
$16 Million in New DM Research in Peer Reviewed Medical Research Program (PRMRP)
For 6 years in a row MDF has successfully advocated for DM's eligibility for federal research funding under the Peer Reviewed Medical Research Program (PRMRP). This has resulted in DM researchers securing $16 million in competitive research funding grants that have significantly improved our understanding of the causes of DM and ways to improve treatment and care. Congress established this program in 1992 to seek novel and groundbreaking approaches to biomedical research. Read more about the PRMRP program and DM funded research.
MDF Secures Congressional Support for Repeat Expansion Disease Initiative (REDI) to Increase DM and Related Condition Research Funding.
MDF Advocates secured a provision in the fiscal year 2023 budget funding the National Institutes of Health (NIH) to establish a Repeat Expansion Disease Initiative (REDI) within the Office of the Director. The goal is to increase federal funding for research on repeat expansions and consider new funding mechanisms across multiple institutes to support scientific discoveries that will lead to treatments and cures for these genetic disorders and related conditions like DM.
This represents the first time Congress has recognized the rapidly emerging science on DNA repeat expansions, which causes over 50 distinct diseases including myotonic dystrophy, C9ORF72/amyotrophic lateral sclerosis/frontotemporal dementia, Huntington's disease, and many common forms of dominantly inherited ataxias. Congress identified DM in this legislative provision as paradigm for a class of diseases caused by repeat instability and toxic RNA and asked the NIH to undertake the REDI initiative to fund cutting edge science which will lead to new treatments and cures for these genetic disorders and related conditions. MDF sees REDI as a significant new opportunity to increase NIH funding for DM research and related genetic conditions. The Biden Administration has been requested by Congress to provide a report on REDI as part of the president's fiscal year budget, which will be released in early March 2023. Learn more about the impact of the Repeat Expansion Disease Initiative (REDI).
New Myotonic Dystrophy Treatments on the Horizon
MDF remains engaged with our biopharmaceutical partners and regulatory agencies like the Food and Drug Administration (FDA) and the European Medicines Agency (EMA) to share with them DM patient perspectives on the burden of living with this disease and patient perspectives on meaningful benefits of potential treatments. In 2016, MDF hosted a Patient Focused Drug Development meeting with the FDA, which is developing patient insights and data that will be used in the review process of future therapies. Prior to this groundbreaking meeting, there were almost no companies focused on DM.
At the 2022 MDF Annual Conference, many companies shared exciting scientific news and progress on clinical trials on promising DM treatments, which we expect to be submitted for FDA review over the next several years.
Get Started!
Join the Myotonic Dystrophy Foundation's advocacy program! We drive key initiatives for improved care and accelerated research while raising DM visibility to stakeholders in Congress, federal and state agencies, medical professionals and the media.
Advocacy 101
What is Grassroots Advocacy?
Grassroots advocacy is citizen participation in government. The key to successful advocacy is assembling people who share common goals and concerns. Advocacy is all about educating legislators about the opinions and views of their voting constituents.
Why should I become an advocate?
You have the most powerful tool available on Capitol Hill: your vote. YOU have the ability to hold your legislators accountable to you as their constituent. Without hearing from you, your legislator does not know what is important to you, or to the DM community as a whole. Your recommendation may be the deciding factor in a member's decision to vote for or against specific legislation. You can make a difference!
Can one person really influence Congress?
Absolutely! Many do not realize that Congress is a reactionary body. The voice of a constituency is what causes changes to the current conditions in government: when a citizenry assembles with a collective purpose and singular voice, the system will respond to it.
Your Voice Makes a Difference
We need you to tell Congress how important our issues are to the DM community, and to create relationships with your members of Congress and their staff. You don't need to be in Washington to interact with them – you can take action as an advocate right from your hometown. If you have any questions or need help with any of these action items, please contact MDF at 415-800-7777 or info@myotonic.org.
Make a Phone Call
It will only take a minute, but it can mean so much to those living with DM! Tell your representative about your connection to DM, and offer to send them materials about the disease. Be sure to identify yourself as a constituent by stating your address and city when speaking.
Phone numbers for your members of Congress can be found in the House or Senate directories. You can also call the US Capitol Switchboard at 202-234-3121.
Visit a District Office
A great way to familiarize your members of Congress with DM and your family's story is to give them a packet of information. To find your member of Congress' district office locations, please refer to the House of Representatives or Senate directories. We recommend sending a link to our mission: The MDF Mission.
Once you've dropped off the packet to your member of Congress' district office, let us know! We want to reach as many legislators as possible with these important messages.
Advocacy Resources
Use the links below to find out more information that will help you become a successful advocate. If you have any questions or need help with any advocacy action items, please contact MDF at 415-800-7777, or info@myotonic.org.
2023 Rare Disease Day Resources
Find our latest advocacy resources and templates below:
Advocacy Glossary
The barrage of government and procedural jargon is often confusing and off-putting for new advocates. Click here to view a glossary designed to help you learn some of the more commonly-used terms in the legislative process.
MDF Advocacy Webinars & Videos
MDF regularly presents advocacy webinars explaining our current issues and campaigns, and provides advocacy training at our annual conference: FDA 101.
Other Resources: