'Studies show that moderate exercise is safe and may be effective for individuals with myotonic dystrophy.1-4 Even though exercise does not cure myotonic dystrophy, it can help optimize function and maintain strength.' - MDF Exercise Guide for People Living with Myotonic Dystrophy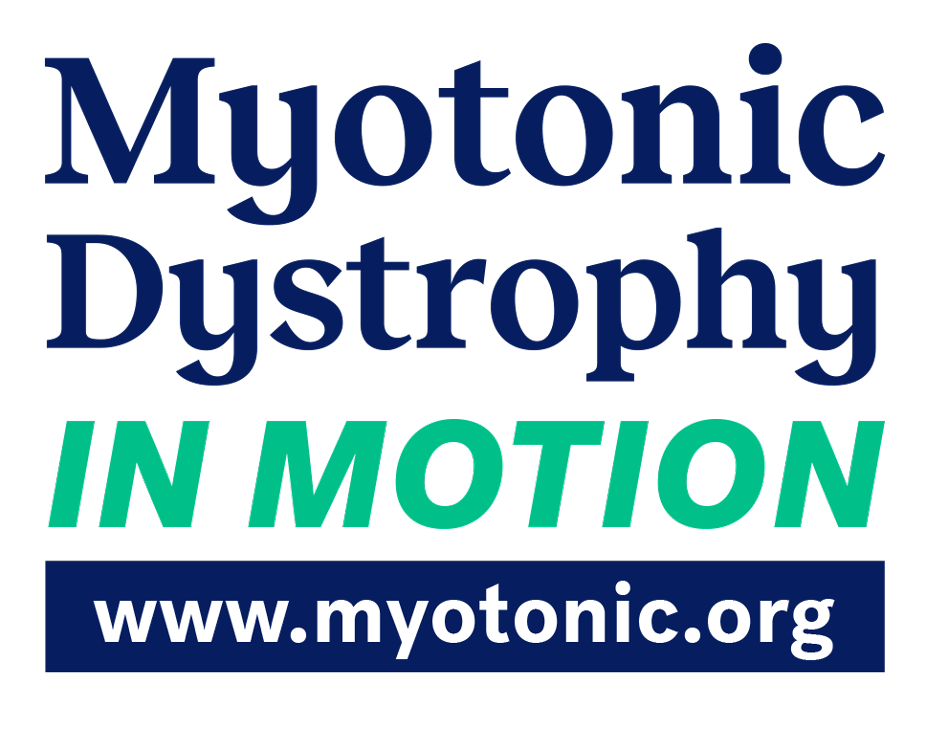 MDF Wants to Help You Move
Movement can improve both the physical and mental well-being of people living with myotonic dystrophy. Movement can be as variable as the members of the myotonic dystrophy community, and can include a variety of activities like walking, biking, swimming, yoga, dance, sports, and more!
"Exercise can potentially benefit any part of the body, including muscles, heart, brain, and breathing. But, there are different types of exercise, and the trick is to work with a care team to do it safely and consistently, in ways that can maximize the benefits and minimize the risks of injury, and find a regimen that can be continued long term." 
- Charles Thornton, MD, Chair, MDF Scientific Advisory Committee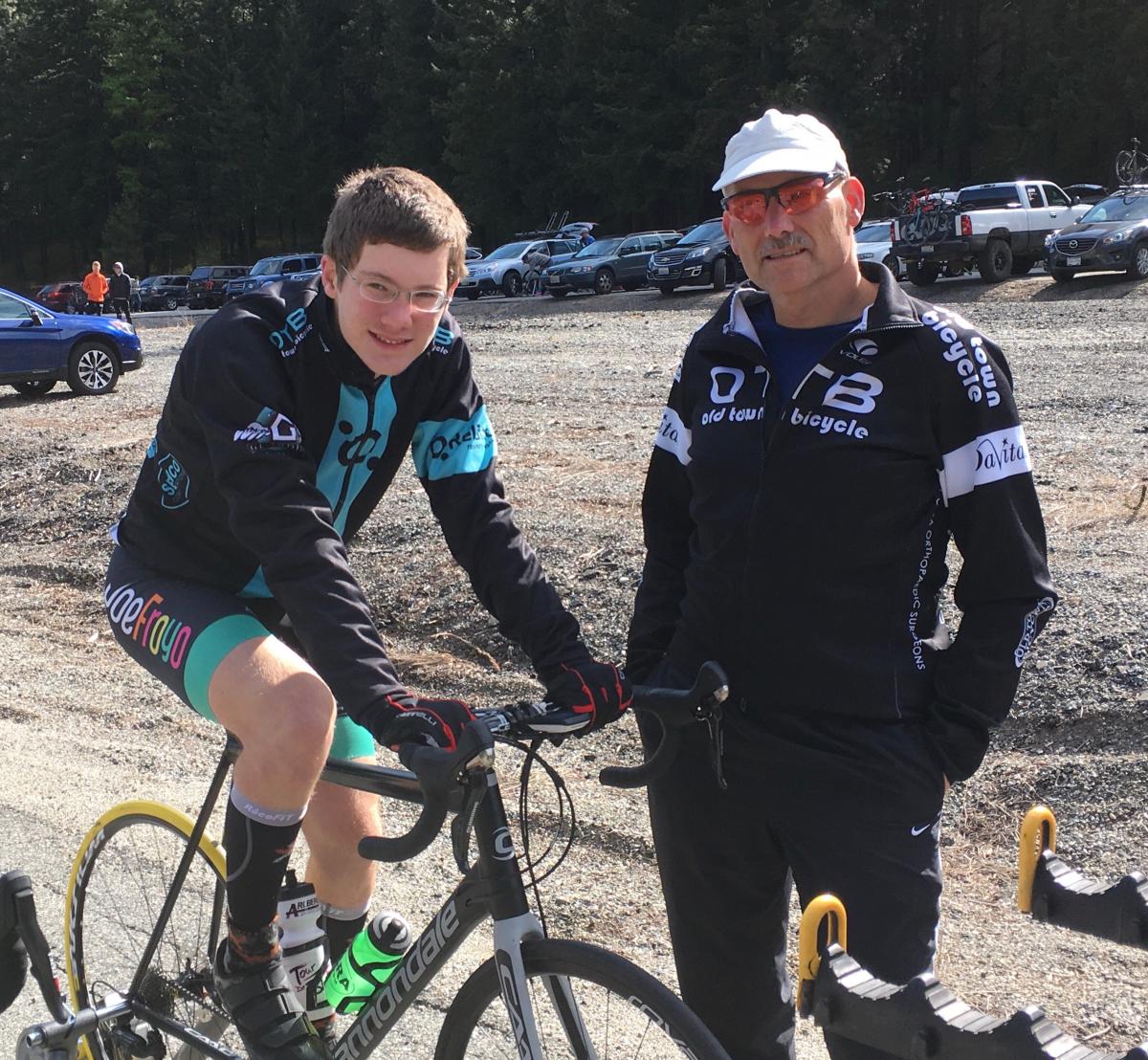 About Myotonic Dystrophy In Motion
What started as an idea for MDF activewear by community member Luke Bolt and his family has evolved into the Myotonic Dystrophy In Motion Movement! A new MDF care initiative to unify, inspire, and encourage the international DM community to start moving!
After the incredible outpouring of support and interest in his MDF Bike Jersey at the 40th Annual Seattle to Portland Bike Ride, community member Luke Bolt sought to keep up the momentum. Click here to read about Luke and his family.
Read more about the different ways you can engage with Myotonic Dystrophy In Motion below!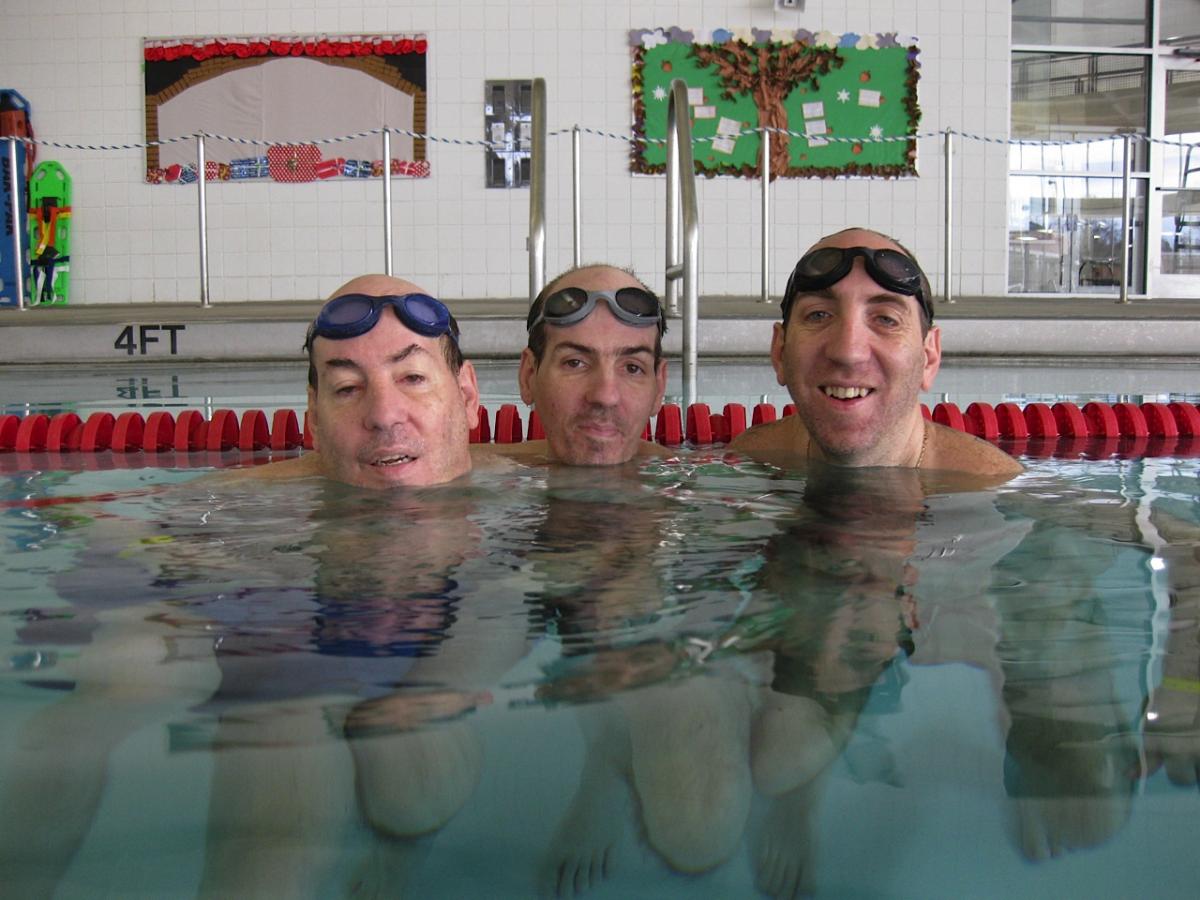 Get Active
Get your body in motion with on-demand exercise routines and classes specially designed for people living with myotonic dystrophy.
Sit Fit with Nathan Perkins: Former Paralympic athlete, Nathan Perkins, EdD, ACSM-CIFT, will lead the Sit Fit exercise session/workout consisting of a 45-minute non-weighted upper body sit-down exercise routine that will focus on cardiovascular and strength training and range of motion movements through all major joint structures and ligaments.
Adaptive Yoga: Adaptive yoga is specifically designed for people with disabilities. In their sessions, traditional yoga poses are adapted, so that they can be experienced by everyone - regardless of their level of ability. Find a yoga experience that works for you!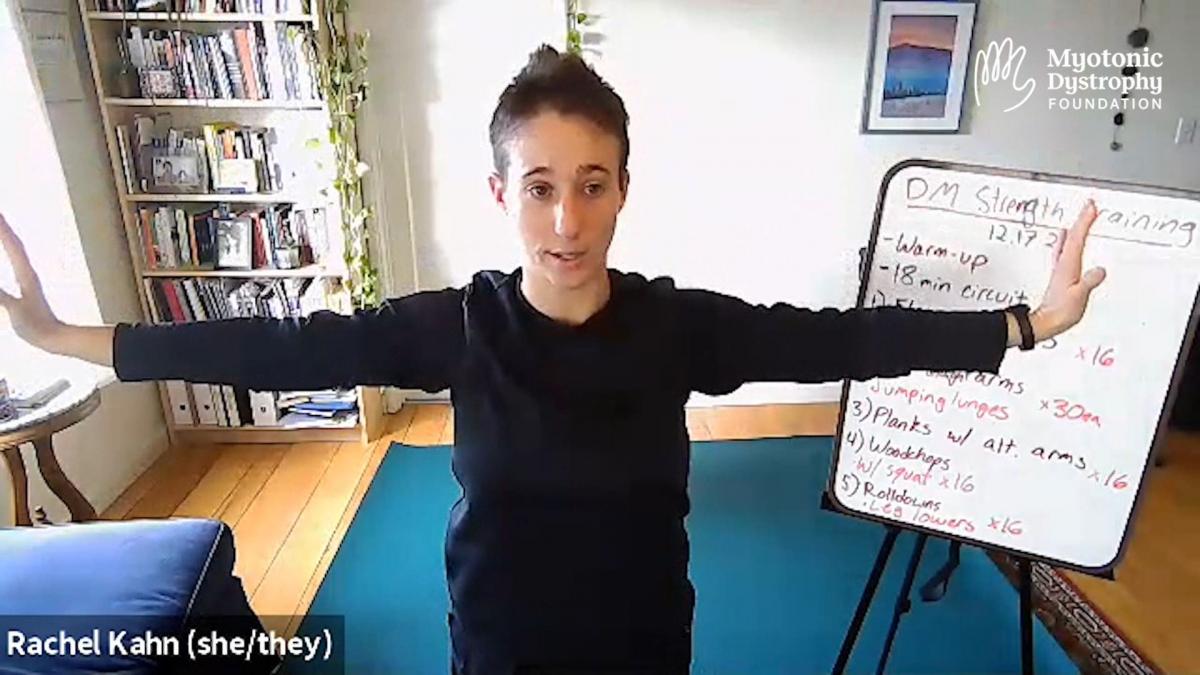 Adaptive Strength Training with Rach Kahn: The incredible Rach Kahn, NCPT, CSCS, CMT will then begin this class will begin with a warm-up including a body scan, breath work, active-stretching, and joint/spinal mobility work. The intensity will build as we layer on full-body strength training with functional, task-oriented movements, and some balance and coordination exercises. We will wrap up with some grounding movements to calm your nervous system and send you on your way!
Enjoy a 4 part DM Strength Training series with Rach Kahn with a bonus Conference workout: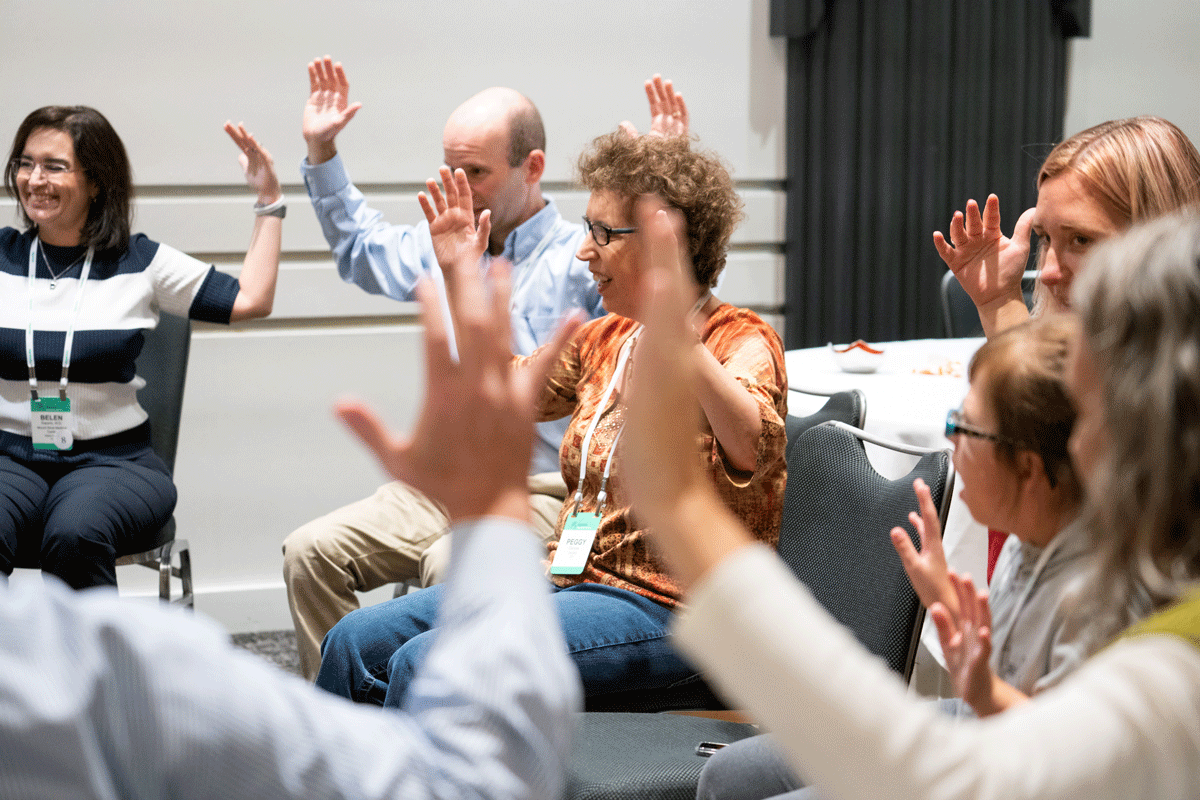 Motion Makes Connections
Community is one of the keys to motivating ourselves to move. Connect with other members of the DM community through support groups and other support programs. Click here to see which groups are available, and where.
Visit our Calendar to find out when the next MDF support activity takes place!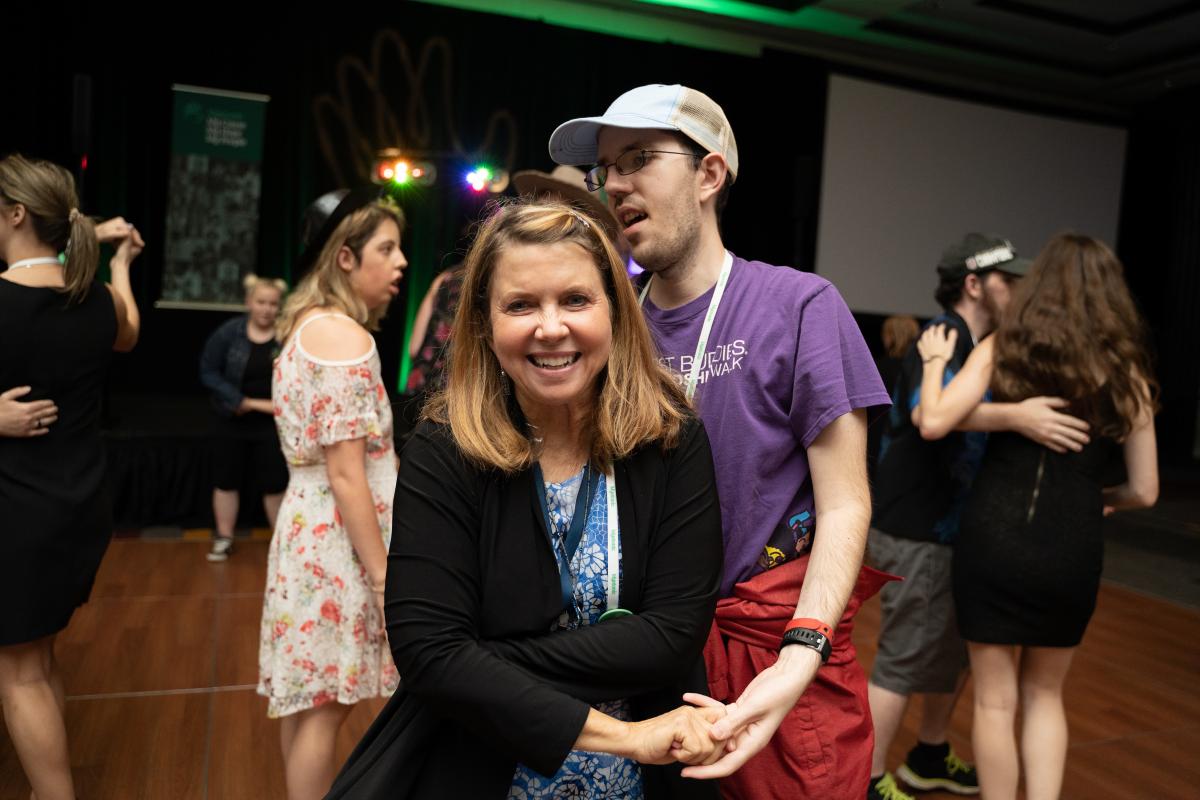 The Facts on Exercising with Myotonic Dystrophy
Learn more about the science behind exercising with myotonic dystrophy and the resources and strategies available for building and maintaining a life in motion.
Video Resources
Exercise for the Myotonic Dystrophy Community: Understanding the importance of exercise is vital for myotonic dystrophy care. Two physical therapists, Dr. Katy Eichinger and Dr. Tina Duong, present information on the benefits of exercise for DM, recommendations on types of exercise, and finding motivation.
Exercise, Nutrition & Speech (2019): This rehabilitation panel featuring Katy Eichinger, PhD, DPT, Leslie Vnenchak, MA, CCC-SLP, and Robin Meyers, RD, MPH, LDN reviews current research and strategies for managing DM symptoms through exercise, speech and nutrition.
Downloadable Resources
Exercise Guide for Individuals with Myotonic Dystrophy: Designed for People Living with DM. This guide is written by two physical therapists who specialize in working with individuals with DM, and includes information on the benefits of exercise for DM, recommendations on aerobic activity, types of exercise, monitoring exercise, exercise strategies and finding motivation.
Nutrition Guide for Individuals with Myotonic Dystrophy: Designed for People Living with DM. This guide is written and reviewed by nutritionists who specialize in working with individuals with DM, and includes information on diet and DM, managing constipation, being overweight/underweight with DM, managing swallowing problems, feeding tubes, supplements, and sample meals.
Role of Physical Therapy in the Assessment and Management of Individuals with Myotonic Dystrophy: Designed for Physical Therapists. Most individuals living with myotonic dystrophy (DM) will probably first encounter a physical therapist in the multidisciplinary clinic where they receive care. These physical therapy guidelines for DM address the role that the physical therapist plays in DM care, including evaluation, education, instructions and physical movement recommendations.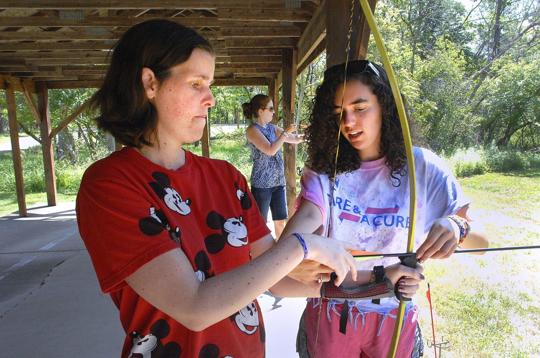 Inspire Us with Motion
Join the team! Our hope is everyone will participate under the banner of Myotonic Dystrophy In Motion to raise awareness, motivate ourselves and others to get active, inspire fundraising activities associated with movement, and create a sense of togetherness within the DM community. No matter where you are in the world or what your ability level may be, we invite you to join the movement!
Raise critically needed funds for DM Research and Care! In the Miles for Myotonic Dystrophy Toolkit, and at the request of several community members, we have put together all the tools and resources you'll need to host a 2 mile walk/roll (or distance of your choosing) benefitting the Myotonic Dystrophy Foundation!
For authorized use of Myotonic Dystrophy In Motion language and images, please email info@myotonic.org or call us at 415-800-7777.
Join the movement to change the future of myotonic dystrophy!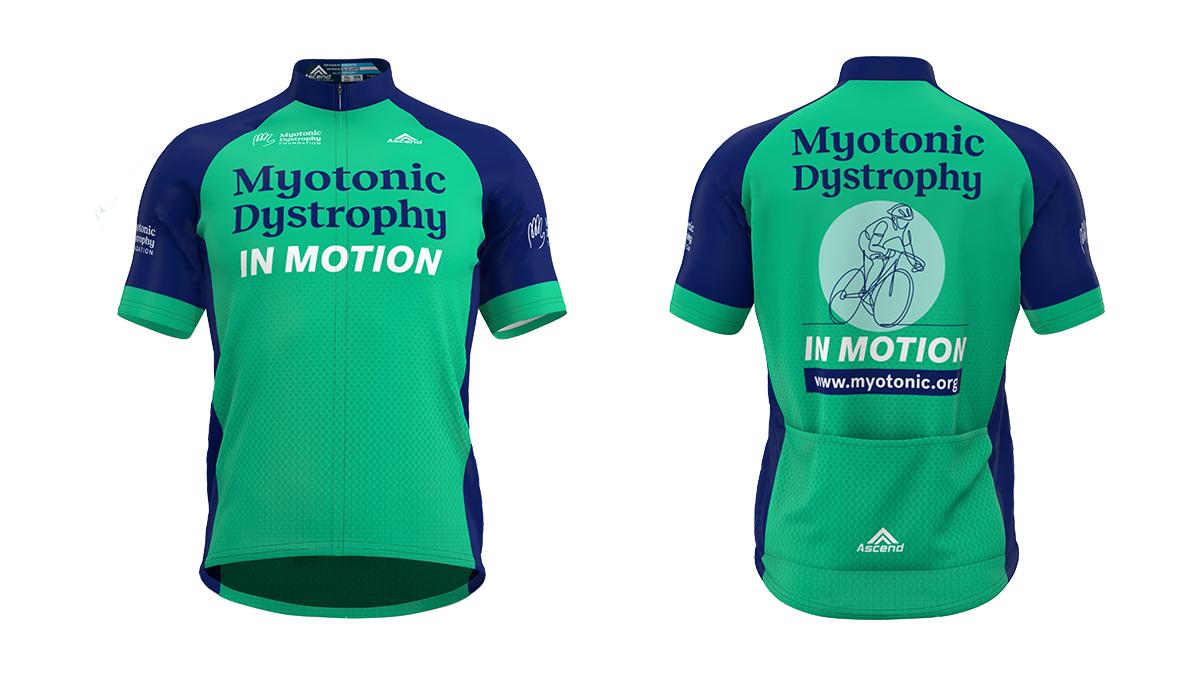 Get Your In Motion Gear
In honor of the launch Myotonic Dystrophy In Motion, the Bolt Family has designed a new Bike Jersey for their upcoming events. Now's your chance to be a part of the team! Click here to order your Myotonic Dystrophy In Motion Gear!
Looking for other Myotonic Dystrophy In Motion gear? Visit MDF's Bonfire store for water bottles, t-shirts, tank tops, sweatshirts, and more. Click here to visit the bonfire store!

References:
1. Voet NB, van der Kooi EL, van Engelen BG, Geurts AC. Strength training and aerobic exercise training for muscle disease. The Cochrane Database of Systematic Reviews 2019;12:Cd003907.
2. Cup EH, Pieterse AJ, Ten Broek-Pastoor JM, et al. Exercise therapy and other types of physical therapy for patients with neuromuscular diseases: a systematic review. Archives of Physical Medicine and Rehabilitation 2007;88:1452-1464.
3. Orngreen MC, Olsen DB, Vissing J. Aerobic training in patients with myotonic dystrophy type 1. Annals of Neurology 2005;57:754-757.
4. Roussel MP, Morin M, Gagnon C, Duchesne E. What is known about the effects of exercise or training to reduce skeletal muscle impairments of patients with myotonic dystrophy type 1? A scoping review. BMC Musculoskelet Disord 2019;20:101.