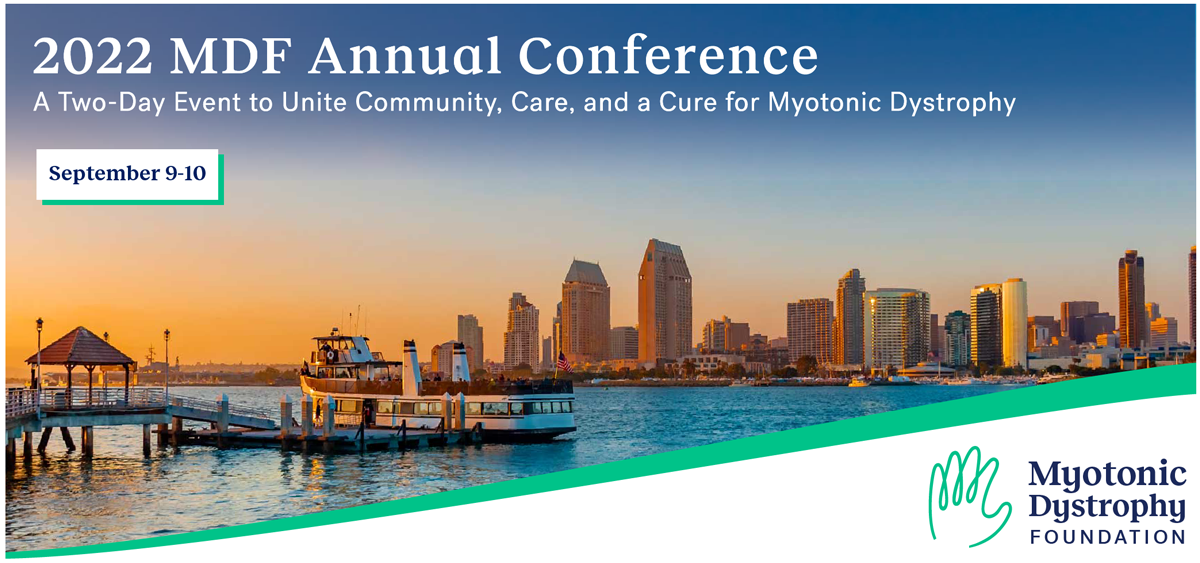 Time Remaining!
Join us for the 2022 MDF Annual Conference!
September 9th & 10th
Paradise Point, San Diego, CA
About the MDF Annual Conference
MDF invites you to attend the 2022 MDF Annual Conference - sometimes called the "family reunion" - from Friday, September 9th through Saturday, September 10th, 2022, at Paradise Point in San Diego, CA. For those arriving early, we welcome you to join us for a Thursday evening reception. For those unable to attend in-person, we welcome you to join us virtually! Please note that not all sessions will be recorded or made available to virtual attendees. Information on virtual and recorded sessions coming soon.
This year's program includes educational sessions exploring research, drug development, symptom management, and other critical topics for DM families, plus opportunities for formal and informal networking and fun. Click here to find information about our past conferences.
Join us at Paradise Point in San Diego's beautiful Mission Bay for the crown jewel of MDF events!
Registration Types & Fees
Community Registration includes access to general sessions, community tracks, most meals, and other activities. Due to limited capacity, only Professional Registrations will grant access to Professional Track sessions.
Registration does NOT include a hotel room. See the Hotel & Room Block section below for information about staying at Paradise Point and find a link to book a room at MDF's discounted rate.
We encourage all attendees to register early to take advantage of our discounted rates:
Early Bird extended to June 26th.
Regular Registration ends August 31st.
Late Registration accepted until September 10th.
Program & Agenda
Session topics were developed based on direct feedback from the DM community through the 2021 conference evaluation surveys, our recent Strategic Planning survey, support group participants, and callers to the MDF Warmline.
Movement Moments
New this year and in line with MDF's new Myotonic Dystrophy In Motion initiative, Movement Moments will provide short movement activities for all conference attendees, lasting 2-3 minutes each. They will be held in the main ballroom between breakfast and morning general sessions, and again between lunch and industry updates on Friday and Saturday. These community activities, designed by movement experts and community members, emphasize the power of movement in every person's life and provide small examples of ways to move safely, joyfully, and together. Each of the four Movement Moments will focus on one of the four types of movement – endurance, strength, mobility, and balance. All are welcome to participate or simply observe, and adaptations will be described.
Daily Agenda
Hover over each session for more information.
Details are subject to change as session topics and speaker availability is confirmed.
Learn the color coded legend: DM1 Track. DM2 Track. Caregivers & Self-care. JOA. Professionals. General. General. General.
New to the MDF Annual Conference?
MDF offers a First Timers' Tea for first-time attendees early Friday morning. MDF will partner interested first time attendees with MDF Board members, Support Group Facilitators, and others who have attended many MDF Annual Conferences to help ensure that your first experience is a complete success.
During Conference Registration you will be asked about your plans to attend certain receptions and meals to help MDF and Paradise Point tailor meals to any dietary requirements and anticipate how much food is needed. All in-person registrations include the following meals:
Thursday evening reception (hors d'oeuvres & beverages).
Friday breakfast.
Friday lunch.
Friday evening reception (hors d'oeuvres & beverages).
Saturday breakfast.
Saturday lunch.
Saturday dinner.
Some break time snacks & coffee/tea are also included.
Hotel & Room Block
Voted among the top 20 resorts in Southern California, Paradise Point hosts the 2022 MDF Annual Conference! Located in sunny San Diego, California, Paradise Point is on a 44-acre island tucked away in gentle Mission Bay, minutes from the heart of downtown San Diego. Paradise Point offers a secluded island escape with all the comforts of a top hotel. Click Here for Resort Amenities.
The significantly discounted room block will fill up quickly, so reserve your room as soon as possible to secure the best rates! MDF has secured a special group discounted rate at Paradise Point Resort starting at $229 USD per night. Maximum guest capacity for each room may depend on room type selected. To receive the group rate, please book by Saturday, August 6th.
Click Here to Book Your Significantly Discounted Room Reservation!
You may also book your room anytime by calling the Reservations department at 855-463-3361 and referencing the "Myotonic Dystrophy Conference" or "MDF Conference" room block.
Registering for the conference does not reserve your hotel room.
Interested in other accessible options in the area? Find more choices at AccessibleGo.
Discounted Scooter & Wheelchair Rental
Harmony Home Medical Supply is offering MDF Annual Conference attendees 15% off rental and a discounted delivery fee of $55 (down from $75 regular price) to Paradise Point. Interested attendees just have to call Harmony Home Medical at (858)560-8177, state that they are with the MDF Conference, and the sales staff will apply the discount to the order. Attendees who prefer to submit an online request, just need to make sure they state they are with the MDF Conference in the comments section of the form. Click here to view all the Scooters & Wheelchairs available for rent!
Transportation
2022 MDF Annual Conference attendees traveling by plane will arrive in San Diego at the San Diego International Airport (SAN). Visitors seeking transportation to Paradise Point have a variety of options, including taxi service, ride-sharing apps, and public transportation. Conference attendees are responsible for making their own airfare and transportation arrangements to and from the hotel. MDF cannot reimburse travel, hotel accommodations, or parking expenses for Conference participants. Find additional lodging & transportation information here.
Childcare
Free childcare will be offered at the 2022 MDF Annual Conference! We are pleased to announce MDF has enlisted Playtime Pros to provide dedicated childcare Friday and Saturday from 9 AM to 7 PM each day. Space is limited and Conference registration is required. Click here to learn more about PlayTime Pros.
Registration Cancellation & Refund 
We understand that circumstances can change. MDF contracts for conference presenters, travel, and hotel services nine to twelve months in advance, and adjusts those contracts based on registrations. We are therefore unable to process registration cancellations made after Tuesday, August 19, 2022. Hotel room cancellations must be made directly with the hotel.
Additional Information
Check back for the latest program and speaker updates as they becomes available. If you have registration questions or need assistance with registration, contact MDF at 415-800-7777 or by email at info@myotonic.org.
Thank You to Our Conference Sponsors
Date(s):
Friday, September 9, 2022

to

Saturday, September 10, 2022