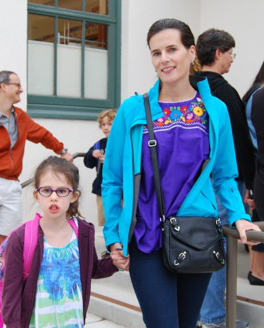 Sarah Berman lives with her husband David and their daughter Zoé in Piedmont, CA. After Zoé was born in 2007, she was immediately sent to the NICU for hypotonia and poor sucking. Sarah was diagnosed with DM shortly after giving birth.
"I like to refer to Zoé as the light bulb who lit up the family tree," says Sarah. "Before her birth our family had never heard of myotonic dystrophy, but it turns out that my father was affected, as well as both of his brothers, one of my brothers, and a cousin."
Shortly after Zoé's birth, Sarah and David leapt into action to start early intervention. Their daughter's life has been regimented with therapy from the age of 4 months. Whether it is physical therapy, play therapy, occupational therapy, horse therapy, or acquatic, the Bermans have investigated it and Zoé has done it! Sarah shared some of Zoé's successes with hippotherapy this year at the 2014 MDF Annual Conference.
Today, Sarah is very proud of Zoé and how far she has come. "She is a trooper, a resilient little girl with a feisty personality," she says. "She is always ready to conquer new challenges."