Many in the research, biomedical and patient advocacy communities have been tracking and advocating on behalf of the 21st Century Cures Act (H.R. 6). The legislation is intended to accelerate the discovery, development, and delivery of therapies via increased funding and revenue stability for research agencies, a more collaborative and efficient research environment for basic and translational science and a streamlined and accelerated regulatory review environment. The bill also includes provisions to improve patient access to quality healthcare and some initial attempts at pricing transparency.
In July, 21st Century Cures was passed by the US House of Representatives by a vote of 344 to 77 and forwarded to the US Senate for review. Many of the more hotly-contested sections of the bill, including those focused on longer protections from generic competition for both new and follow-on drugs, have been removed.
The Senate has drafted its own version of the bill, currently entitled, "Innovation for Healthier Americans." From here the process of merging the two bills - and developing and voting on a final version - is likely to conclude in early 2016.
Understanding 21st Century Cures: The 3 Ds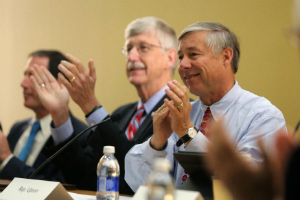 Discovery
The 21st Century Cures Act increases funding for the National Institutes of Health by establishing the NIH Innovation Fund, a five-year project providing $1.75 billion per year to support early stage researchers and "higher risk, higher reward" research efforts. Additional provisions seek to enable easier, faster sharing of information among researchers, including electronic health records, and to streamline the clinical trial process by, for example, removing barriers to the use of central IRBs across multiple trial sites.
Development
The lengthiest section of the bill is devoted to improving the FDA regulatory process for drug development from "bench to bedside" by:
codifying a framework at the FDA for the submission, review and qualification of biomarkers;
allowing the sponsor of a drug to request that the FDA agree to an accelerated approval plan;
authorizing the FDA to rely upon data previously submitted by a drug's sponsor for a different drug that uses a similar underlying approach;
encouraging better capturing of patient preferences, as in benefit/risk assessment; and
enabling more efficient regulatory process surrounding the release of technology, including apps, for the better management of disease.
Delivery
To improve access to quality health care, 21st Century Cures promotes:
interoperable systems to better enable the sharing of patient information throughout the health care system;
electronic information and telecommunications technologies (telehealth programs) to support long-distance clinical health care and improve access to specialists. Insurance plans are increasingly expected to cover telehealth services; and
some Medicare pricing transparency, beginning with what Medicare pays for products and services, access & efficiency. However, the larger issues of drug pricing transparency, how to manage exploding pharmaceutical costs, and who pays for the cost of innovation, have been largely avoided.
21st Century Cures and its sister bill in the Senate are expected to culminate with a final piece of legislation that has the potential to significantly enhance the drug discovery, development and approval process and improve patient access to quality care. The timing is good for myotonic dystrophy stakeholders. Our jobs at this point are to monitor the legislative process and continue to advocate for those outcomes that will enable DM disease stakeholders to improve the quality of life of DM patients and families. If you are attending the 2015 MDF Annual Conference in mid-September, consider signing up for our grassroots advocacy Hill Day, where we will organize over 70 family members, researchers and industry representatives into teams to visit congressional offices and advocate for 21st Century Cures and other DM-friendly legislation.
A section-by-section summary of the bill and related materials can be found on the House Energy & Commerce Committee website.
On Twitter, you can follow the dialog through the summer and fall by tuning into the hashtag #CURES2015.
08/18/2015