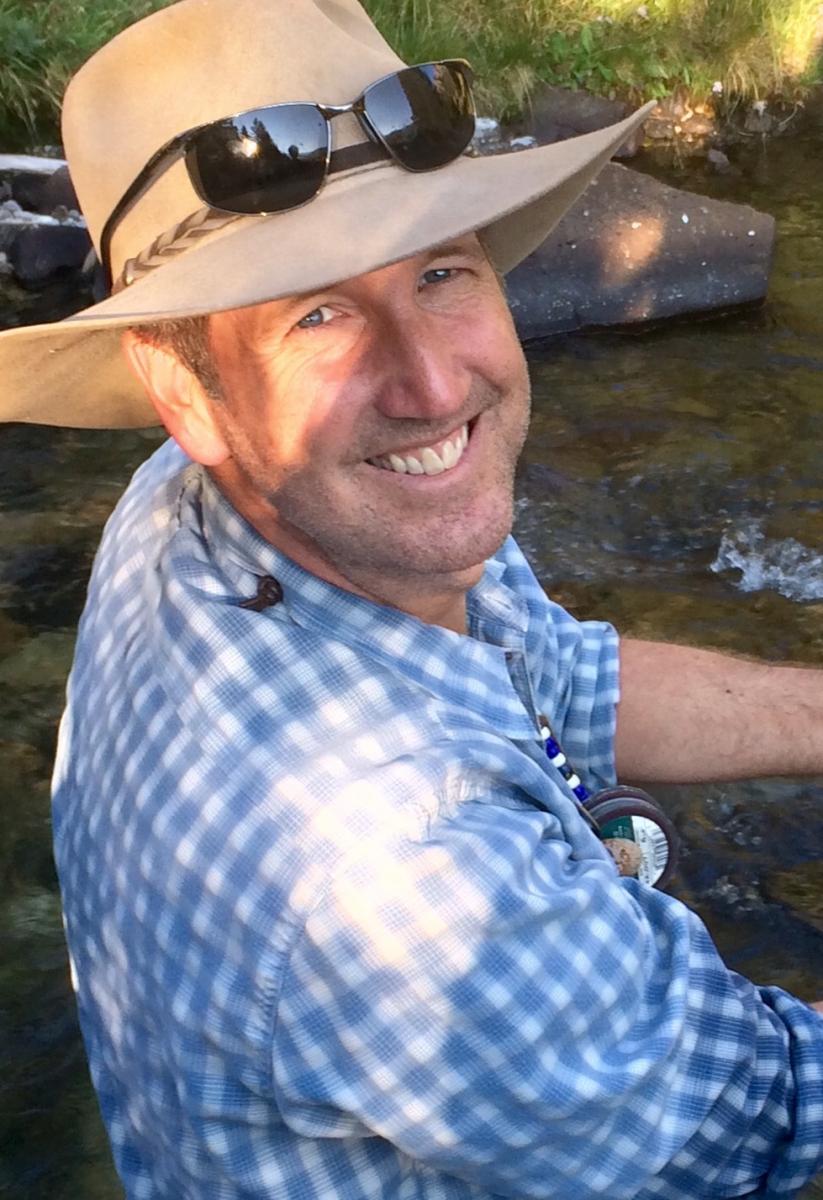 Two Ocean Creek in Wyoming's Teton wilderness holds a special place for Joel Revill. The creek splits across the Continental Divide and snow that melts into the creek has an equal chance of flowing to either the Atlantic or Pacific Oceans. The area was a favorite place for Joel to backpack and fish while he was growing up in Wyoming. But it's also a metaphor for his own travels, which carried him through the world of finance to New York, San Francisco, Europe and Asia.
Revill, 52, has been a member of the MDF Board of Directors since 2018 although he's long been connected to the organization through his close friendship with MDF co-founders Jeremy and Erica Kelly and his generous support.
Friends in Finance
After earning undergraduate degrees from the University of Oregon in Finance and Japanese Language and Literature, with time spent at Obirin University in Japan, Joel entered the investment banking program at J.P. Morgan in New York in 1992.
That program is where he met his wife Kristin, as well as Jeremy and Erica Kelly, with whom he and his wife would form a deep friendship. It was later when both couples were married and living in Marin County, across the Golden Gate Bridge from San Francisco, that Erica and her two sons were diagnosed with myotonic dystrophy and the Kellys helped launch MDF.
"It hit us hard," Revill said, recalling when he learned of the diagnosis of Erica and her sons. "There is no cause dearer to me than this."
As an early fundraising effort, Jeremy spent a year riding his bike to and from work in San Francisco, 32 miles a day roundtrip. Joel cheered him on, sometimes riding with Jeremy as a gesture of support for his friends.
Joel spent 12 years in the investment banking industry, where he rose from analyst to managing director, overseeing merger and acquisition transactions and financings for consumer industry clients globally. During that time he was based in New York, Tokyo and San Francisco.
International Waters
In 2000 Joel decided he needed to expand beyond spreadsheets and financial statements and enrolled in a master's program in liberal arts at Stanford University. It was then he discovered an unexpected connection between his interest in Japan and his hometown of Powell, Wyoming—it had been the site of an internment camp during World War II for Japanese Americans—Joel planned to write his master's thesis about the camp.
In 2004, though, he joined Standard Pacific Capital as an investment partner and had to withdraw from Stanford prior to completing his thesis. He eventually became a managing partner at Standard Pacific, helping oversee a global investment portfolio with $4.5 billion in capital invested.
In 2019, he would launch Two Ocean Trust, a trust and investment firm based in Jackson Hole, Wyoming. The name, a reference to the firm's client reach across the United States, Europe, and Asia, but also a reference to the place he loved while growing up in Wyoming.
Joel's wife Kristin, a New England native who studied at Dartmouth College in New Hampshire, seemed an unlikely sort to fall in love with Wyoming, but she was an earth sciences major in college and spent time there at geology field camps. The couple spent a lot of time visiting his home state over the years, bought a cabin, and eventually decided to raise their daughter Anna and son Sam in Jackson Hole.
A Man on a Mission
Joel has served on numerous boards including First Bank of Wyoming, the Community Foundation of Jackson Hole, and the Jackson Hole Land Trust. In 2019 Wyoming Governor Mark Gordon appointed Joel to the Investment Funds Committee Selection Panel. The IFC directly advises the State on managing its $21 billion sovereign fund. And in 2020 Governor Gordon appointed Joel to the Select Committee on Blockchain, Financial Technology and Digital Innovation. He hopes his financial background will make him a valued addition to the MDF board. But Joel sees the MDF board as a special opportunity.
"What's unique about this board is that there is a very real, in-our-lifetime possibility of a cure," said Joel. "It has that sense of urgency and purpose. To contribute to that is motivating and rewarding. The resilience of this community and the dedication of our staff and board are humbling. What an honor to be asked to help."
Asked what he hopes to accomplish while on the board, Joel was unabashed. "Find a cure," he said, "and until that happens, do all we can to support this incredible community."