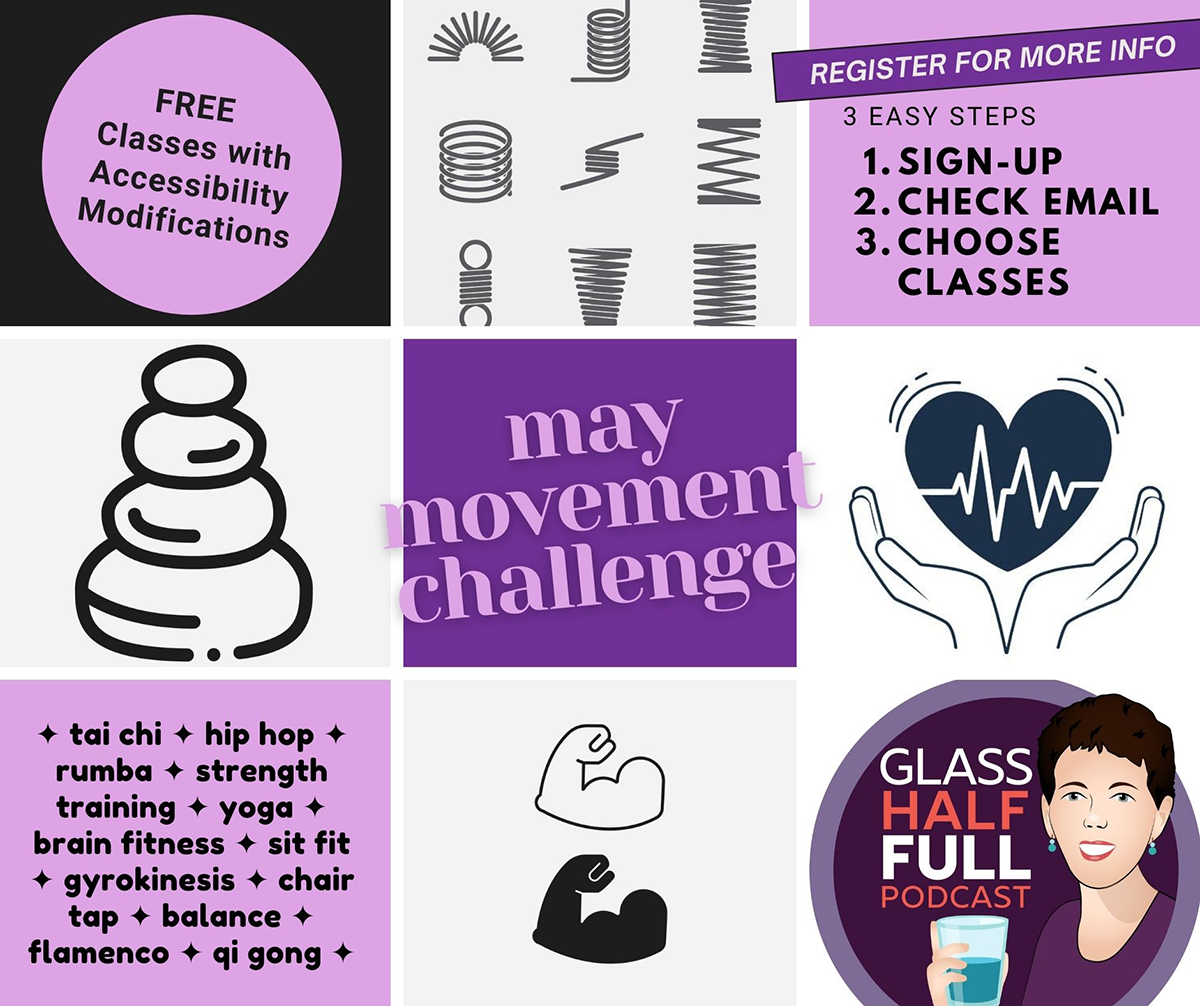 April 12, 2021
For Immediate Release
May Movement Challenge 2021– a month-long event of free online movement classes for all bodies.
Alameda, CA:
The Glass Half Full Podcast announced a calendar of free and accessible online movement classes for the month of May. With daily classes ranging from yoga to hip hop and beyond, the May Movement Challenge invites participants of all abilities to get active and have some fun. The program includes a calendar of classes, goal setting, movement tips shared on social media, and prizes. 
Each class will feature a different instructor and style (strength training, flexibility, endurance, or balance) and is identified with an accessibility rating: (1) seated, no lower body movement required; (2) seated with some lower body movement and modifications provided; (3) modifications for seated and standing participants; or (4) full body movement without modifications.
Leslie Krongold, Ed.D. – independent producer and host of the Glass Half Full Podcast – spent much of the pandemic expanding both her physical activities as well as her virtual social network and wants to share these opportunities with both disabled and able-bodied persons. With the pandemic, she says, "I've amped up my daily movement which has helped both my physical and emotional health. I hope to create an opportunity for the greater community to do the same during the month of May."
Attendees should register for the Kickoff Event on May 1st @ 4:00 p.m. (Pacific) and select the classes they want to attend. Event registration and class attendance qualifies attendees for randomly drawn prizes. Several classes are sponsored by non-profit organizations such as Bay Area Outreach for Recreational Programs, Dance for All Bodies, and Wheelchair Dancers Organization while others are offered by independent fitness and dance instructors.
About Glass Half Full Podcast
Glass Half Full with Leslie Krongold, Ed.D. celebrated its 5th anniversary in March 2021. With over 100 episodes, the podcast offers in depth interviews for people living and coping with a chronic health condition. Guests include people with chronic health conditions and healthcare professionals, and topics cover Coping, Nutrition as well as Social Support. Diagnosed with Myotonic Dystrophy in 1998, Leslie is also a keynote speaker and writer; most recently her presentation at the Virtual Abilities Expo attracted over 600 viewers.
Date(s)
Add to Calendar
2021-05-01 00:00:00
2021-05-01 00:00:00
May Movement Challenge 2021
To know more about this Event, Just go to: https://www.myotonic.org/may-movement-challenge-2021
Location
Myotonic Dystrophy Foundation
info@myotonic.org
America/Vancouver
public