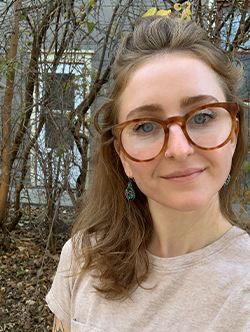 MDF is excited to formally welcome Ruth Sheldon to the MDF team as our new Health Resources Coordinator! We are delighted to have her on board and helping move our mission of Community, Care, and a Cure forward. Learn a little about Ruth and her journey with myotonic dystrophy in her own words below.
Middle school served as an overwhelming introduction to myotonic dystrophy. I vaguely remember talks of medical testing and positive results in hushed tones. I remember the day my mom shared the results of my genetic testing, and how she cried, "I'm sorry I gave this to you, Goose (my pet name). I passed it on and had no idea! I am so very sorry." To this day, I know she carries that guilt with her. But how could she have ever known? The inscrutable amalgamation of symptoms that popped up in my relatives was just that, a mystery! Were it not for my cousin's diagnosis, the disease would have continued to spread like wildfire through our bloodlines. I am grateful every day for the doctor that first decided to test my cousin. I still do not know what motivated that physician to test for myotonic dystrophy; I like to think that it was a scientific journal article, a previous patient, or an insightful discussion with a colleague. I am grateful for that physician because with that information, I now have the power to act.
Since my diagnosis, I have become deeply passionate about the myotonic dystrophy community. My own diagnosis and experiences navigating health care systems are what inspired me to pursue a dual degree Master of Public Health/Master of Social Work at the University of Minnesota. I have been privileged to work as a sexuality educator, public health researcher, and behavioral therapist in a variety of settings- all of which have contributed to my knowledge of clinical and organizational settings which prioritize the wellbeing and empowerment of its constituents.
I am thrilled to be joining the Myotonic Dystrophy Foundation. Being on the team that gets physicians to test, research to be conducted, individuals to seek support, and awareness to be raised is an immense joy. I look forward to continuing this important work, and I can confidently say I will give it everything I've got. Thank you for this opportunity.