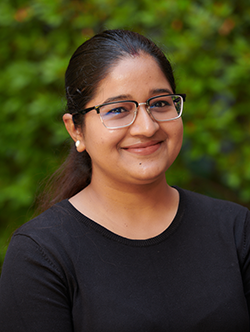 MDF is excited to welcome Mounica Lakshmi Dugginapeddi, MPH, as our Community Programs Coordinator!
Mounica Lakshmi Dugginapeddi joined MDF in June 2022 as Community Programs Coordinator shortly after receiving her Master of Public Health degree from the UCLA Fielding School of Public Health. The impact made by MDF in advocating for patients and families navigating through myotonic dystrophy throughout the world motivated her to join MDF.
Previously, she graduated from medical school in Hyderabad, India where she worked as a medical intern for a year in various medical departments while also volunteering at a local community clinic as a health educator. After moving to the US, she volunteered as a community health mentor for the "Check, Change, Control" Program of the American Heart Association in the Bay Area and as a Donor Ambassador at San Jose American Red Cross Blood Donation Center.
Her passion for community health education and patient advocacy have been the key driving forces for her journey in public health, and she looks forward to contributing her skills for the great work being done by MDF in this new role.
MDF is thrilled to officially welcome Mounica to the team!