Published on Fri, 03/20/2020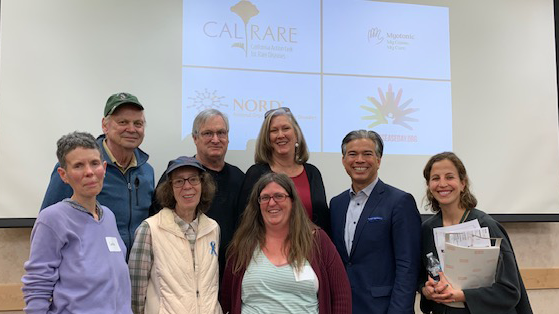 Rare Disease Day 2020
2019 was the first time the NorCal MDF Support Group celebrated the annual Rare Disease Day together. We met at Senator Dianne Feinstein's office in San Francisco to meet with her staff to discuss legislative issues important to families impacted by myotonic dystrophy.
This year we wanted to do something different as well as to encourage other MDF support groups throughout our communities to participate. To kick off this effort, Leah Hellerstein, Program Director, invited Advocacy Consultant, Kevin Brennan, to join a community leaders webinar. Kevin discussed various ways patients, caregivers, and their loved ones can bring attention to the needs of rare diseases like myotonic dystrophy; from meeting with Congressional representatives or their staff, writing letters, using social media to get the word out, or attending a public event.
Organizing a Local Event
Meanwhile, I hoped to hold an event at the Oakland Zoo since the zebra and its stripes are the official symbol of rare disease. This didn't quite work out but Leah discovered an organization that hadn't been on our radar – CalRare. Leah worked with CalRare and NORD to organize an event at the Chabot Space & Science Center in Oakland.
On Sunday, March 1st several DM families joined a group of ~50 people in a classroom at the large interactive museum space. Here are a couple factoids I noted from the event: (1) There are approximately 7,000 known rare diseases; and (2) A rare disease is any disease, disorder, illness or condition affecting fewer than 200,000 Americans.
At this gathering, our DM group was well-represented and I, personally, felt less than rare. I met individuals with much rarer conditions. One young man traveled from Sacramento with his mother for the event. He was diagnosed with Hereditary Spastic Paraplegia and had not met, in person, anyone with his genetic condition. His condition does not have a patient advocacy organization, no in-person or virtual support group to attend, and I bet he was amazed to see our group of nine people.
Starting Conversations
The event started with presentations by CalRare staff, a researcher at the California Institute for Regenerative Medicine, and Assemblymember, Rob Bonta, District 18. Bonta is the Co-Chair of the Rare Disease California Caucus and lives in the same island community of Alameda as I do.
After the presentations I introduced myself to Bonta and asked if he had heard about myotonic dystrophy. He hadn't. So I introduced him to our DM families and staff and we all had an engaging conversation about the disease and the ways government can help our families.
And then we went on to enjoy the museum. I'd call it all a resounding success.