Published on Fri, 03/17/2023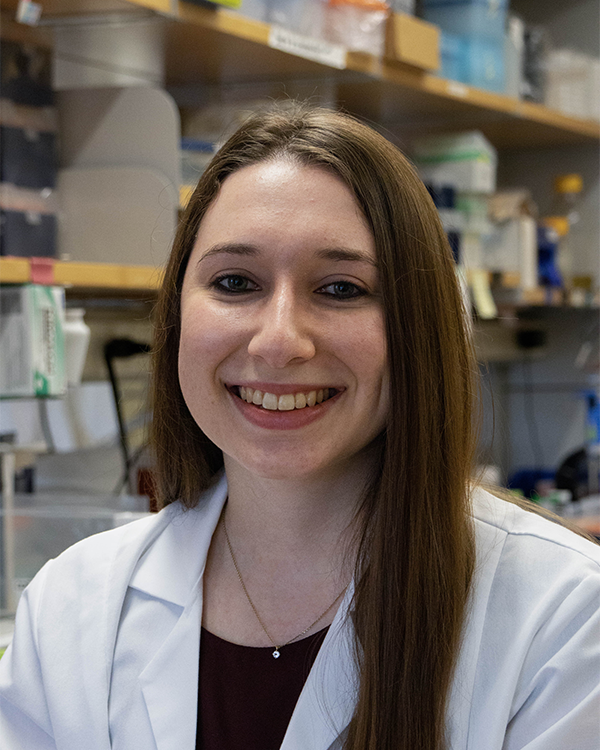 Emma Shea 
University of Florida, Gainesville, Florida, US
Emma Shea first became interested in myotonic dystrophy (DM) in 2014, when her older sister was diagnosed with myotonic dystrophy type 1 (DM1), and it became obvious that her younger sister, mother, and uncle also had DM1. The diagnosis clarified the reason for the troubles that they experienced: muscle weakness and fatigue, myotonia, cataracts, gastrointestinal discomfort, and daytime sleepiness, among others, but she felt it was still a shock to learn that her family had an incurable and mostly untreatable genetic disease. Two years later, she started college at Rensselaer Polytechnic Institute, New York in the United States studying Biology. She had an interest in genetics and desire to explore genetic engineering and gene therapy. During the summer before the final year of her undergraduate studies, she interned with Dr. Kenneth Offit's lab at the Memorial Sloan Kettering Cancer Center in New York, in the United States. During this internship she became inspired to pursue research that was personally meaningful to her- studying the disease that affects her family. After graduating from Rensselaer, she accepted a position in Dr. Cheryl London's lab at Tufts University, Massachusetts in the United States where she studied human and canine angiosarcoma/ hemangiosarcoma.
She decided to pursue a PhD in Biomedical Sciences at the University of Florida in the United States with her mentor, Dr. Eric Wang. There she is driving a DM1 therapeutic research project in collaboration with Entrada Therapeutics, which they are currently preparing for publication. She has also connected with MDF to volunteer with projects and plan events, such as a DM Day at the University of Florida next year. She states that her "goal is to contribute to the development of a safe and effective treatment for myotonic dystrophy and to provide hope and support for my family and the DM community".
Using CRISPR to make modifications in disease-causing DNA is an approach that is currently in clinical trials to treat genetic diseases. There has been CRISPR research in DM and similar disease fields that also seeks to remove the expanded DNA sequence. The traditional Cas9 protein cuts the DNA in two specific places and relies on our cells' natural repair mechanisms to fix the double-stranded break after a modification has been made. Building on previous work, her project, "CRISPR/Cas9-nickase approaches to shrink expanded repeats in myotonic dystrophy", proposes to use the Cas9 nickase variant to make a single cut. She proposes to target the Cas9 to a unique sequence around the repeats. Her research will aim to identify the best tools and the best locations in the DNA to make the cut and induce repeat shrinking. She will carry out initial research in cell models of DM1 and DM2 and DM1 mouse models. If successful, this method can be applied to other repeat-expansion diseases.
Click here to read more about previous Fellowship Recipients.
Published on March 17th, 2023.