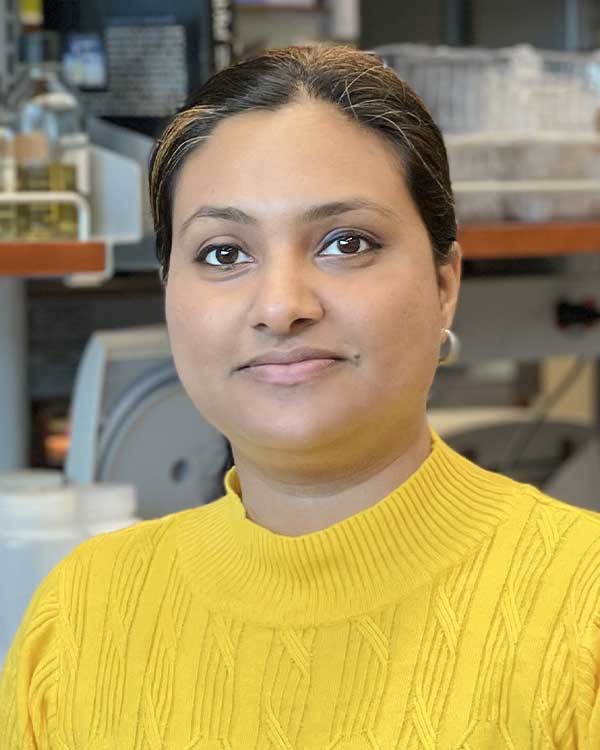 Published on May 25th, 2023.
Jiss Louis, PhD
The RNA Institute, University at Albany, New York, US
Dr. Jiss Louis, PhD has always been fascinated by translational biology and developing new drugs in various disease models. She graduated with a Bachelor of Science in Biotechnology from St. Joseph's College Irinjalakuda in Kerala, India, in 2009, where she was exposed to biochemistry, molecular biology, microbiology, and immunology techniques. Later, she joined the Master of Science (MSc) in the Biotechnology program at the University of Calicut Campus, in Kerala, India, where under the guidance of Professor Joseph, she screened various plant extracts for finding a cancer treatment drug and was successful in identifying two plant extracts in inducing apoptosis in a human leukemia monocytic cell line (THP1).
Because of her interest in translational biology, Dr. Louis pursued a position as a junior research fellow with Dr. Tessy Thomas at the Rajiv Gandhi Centre for Biotechnology (RGCB) in Trivandrum, Kerala, India where she worked on an Indian Department of Science & Technology-funded project from 2012-2015 entitled, "Characterization of the signaling network that sustains oral cancer stem cell for developing a drug targeted therapy". For her PhD, she joined Dr. Indrani's lab at BITS Pilani K.K Birla Goa Campus, in India, where she studied alternative splicing in metabolic syndromes. Her experience during her PhD in the field of splicing, disease biology, and RBPs (including MBNL1) initiated her interest in therapeutic approaches for splicing defects.
After her PhD, Dr. Louis joined the labs of Dr. Andy Berglund and Dr. Kaalak Reddy as a Postdoctoral Research Associate at the RNA Institute at the University at Albany, New York in the United States, where she focuses on alternative splicing and DM. In the labs she aims to apply her previous training in RNA processing and with MBNL proteins which are central to DM pathogenesis, to identify much-needed therapies.
Dr. Louis's project, "Determining the therapeutic efficacy of natural compounds in myotonic dystrophy type 2", proposes to evaluate the therapeutic potential of their lab's newly-identified natural lead compound in patient-derived cellular models of DM2. Based on its excellent safety profile, she will also perform a combinatorial screen for compounds that synergize with the lead compound. The overall goal of the project is to identify a safe mono- or combination disease-targeting therapy to test in animal models of DM2 that are currently being developed which will help advance the therapeutic pipeline for DM2.
Click here to read more about previous Fellowship Recipients.