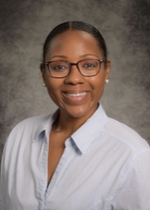 Kamyra Simone Edokpolor
Bassell Laboratory, Emory University School of Medicine
MDF is proud to announce Kamyra Simone Edokpolor as one of the MDF US 2021 Fellowship Recipients! A lesser known and understudied symptom of DM1 patients is an increased risk of surgical complications associated with general anesthesia. Many patients fear medical procedures that involve general anesthesia, given that in the most severe cases, complications during the recovery period result in fatalities. Unfortunately, the molecular mechanisms underlying adverse responses to anesthesia in DM1 remain largely unknown. Anesthetics induce and maintain the quiescent state by increasing the production and circulation of the inhibitory neurotransmitter, GABA, throughout the brain, suggesting an enhanced inhibitory mechanism could underlie delayed recovery in DM1. Overall, the goal of Edokpolor's project "MBNL2 Dependent Dysregulation of GABAARs: Implications for CNS Symptoms in Myotonic Dystrophy Type 1" is to reveal new insights into how an RNA mis-splicing event may impact GABA and also interrogate the global effects of MBNL2 on GABA. Identifying how GABA receptors are primarily involved in this pervasive symptom will potentially provide new drug targets to improve DM1 patient care.
After completing an undergraduate degree at Bryn Mawr College, which included a two-year summer research fellowship with the National Endocrine Society and a yearlong senior psychology research project, Edokpolor completed a post-baccalaureate program at the University of North Carolina- Chapel Hill. Under the mentorship of Dr. A. Leslie Morrow at the University of North Carolina- Chapel Hill, her research centered around mediating the development and dependence of alcohol abuse in rats by overexpressing an endogenous neuroactive steroid to evaluate its potential role. At Emory University's Neuroscience doctoral program, she first worked in the neuro-anesthesia laboratory of Dr. Paul S. Garcia, where she did extensive behavioral work focusing on mice with a specific GABAA subunit knockout. This experience led her to work with Dr. Gary Bassell, where she has been able to study the extent to which specific GABAA-R subtypes may modulate responses to anesthetics within a mouse model of Myotonic dystrophy. In Bassell's Lab, Edokpolor has the opportunity to conduct research on a topic that could potentially have an immediate and positive impact on the lives of individuals with Myotonic Dystrophy. Interacting with the MDF community while presenting her data at the conference helped her develop her thesis, as comments suggested there is a great need for more research in this area. She noted that comments from those who expressed their fear of undergoing general anesthesia or the fact their anesthesiologists were not listening to their concerns about their recovery process being "abnormal" motivated her to pursue this research. She hopes her results could potentially aid in the development of advanced patient care, contributing towards identifying therapeutic interventions to reduce complications from not only anesthesia, but also other highly reported GABA mediated symptoms such as fatigue and hypersomnia.
Click here to read more about previous Fellowship Recipients.
Published on April 15th, 2021.