Published on Fri, 05/14/2021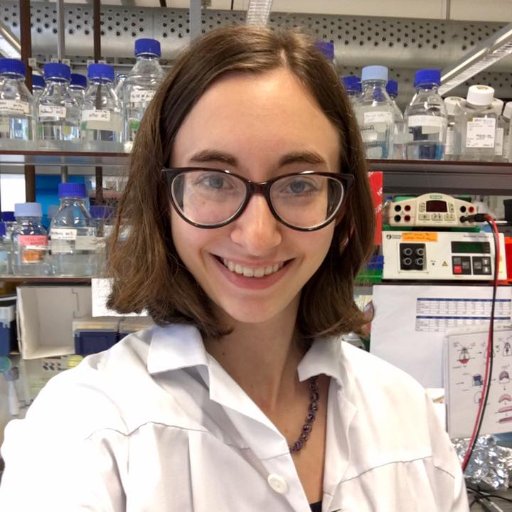 Maya Gosztyla
University of California, San Diego, California, US
MDF is proud to announce Maya Gosztyla as one of the MDF's 2021 Fellowship Recipients! Maya Gosztyla's project "Investigating RNA-binding Proteins and RNA Localization in cDM1 Organoids" plans to search for new RBPs, beyond those currently known, that are dysregulated in DM1. They will conduct this analysis using cerebral organoids, which mimic the cells and structure of the human brain using spherical clumps of cells grown in a dish. They will also investigate whether incorrect localization of RNAs within each cell, rather than incorrect RNA processing, contributes to DM1's cognitive symptoms. These experiments will provide important insights into how DM1 affects the brain and provide new avenues for developing treatments that address its cognitive symptoms.
Maya's research journey began during the summer after she finished high school in 2014, when she joined the Nationwide Children's Hospital Research Institute as a summer intern. She then enrolled at the Ohio State University with a double-major in Neuroscience and Molecular Genetics. There she joined the laboratory of Dr. Sung Ok Yoon my freshman year, where she contributed to research on bladder dysfunction after spinal cord injury. She then joined Dr. Mark Seeger's laboratory, where she led an Honors Thesis project to identify new genes that regulate axon guidance. During the course of her thesis research, she sought out new opportunities to learn about neurodegenerative diseases and published a first-author review in the Journal of Alzheimer's Disease, as well as multiple additional papers with Dr. Holly Brothers and Dr. Stephen Robinson. These experiences allowed her to explore both basic and translational neuroscience research.
She then joined Dr. Johannes Gräff's lab at École Polytechnique Féderale de Lausanne (EPFL) in Switzerland through EPFL's selective Summer Research Program. She won additional funding from the U.S. Embassy of Switzerland that enabled her to extend my stay in Dr. Gräff's lab. After completing her Bachelor of Science degree in May 2018, she secured a postbaccalaureate research fellowship at the National Center for Advancing Translational Sciences (NCATS), a part of the National Institutes of Health. There she worked under Dr. Bolormaa Baljinnyam on research for the treatment of neurodegenerative lipid storage disorders such as Niemann Pick disease. Once completing her NCATS fellowship, Maya enrolled in the Biomedical Sciences Graduate Program at the University of California San Diego (UCSD). At UCSD, she worked with Drs. Pradipta Ghosh and Debashis Sahoo to build a computational model of Alzheimer's Disease (AD) based on public gene expression datasets.
While her past research has primarily focused on AD, her interests have broadened to include other neurodegenerative diseases and she is excited to be pursuing her graduate studies in the Dr. Gene Yeo' lab, where she investigates novel mechanisms and therapeutic strategies for myotonic dystrophy. In the long-term, Maya plans to pursue a career as a translational scientist investigating treatments for neurodevelopmental and neurodegenerative diseases within academia or industry.
Click here to read more about previous Fellowship Recipients.
Published on May 11th, 2021.