Published on Tue, 06/12/2018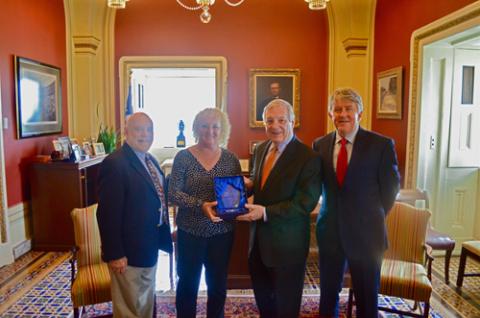 MDF honored both Senator Dick Durbin and Senator Diane Feinstein with MDF Congressional Leadership Awards for their outstanding work and support in getting myotonic dystrophy added as an eligible research area in the U.S. Department of Defense (DOD) Peer-Reviewed Medical Research Program (PRMRP) for Fiscal Year 2018 (FY18). Senator Durbin serves as the Ranking Member on the Defense Subcommittee on Appropriations, which has oversight over Defense Health Programs like the PRMRP, and Senator Feinstein is a senior member of the subcommittee.
On a recent visit to Washington, DC, MDF community members Gareth and Jane Williams of Lake Forest, IL, along with MDF Board Chair Dr. Woodie Kessel, presented Senator Durbin with the MDF Congressional Leadership Award and enjoyed an informative and affable meeting discussing the impact that DM has had on the Williams family, Senator Durbin's recent interest in gene editing and CRISPR, and their mutual affection for British television shows. The Senator and his staff reaffirmed their commitment to helping the DM community, and kept that promise a week later when he mentioned myotonic dystrophy to National Institutes of Health (NIH) Director Frances Collins at a Senate Appropriations hearing.
Dr. Kessel and MDF Board member and California resident Martha Brown were in Washington several weeks later to present Senator Feinstein with an MDF Congressional Leadership Award. Senator Feinstein and her staff, in particular Chris Gaspar have been incredibly helpful to MDF as we navigate through the FY18 PRMRP process and as we continue our efforts to ensure that myotonic dystrophy remains included in the PRMRP in Fiscal Year 2019. Woodie and Martha thanked Chris for his continued engagement on this issue, and the group had a productive meeting where they discussed PRMRP strategies going forward.
MDF remains deeply grateful to both Senators and their staff, and we look forward to continuing to work together in the future to advance DM research.
Get Involved!
For more information on MDF's advocacy program and how you can get involved, watch a video on our recent advocacy update and training.
Questions? Contact MDF.
Thank Senators Durbin and Feinstein for their Work
Senator Durbin
Send his office an email.
Call his office at 202-224-7703.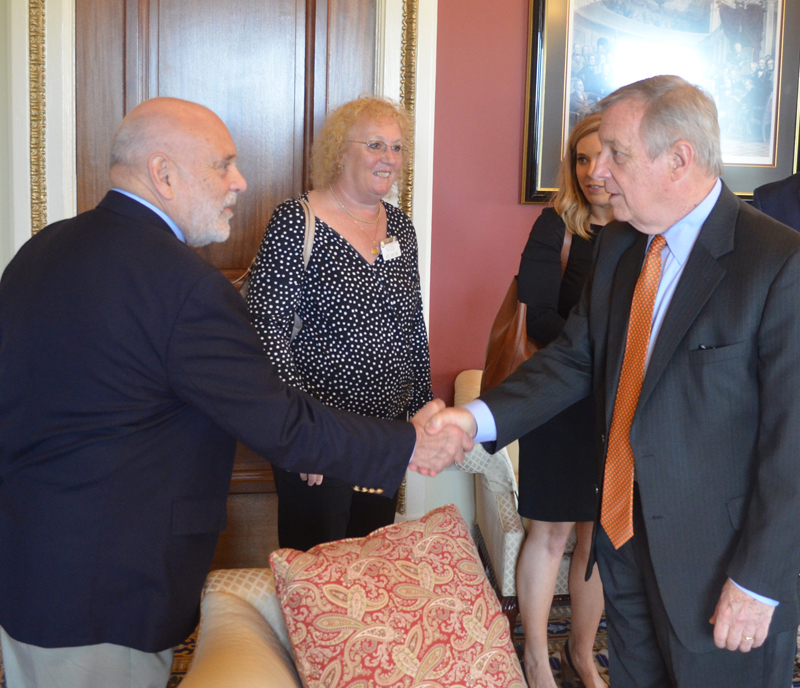 Senator Feinstein
Send her office an email.
Call her office at (202) 224-3841.