Published on Thu, 03/18/2021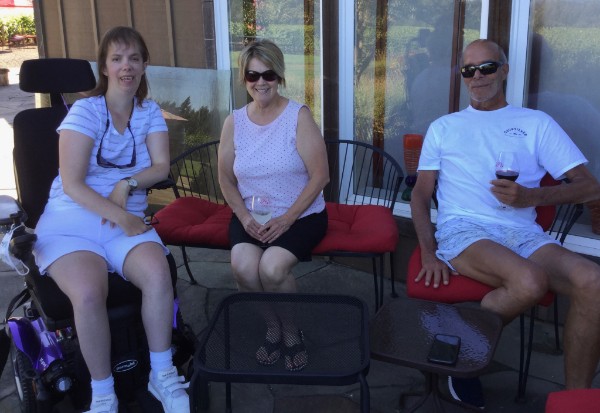 "I'd like to personally say how much your efforts have meant to me and my family. Our lives are better for you being part of it. Thank you from the bottom of my heart."
"Clare, your positive attitude and energy for our support group, while being the caregiver in your family, is amazing!  We love you and will miss you!"
"The impact this group has had on our lives cannot be understated. Clare has created a community that is so important to our family, and we will truly miss her effervescent presence!"
These are just a few of the many heartfelt sentiments shared about Clare May's retirement from serving as the Portland, Oregon MDF support group facilitator. To say her years of dedication to the group have been impactful would be a drastic understatement.
When attending her the Myotonic Dystrophy Foundation (MDF) family conference with her daughters in 2007, Clare had not intended to start a myotonic dystrophy support group.
Even so, when she was asked to start the group, she returned to her home in Portland, Oregon, and began putting together what would grow to become one of the largest DM support groups in the country. Clare set out to create a social space for families that shared her experience. Her plan was "not to start an educational support group, but a social one, with the expectation that the education would take care of itself." As time would tell, the social foundation she developed proved to be a recipe for success. What began as a small group quickly grew to 20 or more regulars attending two-hour, weekly meetings, on folding chairs in Clare's living room. The formula created first a support group, and ultimately a group of trusting friends.
Despite the social element as key to its success, Clare maintained a consistent and regulated schedule. Her facilitation method allowed structure and order such that each participant had time to share their story, feelings, and experiences. Meetings were a mix of business and fun, covering practical concerns like reviewing the treasurer's report, and ranging to fun elements such as a "raffle" for on-time attendees. Small but thoughtful gestures like this yielded a close-knit and reliable group.
Clare's effervescent and approachable nature set the tone for an incomparable group. Managing the two-hour meeting with thoughtfulness and grace, Clare ensured every voice was heard. In this way she could ensure that every participant felt important. "Even if you can give someone a slight nod, or wink while asking them a question," it shows "respect for everyone there, and the effort it took for them to get there," said Clare.  When asked for her key to success, the answer was simple, "listen, remember and act if necessary."
A true leader in her community, Clare is not without her own heroes. One major source of her inspiration to this day is none other than the Myotonic Dystrophy Foundation (MDF)'s founding Chair of the Board of Directors, Shannon Lord. Clare reflected that it was, "just marvelous to leave a legacy like [MDF]."  Every meeting, she said, Shannon found an opportunity to share the incredible resources available through the MDF website and programs, explaining that it would be "impossible to measure how important it is to our community."
Clare will be leaving behind her own legacy in Portland as she and her family look to their next adventure in Phoenix, Arizona. After many years in Oregon, this felt like the right time to move. She shared that this will also allow her husband, Orson (the sun worshipper) more time under with blue skies. While she is looking forward to a bit more warmth in her future, Clare will miss Portland and the support group family she has shared so many years with.
The Myotonic Dystrophy Foundation is grateful for Clare's leadership and wish her and her family all the best in their next chapter of sun and relaxation. 
Below are only a few more sentiments of gratitude from members of the Portland support group:
"My family met Clare May because of an obituary about her daughter who had died from Myotonic Dystrophy. I was devastated to hear about it, because it was the first time I realized that could be the same fate for my daughter and sister. But getting connected with Clare May, and the MD Northwest support group she started was the silver lining! Suddenly there was a family of people facing the same issues, needing the same kind of support, but having a place to go to get help. Clare was the link that connected us all - with her insights, her practical knowledge, her fun gifts at support group meetings, and her puns/poetry via group emails. She leaves a huge hole, but also an amazing legacy for the rest of us to carry on. Thank you Clare for making a difference in so many lives!"
- Lisa Gambee
"Clare, she is Great. When I went to the group she was always very sweet. I was a founding member of the group. From day one every meeting she always had great information, financial, medical, research etc. She will be truly missed, also Wendy. I hope she will visit time to time. Just to check in."
- Denise (Susie) LaVelle
"Clare will really be missed. When we first learned about Myotonic Dystrophy there was no support group- we had no idea other than reading the internet. A few years later we learned about Clare's support group. It was a place we could bring our daughter and she never had to explain and everyone knew and supported her! We learned so much by talking with others and Clare. She had so much compassion for others! We lost Tiffany but still went to the meetings. I think we helped many people learn more about Myotonic Dystrophy and know they were not alone! I am soo happy for Clare and her family- but she will really me missed!!!!!!!"
- Love from the Wiser Ones
"Without Clare's tireless influence I never would have met all these wonderful people who are in this club that none of us ever wanted to join! Thank you!"
- Pete Barron
"How do we say thank you and goodbye to Clare--our leader, party planner, megaphone, confident, advisor, shoulder to cry on, cheerleader, rock, dear friend, and so much more?! This amazingly skilled, compassionate, and driven woman truly has been the glue of the Northwest Myotonic Dystrophy Support Group, and we're going to miss her sorely. Plus, she's taking with her our darling Wendy and fun Orson! Thank goodness for technology, because we truly hope the Mays will be our group's emeritus members and join us for virtual meetings from time to time--from their swimming pool patio!"
- Ruthie Matinko-Wald
"Clare was the first face I saw in my family's DM journey. I'm not sure I can express how important her warmth and support made me feel in my early days. And all the days since then. Clare is a treasure!!! Truly an amazing, strong, and wonderful person. Clare will always be present in the heart of the Portland Support Group and will surely be missed."
- Rebecca Coplin
"Clare was instrumental in forming the Portland Support Group. She not only provided her home as our meeting site, but she also worked thru the local clinic and by word-of-mouth to slowly assemble our membership over eleven years. She drove our agenda, kept us informed about challenges our members were facing, organized events, and so many other things at so many different levels. Because of her tireless efforts, our support group is in a solid position to expand our efforts and move forward in the coming years, despite her physical move to AZ."
- Barry Wald