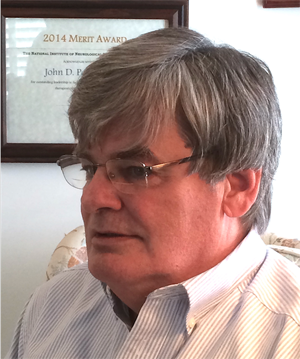 MDF is bidding a very fond farewell to John Porter, PhD, as MDF's Chief Science Officer, and bidding a very warm hello to Elizabeth (Lisa) Ackermann, PhD.
John Porter, PhD
Since 2016 John Porter has done an exemplary job of leading the research and drug development acceleration programs at MDF in his role as Chief Science Officer. He spearheaded the implementation of key recent initiatives including the development of the MDF cell line library, initiation of MDF's BAC transgenic mouse model, known at MDF as the Mega Mouse and, in partnership with CEO Molly White, helped significantly expand the number of industry members considering myotonic dystrophy as a drug development candidate via countless presentations to biotech and pharma companies internationally. John also identified and wrote the content for the monthly DM Research News, the first and only DM-only research newsletter for the professional community. John brought significant expertise to MDF drawn from his roles as a Program Director at the National Institute of Neuromuscular Disorders and Stroke (NINDS), as CEO at Parent Project Muscular Dystrophy and via his roles as professor of neurology and neuroscience, and academic researcher, at Case Western Reserve University. The good news is that while John is retiring from the CSO role at MDF, he will continue to support the foundation as a consultant on key programs.
Elizabeth (Lisa) Ackermann, PhD
MDF is thrilled to announce that Dr. Lisa Ackermann has joined MDF as our new Chief Science Officer. Lisa has over 20 years of pharmaceutical drug discovery and development experience, most recently as Vice President of Clinical Development at Ionis Pharmaceuticals. During her extensive career she has led both preclinical and clinical teams in the areas of rare genetic disorders and Alzheimer's Disease, and at Ionis Pharmaceuticals served as Project Team Leader for the inotersen development program (a novel therapy to treat Transthyretin Amyloidosis, a rare and severe disease). Lisa is a seasoned senior scientist and drug development professional, and we look forward to continuing and amplifying the good work John carried out under her leadership.
Please join us in thanking John and wishing him well in his retirement, and in extending a very enthusiastic and appreciative welcome to Lisa!