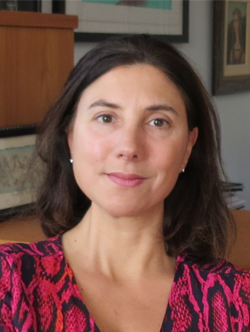 The Myotonic Dystrophy Foundation is overjoyed to welcome Sofia Olmos, PhD, to the team as our new Myotonic Dystrophy Family Registry Coordinator!
Dr. Sofia Olmos has extensive experience within the medical and scientific communities, and her skills will meaningfully enrich the work of the Foundation. Sofia's professional experience centers around scientific research and community outreach. With a PhD in Immunology, and Master's degree in Genetics, Sofia moved to the US from Argentina over 20 years ago to complete her postdoctoral research in New York at NYU and in Albany.
Sofia's passion for science, as well as increased direct involvement in patient care communities, makes her a perfect fit for a role that requires both emotional intelligence and a comprehensive scientific knowledge of data storage practices, evaluation, and analysis.
Her approach to engaging the non-profit sector is admirable, as Sofia has also gained a significant amount of experience through volunteer work. While working in a professional capacity in research, Sofia volunteered at the Leukemia and Lymphoma Society and at her local library tutoring children. All these vital experiences prepared Sofia for a fruitful career working within a variety of settings and among individuals living with chronic illnesses.
Sofia's excitement for this new position is palpable, and she cites the many current advances in DM drug development and clinical trials, the comprehensive MDF resources and website (myotonic.org) available to the DM community, as well as our CEO's (Dr. Tanya Stevenson) infectious energy, as some of the reasons for her interest in the position. She was also incredibly impressed with the MDF support group facilitators who helped interview her during the application process!
MDF is pleased to welcome Sofia, and we invite the broader myotonic dystrophy community to join us in welcoming her. If you would like to learn more about the Myotonic Dystrophy Family Registry, please reach out to Sofia at sofia.olmos@myotonic.org!