Published on Fri, 09/26/2014
The 2014 MDF Annual Conference, which occurred Friday, September 12 and Saturday, September 13, was a singular success, featuring oversold registration, an unparalleled number of researchers, pharma and biotech partners and federal agency representatives, and a number of impressive programmatic 'firsts.'
If you couldn't join us this year, you can view recordings of the sessions by topic area in the Digital Academy or via links in the 2014 MDF Annual Conference Agenda.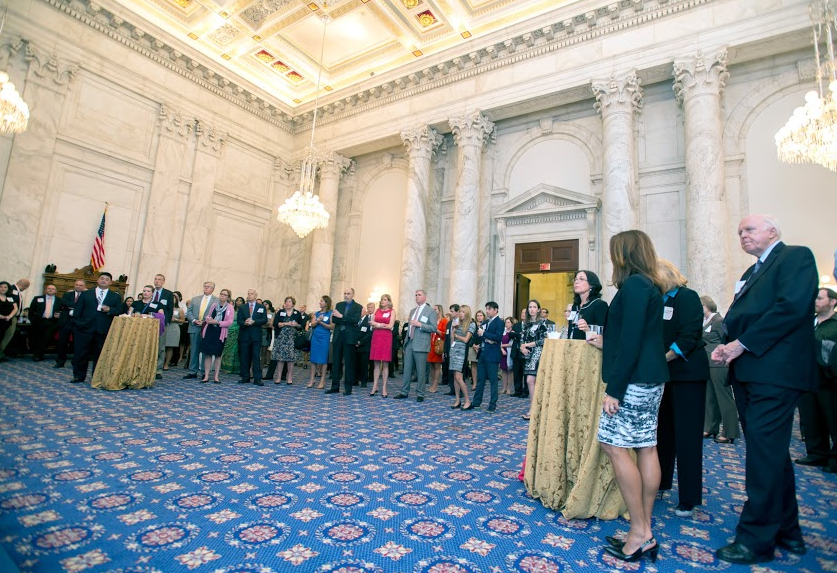 Conference Announcement: $3-5mm Research and Advocacy Investment
Advocacy, and specifically driving DM drug development and access, will continue to be a key and growing focus of MDF's work over the next three to five years. As MDF Chairman Jeremy Kelly explained during this year's conference, MDF will be making a $3-5 million investment.
It's aggressive and urgent objectives include:
Deepening the academic bench focused on myotonic dystrophy to drive more DM discovery;
Expanding the drug development pipeline with additional pharmaceutical partners and translational research;
Expediting the drug approval process via a targeted advocacy effort with federal agencies and legislators;
Influencing patient access to eventual treatments through outreach and education with the payer community.
Look for updates and more information on this advocacy initiative in the coming months.
Friends and Heroes Reception
MDF kicked off the conference with our first annual Friends and Heroes Awards Reception, hosting over 150 US Senators and Representatives, researchers, industry partners and philanthropists from the MDF community. The event, which honored MDF community leaders who have made significant contributions in support of Care and a Cure for myotonic dystrophy, was held in the beautiful Kennedy Caucus Room in the Russell Senate Office Building on Capitol Hill.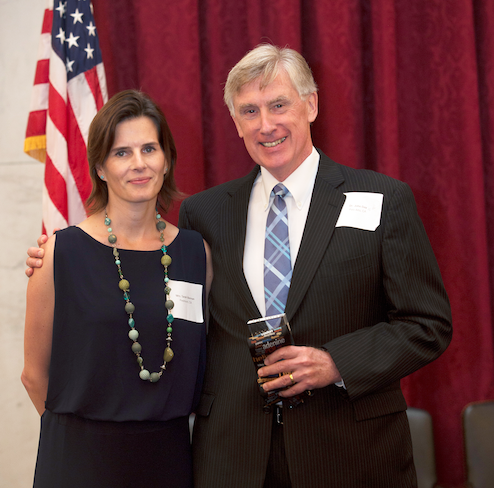 The Foundation was deeply honored to present the following awards:
Community Leadership Award to MDF Board member and Senator Tim Kaine
Humanitarian Award to MDF philanthropist Addy Loudiadis
Institutional Partner Award to the National Institutes of Health, Dr. Alan Guttmacher accepting
Outstanding Achievement in DM Research to Drs. Richard Moxley III and Charles Thornton, University of Rochester
Outstanding Contribution to DM Clinical Care to Dr. John Day, Stanford University
Outstanding Contribution to Rare Disease Health Policy to:

Senator Sherrod Brown, D-OH
Senator Amy Klobuchar, D-MN
Representative Fred Upton, R-MI
Representative Henry Waxman, D-CA
Senator Roger Wicker, R-MS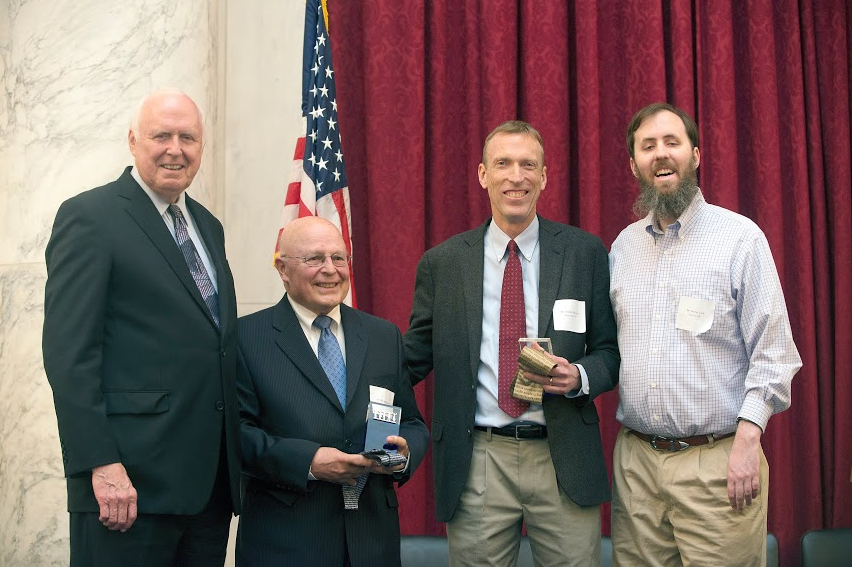 Lesli Rotenberg , General Manager of Children and Family Programming and Senior Vice President of Marketing and Communications at PBS, was a particularly gracious emcee, and community members Sarah Berman, Elizabeth Conte, Jeremy and Erica Kelly, Dr. Woodie Kessel, Larry and Hunter Lord, Dr. Richard Lymn, Teresa and Doug Schmertman, Todd Stone, Saurabh Rai and Marlo and Dr. Glenn Wiggans presented the awards.
For photos of the event, visit the MDF Facebook Page to see the conference photo album.
Grassroots Advocacy Training and Capitol Hill Visit
Advocacy was the theme of the conference and is some of the most critical work the MDF community is undertaking right now. The nation's capital provided the perfect backgrop for conference attendees to gain first-hand experience in advocating for Care and a Cure.
75 MDF community advocates attended a Friday morning briefing and then boarded buses to Capitol Hill to meet with Senators, Representatives and their staffs from more than 25 states. They educated congressional leadership and staffers about myotonic dystrophy and the importance of the MD-CARE Act, which was reauthorized just six days later !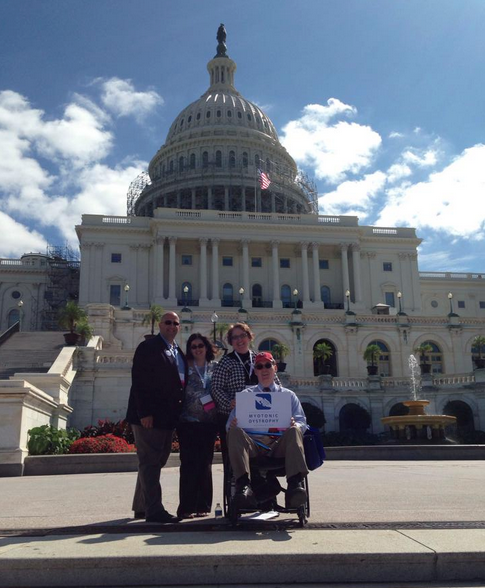 Friday afternoon Christopher Kush of Soapbox Consulting led an interactive, fun and informative general session on grassroots advocacy. He explained the role every MDF community member can play in influencing the way myotonic dystrophy and rare diseases are perceived, understood, funded and addressed by federal and state government. Community members joined him on the podium to share their stories, practicing for meetings with their state representatives in Hill meetings, and then participated in break out sessions on Saturday to hone their skills and draft letters to Congress supporting the MD-CARE Act.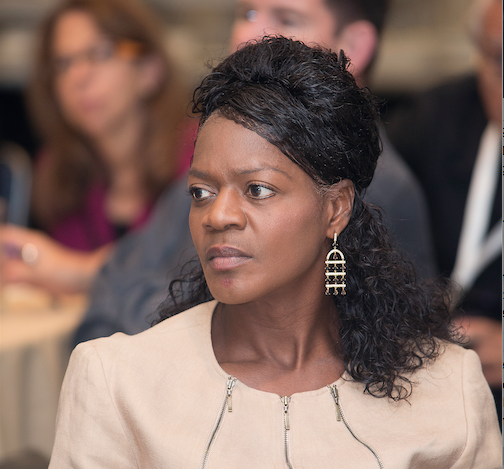 MDF Science Workshop
MDF hosted its first science workshop, including more than 50 senior representatives from industry, the National Institutes of Health, the U.S. Food and Drug Administration, and the academic research community in a discussion entitled Measuring Drug Effects in Clinical Trials: Endpoints and Biomarkers. The workshop, the first of its kind in the US, featured opening remarks from Dr. Alan Guttmacher, Director of the National Institute for Child Health and Human Development at the NIH, and formerly of the Human Genome Project, followed by presentations from Drs. Chad Heatwole, Andy Berglund, Eric Wang, Tom Cooper, Charles Thornton, John Day , Peg Nopoulos , Richard Moxley, Darren Monckton and Gordon Tomaselli.
Dr. John Day and Dr. Charles Thornton then led a robust discussion of the status of current and potential biomarkers, endpoints, and their clinical validation, and what additional work needed to be done to facilitate the clinical trial and drug approval processes. MDF will publish a summary paper on the workshop this Fall.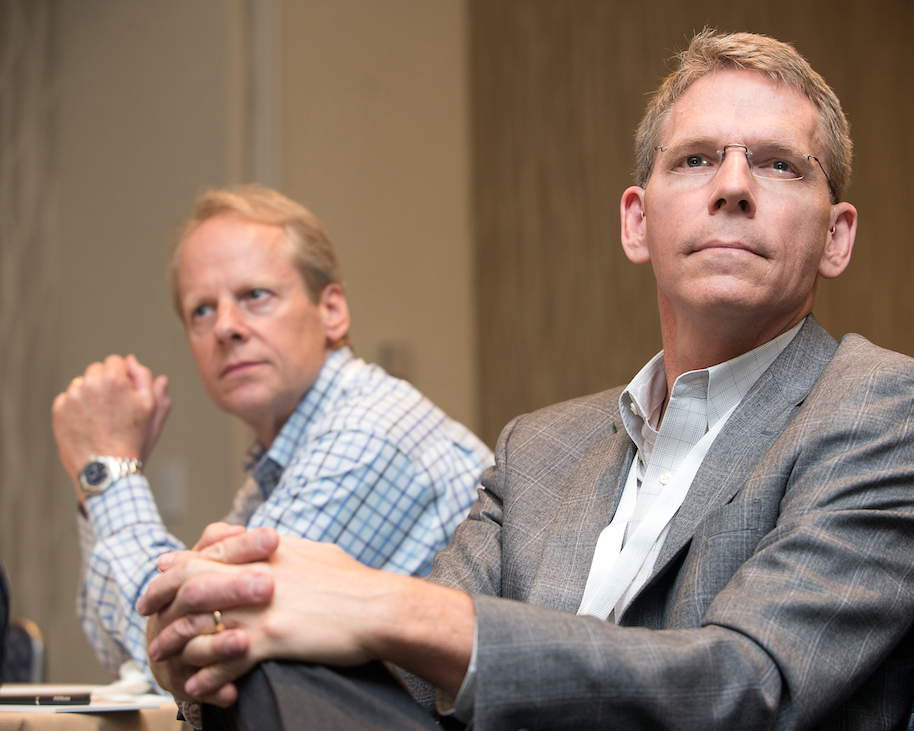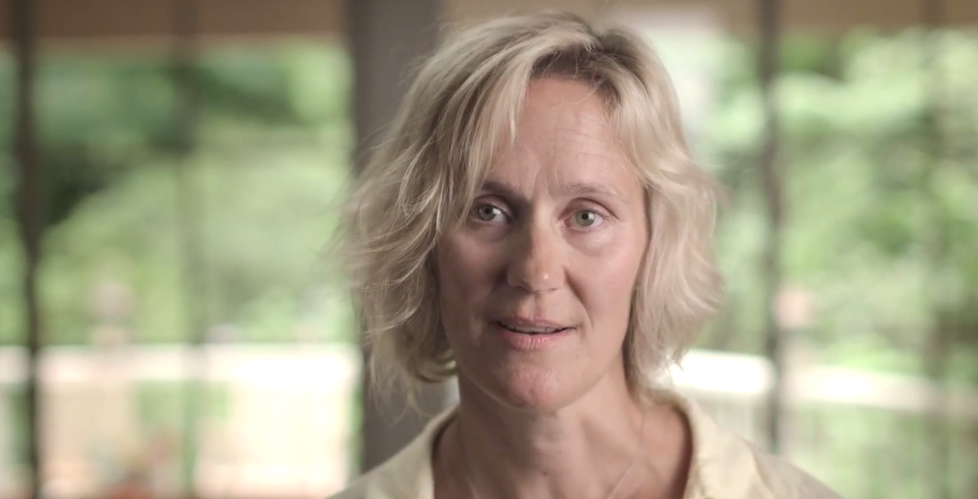 New Video! Living with DM: The Community Speaks
The conference opened with a new video featuring MDF community members providing moving perspectives of the DM journey and a call to action to help drive Care and a Cure. Click here to watch the 5-minute video.
Keynote Address from Acting US Surgeon General
RADM Boris Lushniak, MD,MPH Acting United States Surgeon General and the 'Nation's Doctor,' opened the conference with an inspirational overview of the importance and specific roles of advocacy, education, research and clinical care in helping improve the quality of life of families living with this disease and driving efforts toward treatments and a cure. He acknowledged the importance of hope and the importance of the current DM journey, and welcomed the community to Washington, DC.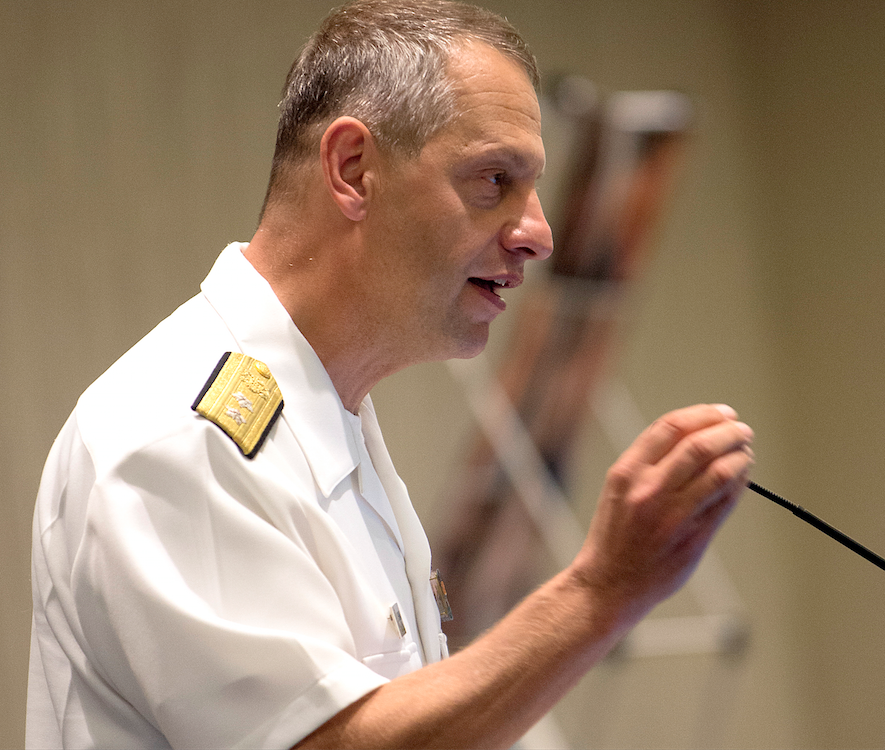 All New Community-Led Breakout Sessions
Leslie Krongold, EdD , MDF Outreach Director, worked with 22 community members from across North America to design and deliver a completely new series of breakout sessions designed to deliver advice from affected families to affected families on programs and strategies for managing DM and improving quality of life. Sessions such as Food Prep for Dysphagia, Maintaining Independence, Traveling with DM, and DM2: Focus on Pain Management were part of a nine-session series of discussions from informed and experienced community members to others looking for options and strategies. Videos with Powerpoint presentations of each of the Community-Led Sessions will be available on the MDF Digital Academy.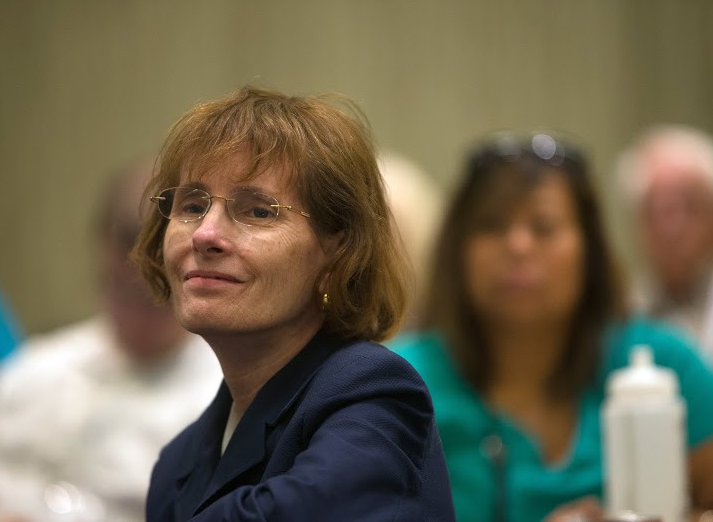 New Breakout Sessions on Vision and Emotional Health
Clinicians and researchers from Stanford University, Washington, DC, University of Iowa and University of Sherbrooke offered outstanding breakout sessions on DM and Emotional Health: Depression and Anxiety, Vision and Eye Health and a best-in-class GI Health session. Visit the MDF Digital Academy to view videos of these sessions, or the 2014 MDF Annual Conference agenda to view and download the PowerPoint presentations.
Expanded Juvenile Onset Adult Ambassadors Track
The JOA Ambassadors track included session break outs by age group, as well as a shared session for JOAs and their caregivers. Generous support from the Cohen Family Trust and AHLIFE (A Healthy Life for Everyone) again provided partial travel scholarships in support of JOA attendance.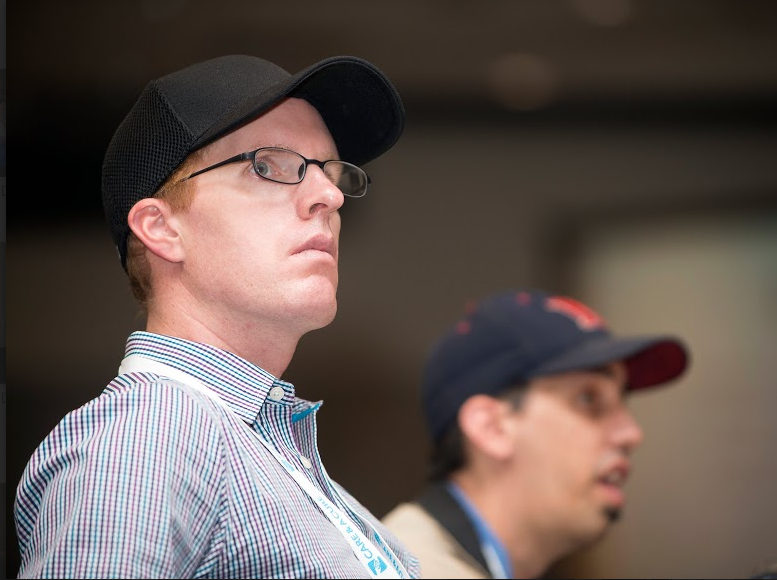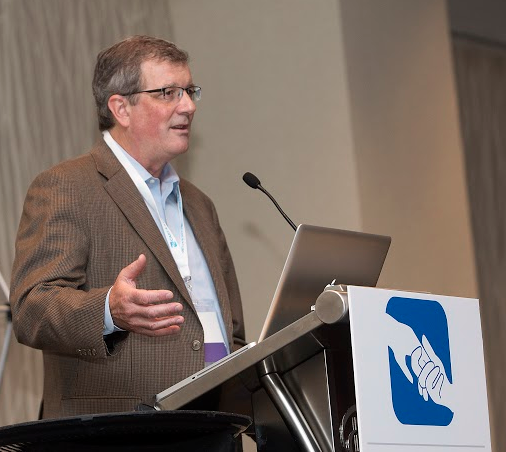 Other Conference Programs
An Isis Pharmaceuticals clinical trial update from Dr. Frank Bennett, a preconference adaptive yoga session led by Dr. Ariele Foster, a networking lunch organized by table topics, support group and TeamMDF volunteer meetings, a Kostume Karaoke party and trivia contest at Friday night's reception and a Twilight Monuments Bus Tour rounded out the action-packed conference weekend.
MDF Announces 2015 MDF Annual Conference Location!
To expedite our advocacy agenda and further build on our community's success in advocating for the recent reauthorization of the MD-CARE Act , MDF will return to Washington, DC, from September 18-19, 2015, for the 2015 MDF Annual Conference. This conference will be held in conjunction with a joint FDA/NIH workshop that we will be hosting. Watch for updates in the coming months. We hope to see you there!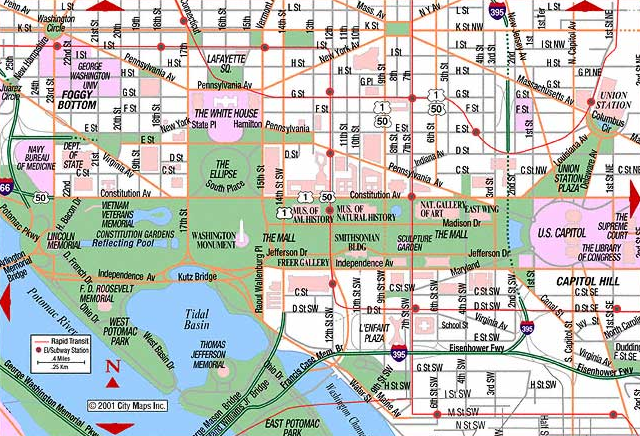 09/26/2014