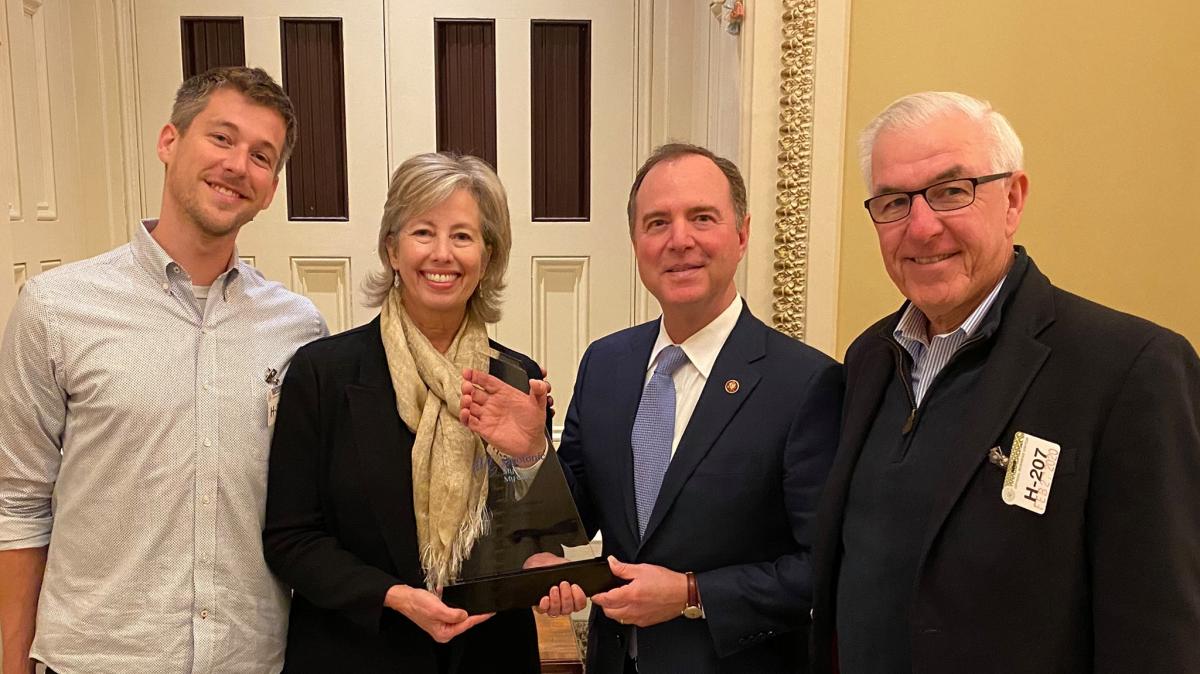 2020 MDF Congressional Leadership Award – Rep. Adam Schiff
On Thursday, February 27th, in the U.S. Capitol building in Washington, D.C., Martha Brown, the MDF Board Vice Chair, and members of her family, presented the 2020 MDF Congressional Leadership Award to California Congressman Adam Schiff. Congressman Schiff, who serves on the House Armed Services Committee, has been an early supporter of our efforts to add myotonic dystrophy to the Department of Defense Peer Reviewed Medical Research Program (PRMRP) as well as his work securing a visa for Dr. Tahereh Kamali that enabled her begin a three year fellowship at the Stanford University School of Medicine focused on myotonic dystrophy. Dr. Kamali is now hard at work focusing on the central nervous system implications of this disease. 
Congressman Schiff was honored to receive our highest advocacy award and remains committed to our work to improve care and find a cure for myotonic dystrophy. Over the past four years, MDF has grown the number of Senator and Representatives who are committed to our mission. During this period of time we have presented the Congressional Leadership Award to Senators Dianne Feinstein of California and Dick Durbin of Illinois as well as Representative Rosa DeLauro from Connecticut. 
Updates on the Peer Reviewed Research Program (PRMRP)
Congress launched the Congressionally Directed Medical Research Programs (CDMRP), which includes the PRMRP, in 1992. Myotonic dystrophy research was deemed eligible for federal funding through the program as part of the fiscal year 2018 budget. This success was the result of hundreds of grassroots advocates contacting their Senators and Representatives as well as many in-person meetings in Washington, D.C. Over the past three years, myotonic dystrophy research projects have been awarded over $6 million in new funding. These new projects are advancing our knowledge of the causes of myotonic dystrophy and are advancing the science that will lead to treatments and a cure.
In February, as part of Rare Disease Week, MDF launched a nationwide grassroots advocacy campaign urging Congress to continue to support myotonic dystrophy research as part of the PRMRP. Many individuals, friends and families sent emails and made calls to their Representatives and Senators to increase awareness of myotonic dystrophy and urge their support. This also included a call to action for more support for biomedical research funding supported with federal dollars from the National Institutes of Health.
As community members across the country were sending messages of support to Congress, MDF volunteers and staff were in Washington, D.C. meeting in person with Members of Congress and their staff to deliver the same call to action. We met with congressional staff from both sides of the aisle to press for support. We received numerous commitments of encourage and support from congressional staff including from Senators Feinstein and Durbin.
With the Trump Administration and Congress appropriately focused on efforts to help people through the COVID-19 pandemic, we will continue to closely monitor the congressional budget process and will provide regular updates.  We will also be inviting our advocates to contact their Representatives and Senators in late spring to remind them about our research funding priorities. 
With your continued effort, we can help fund millions of dollars in new myotonic research. Making a difference can be as easy as an email!