Dear Friends and Family of the Myotonic Dystrophy Foundation,
I hope this message finds you all healthy and strong. Our team is hard at work curating an exciting virtual conference and gala and we hope you will join both special events. Many thanks to all who participated in the mid-year survey designed to help shape those events and to assess our new brand logo, colors, and name.
As most of you know, over the last two years, the Myotonic Dystrophy Foundation has worked with focus groups and branding agencies to develop a fresh new look designed to eliminate any confusion between us and other rare disease organizations, as well as to increase recognition of our disease. The results of the branding initiative were unveiled at the 2019 family conference in Philadelphia and ultimately led to the adoption of a new logo, color palette, and shorter name (simply "Myotonic").
A single donor funded this branding endeavor from the belief that a well-differentiated, strong nonprofit brand helps strategically advance its mission and multiply impact. As a result of this generosity, no funds were diverted from other areas of the organization and no projects were paused or canceled due to the branding initiative.
Over the last six months, I have had the privilege of speaking with hundreds of stakeholders throughout the DM ecosystem. I met with individuals and families living with DM (both newly diagnosed and those who have been with us since our inception), researchers, academic partners, industry professionals, support group facilitators, donors, clinicians, vendors, and others. Through these discussions, a clear pattern emerged that the adoption of the shortened name "Myotonic" was not having the positive impact intended, so I felt it was important to gather more feedback and ask the entire community their perspective.
In May, we launched a community-wide online survey, inviting thousands of people to participate and weigh in. While the survey results exhibited a clear preference for the new colors and new logo, they also revealed a strong preference to return to our original name: Myotonic Dystrophy Foundation.
In collaboration with our Board of Directors, it is my pleasure to announce that effective immediately we are returning to our original name: Myotonic Dystrophy Foundation. As such, we have incorporated our name into our existing logo, as seen here: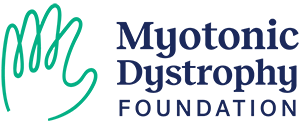 Thank you all for believing in the work of the Myotonic Dystrophy Foundation, promoting our mission of Care and a Cure, and helping us identify when a change is needed. We heard you.

Tanya Stevenson, EdD, MPH
Chief Executive Officer
Myotonic Dystrophy Foundation