2019 MDF (Myotonic) Annual Conference
Loews Philadelphia Hotel, Philadelphia, PA.
September 13 - 14, 2019
---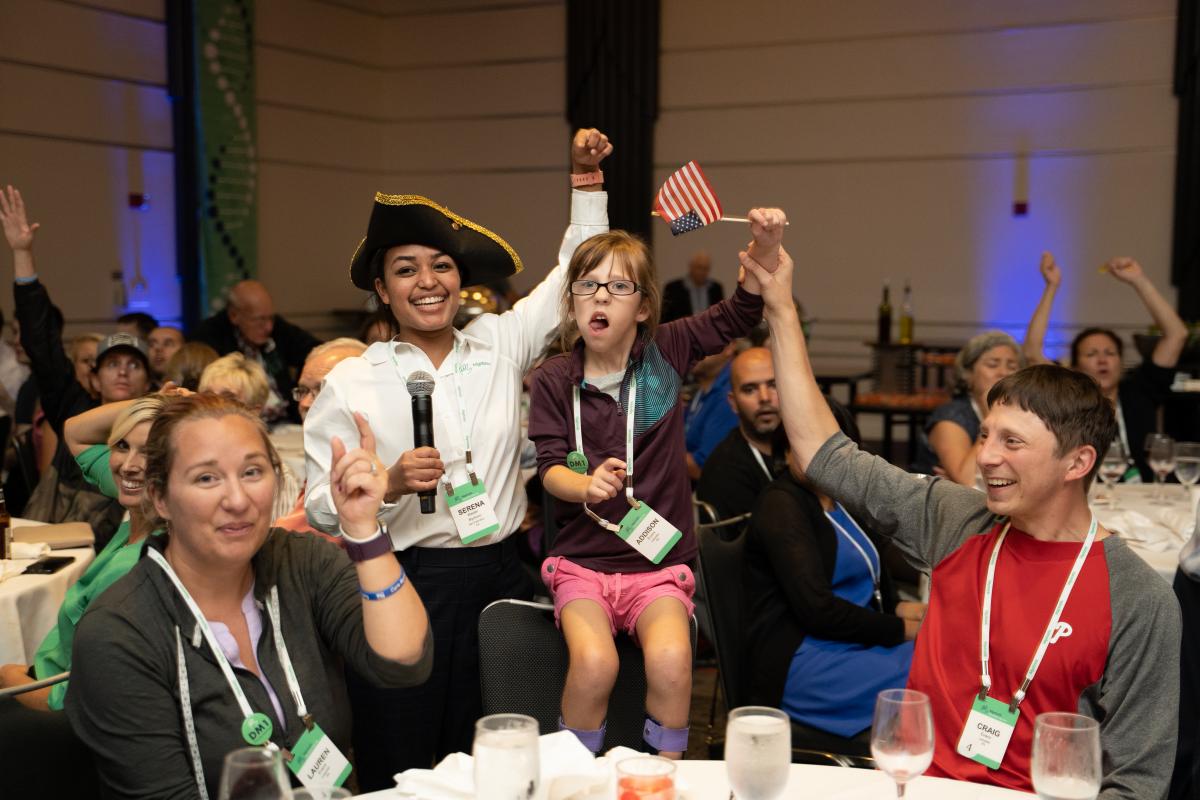 2019 Annual Conference is Our Biggest and Best Yet!
It's a wrap! The 2019 MDF (Myotonic) Annual Conference took place Friday, September 13th through Saturday September 14th, 2019 in Philadelphia, PA at the Loews Philadelphia Hotel. 450 attendees, including almost 300 family members and caregivers attended to learn, connect and improve their quality of life.
A Robust Agenda of Networking, Learning and Fun
This year's community track featured networking, symptom management and research update sessions, and a patient report-out on living with DM over age 50. Over 70 Conference first-timers from across the country attended the First Timers' Tea and connected with fellow first timers, board members and support group facilitators. Tim Haylon and Kayla Vittek were honored through the presentation of the Kayla Vittek Memorial Award for Outstanding Community Advocate. We launched the new Myotonic brand and showed off the new 'Myotonic Green' on Conference t-shirts, bags and more. Conference attendees hung out with Lily the comfort dog and took photos at the #MyotonicStrong wall.
Passport Challenge Awarded Three Free Trips to the 2020 Conference!
Many of you participated in the first-ever Passport contest, and three lucky winners, Alan Layman, Diane Casella, and Trish Haylon won free 2020 conference registration and free round-trip airfare, courtesy of MDF!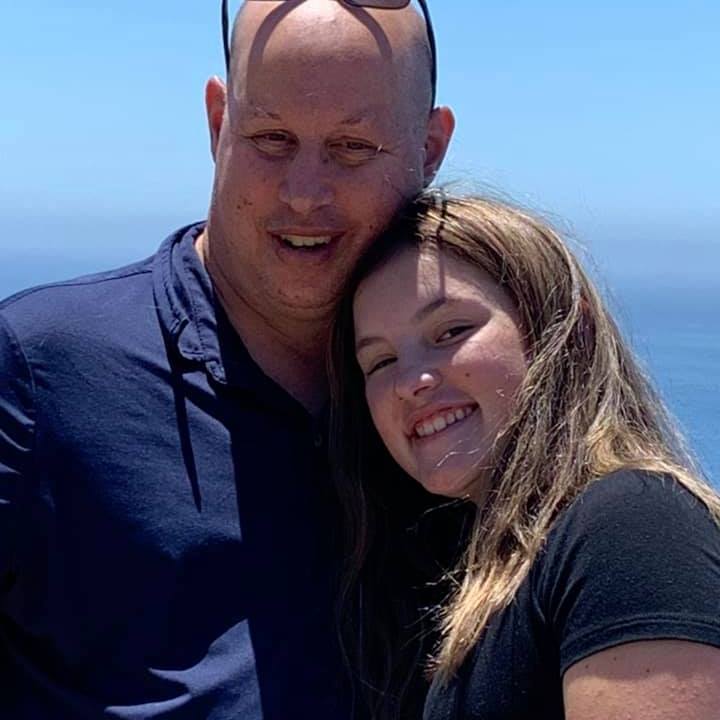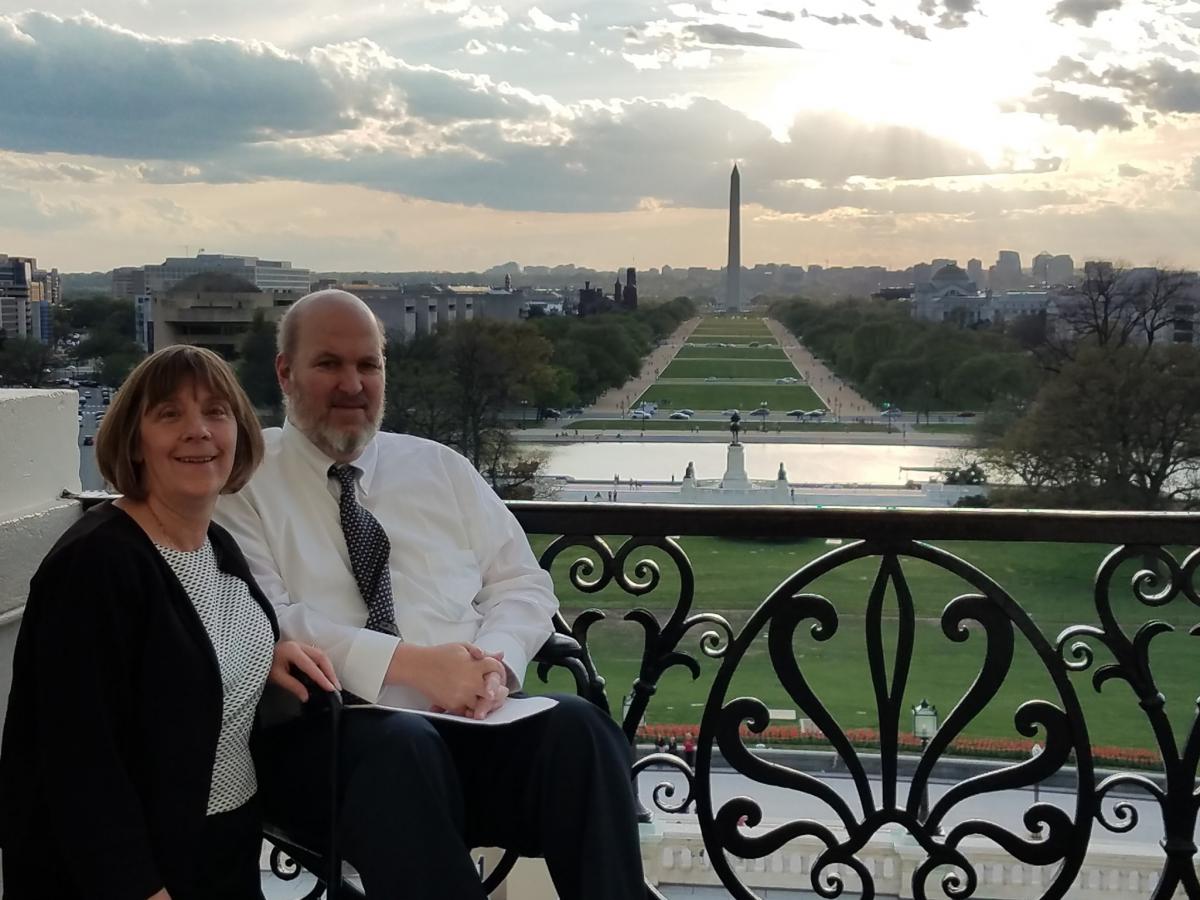 Two Days of Professional Sessions to Accelerate the Search for Therapies
MDF also presented a full-day, pre-conference workshop on developing clinical trial outcome measures for brain-targeting DM therapies. Many drug development companies have approached MDF because they believe their therapies could reach and treat brain symptoms, but more tools and information are needed to get these therapies into trials. We've started that process with this workshop, and plan to deliver follow up and additional sessions to keep this work moving forward. Over 130 professionals from around the world attended and participated in the Thursday, September 12th CNS outcome measurese development session.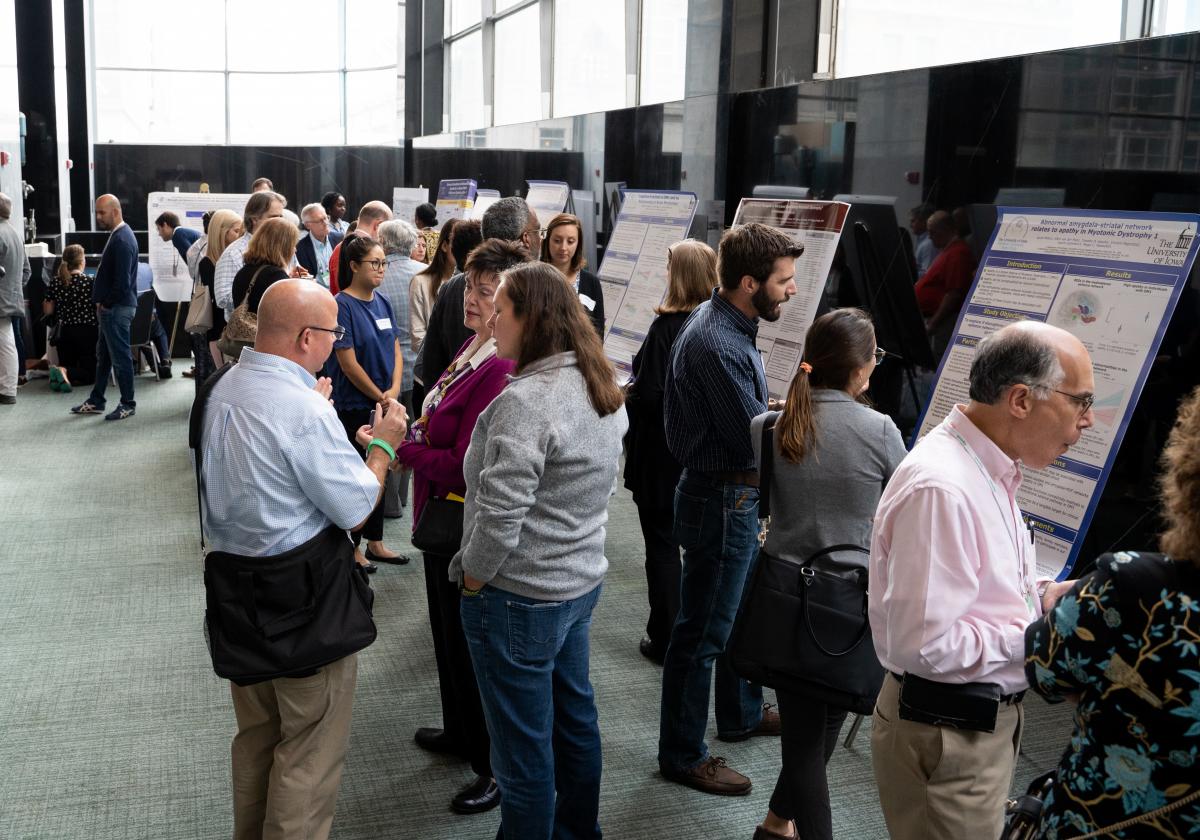 The CNS outcomes measures development workshop was followed by our largest-ever professional track. More than 160 academic and drug development professionals, venture capital representatives and financial analysts attended the Friday, September 13th full-day professional track. Presentations and discussion covered the status of biomarkers, animal models, current research and drug development on DM2, the myriad approaches being used to drive therapy development, from small molecule to antisense oligoneucleotides and gene editing, and more. Industry members took advantage of significant networking opportunities to make connections with other colleagues and leaders in academia. Post-conference survey results showed two thumbs up for the program and speakers, and 100% commitment to recommending and attending next year's conference.
And Finally – The Party!
We closed the weekend with our annual dinner-dance party, which included our first-ever trivia contest and fun swag prizes, great food and a really vibrant group of community members and professionals. It was our biggest and best conference yet, and we plan to keep the momentum going in 2020!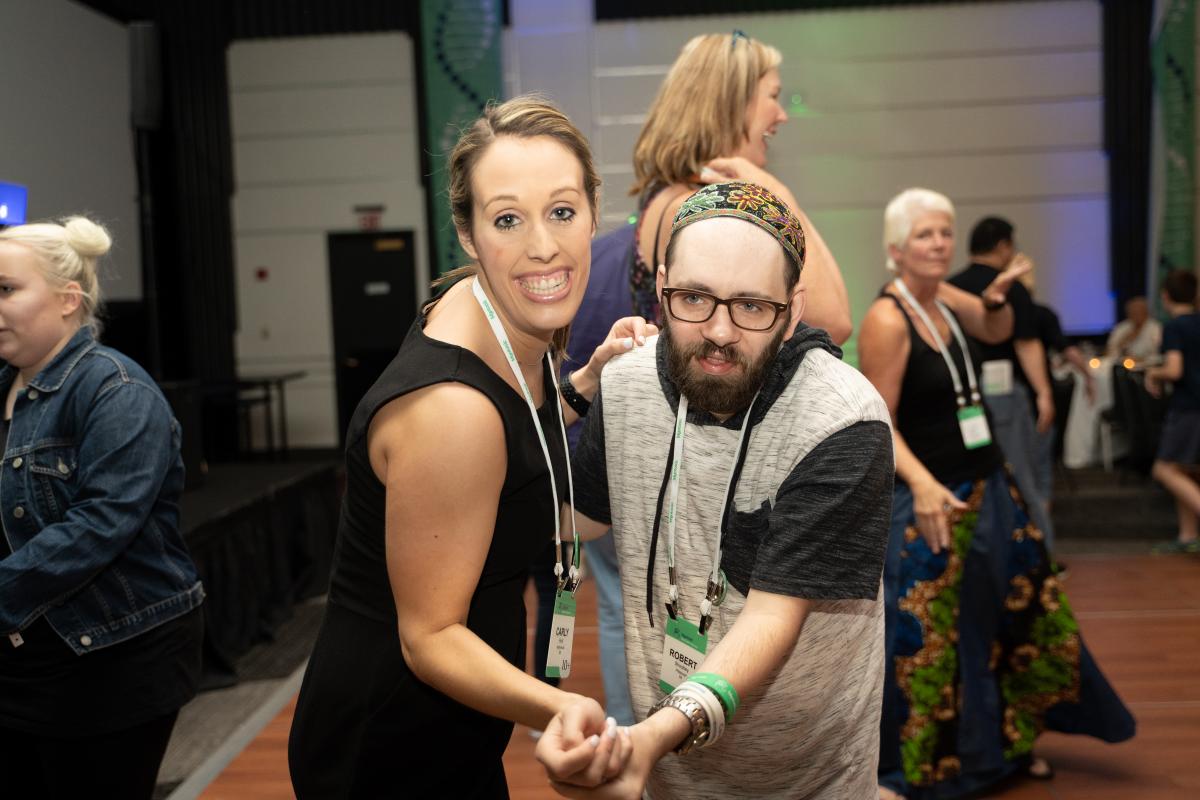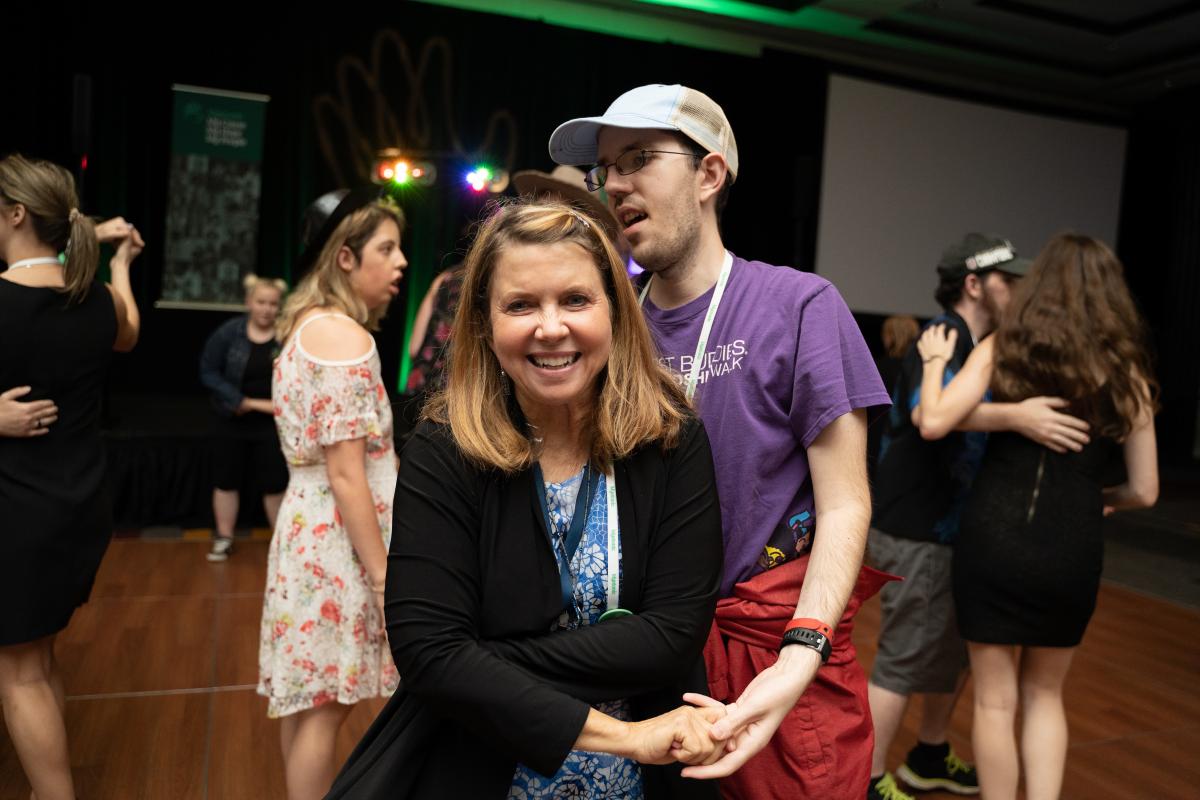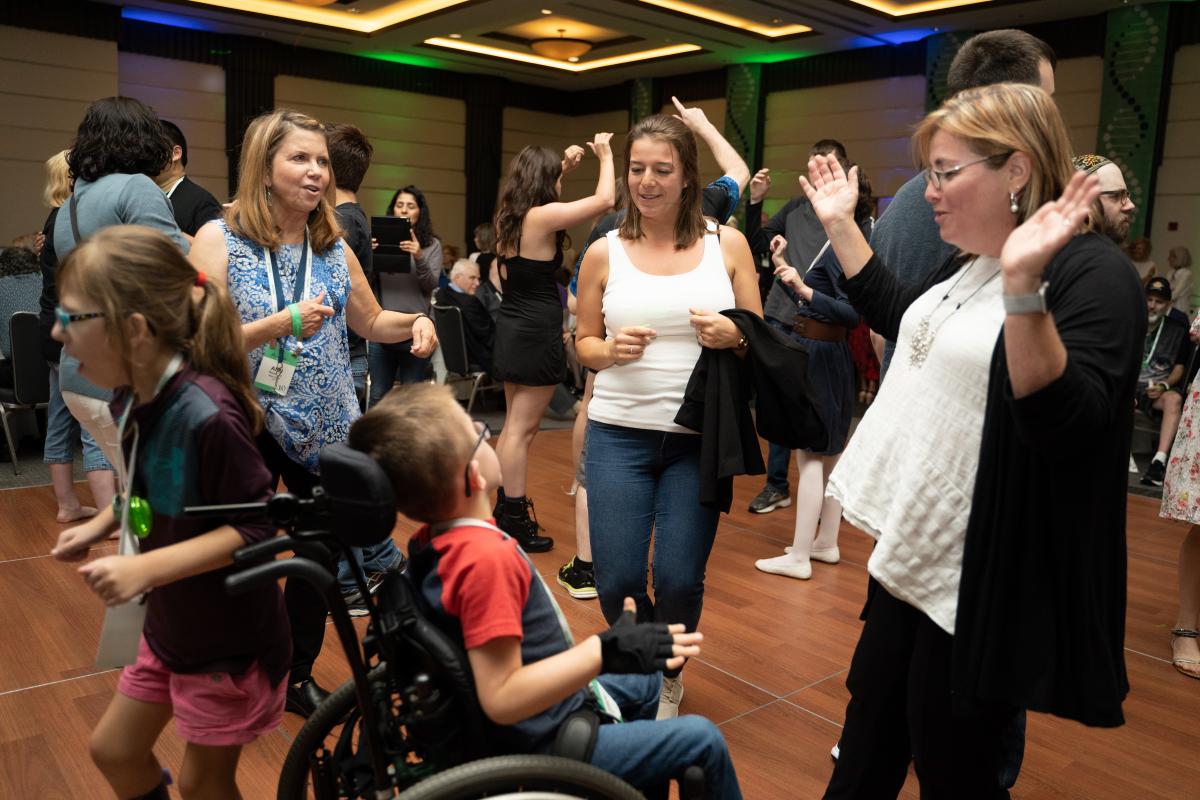 Mark Your Calendars for 2020!
Mark your calendars for September 11th -12th and for the 2020 MDF Annual Conference in San Diego at Paradise Point! Watch the Dispatch for more information about next year's Conference in the coming months.
View Presentations and Videos from 2019 Myotonic Annual Conference Sessions
Friday, September 13, 2019
Going to School with Myotonic Dystrophy: Understanding Special Education & I.D.E.A.
Presented by Kathy Boundy, JD & Sarah Stoney, MSW, LSW
Listen to a panel of parents and an expert discuss I.D.E.A., U.S. legislation directing special education programs, and how to navigate transitions through school for children with myotonic dystrophy.
View differences between IEPs and 504. Read the sample CHOP letter. Check out other important resources.
Emergency Preparedness
Presented by Darlene Shelton
Learn how you can successfully manage medical emergencies. The speaker is the founder of an alliance focused on emergency preparedness for rare diseases and will share great information about emergency protocols for those with special needs.
Handout coming soon!
DM101: Understanding the Disease Basics
Presented by Lauren Elman, MD
A session for first-time attendees and those interested in a refresher on DM genetics, symptom burden and disease management strategies.
View the presentation.
Myotonic Dystrophy & the World of Work
Presented by Michele Boardman, MA, CPWIC, CESP, LPC
An employment expert will review strategies, tips and information on how to navigate the employment process while living with myotonic dystrophy, including job searching, resume building, interviewing and more.
View the presentation.
Grassroots Advocacy-MDF Needs You!
Presented by Jenn M. Dale, MA
Join MDF's public policy consultant and advocacy expert to learn how you can educate your members of Congress about myotonic dystrophy and advocate for important research and care legislation.
View the presentation.
DM Genetics & Family Planning
Presented by Darren Monckton, PhD and Tanya Bardakjian, MS
Experts in DM genetics will discuss family planning and myotonic dystrophy, including the specifics of the genetic mutation, and practical considerations for affected community members considering starting a family.
View Ms. Bardakjian's presentation.
Saturday, September 14, 2019
Financial Planning & DM
Presented by Pat Bergmaier, CFP®, ChSNC
This session reviews financial planning including government benefits, special needs trusts and wills, social security, and more.
Watch the video. View the presentation.
DM Behavioral & Mental Health: Understanding Symptoms & Management Strategies
Presented by Melissa Dixon, PhD, MS
This discussion will focus on mental health challenges and symptoms sometimes experienced by people living with DM, and strategies for coping with everything from depression to anxiety and 'brain fog'.
View the presentation.
Palliative Care: Improving Quality of Life at Every Stage
Presented by Cynthia Clyburn, MSW
Learn more about the importance of palliative care in managing myotonic dystrophy, including symptom management strategies that will help those living with DM improve their quality of life now.
View the presentation.
Pain & DM2: Updated Information on Symptoms & Coping Strategies
Presented by Doris Leung, MD, PhD
Come to this session to understand the science of pain in DM2 and learn strategies to successfully manage it. This session is recommended specifically for anyone diagnosed with DM2 and their caregivers.
View the presentation.
Creating Your Clinical Care Team
Presented by Jacinda Sampson, MD, PhD
Learn about the importance of, and strategies for, creating the right medical team for your or a family members' optimal myotonic dystrophy care.
View the presentation.
Exercise, Nutrition & Speech
Presented by Katy Eichinger, PhD, DPT, Leslie Vnenchak, MA, CCC-SLP, and Robin Meyers, RD, MPH, LDN
This rehabilitation panel reviews current research and strategies for managing DM symptoms through exercise, speech and nutrition.
Watch the video. View the Exercise presentation. View the Nutrition presentation. View the Speech presentation.
DM2: Updates on Research and Symptom Management
Presented by Johanna Hamel, MD and Allison Formal, MBA
Come hear about the latest updates in research for DM2 from a top DM2 clinician and researcher in the field.
View Dr. Hamel's presentation. View Ms. Formal's presentation.
DM and Sleep: What's New, What Works
Presented by John Day, MD, PhD
Learn about current research and management strategies regarding myotonic dystrophy sleep issues, including disregulated sleep patterns and excessive daytime sleepiness.
View the presentation.
Heart Health: Understanding DM Cardiac Symptoms
Presented by Saman Nazarian, MD, PhD
This session will explains how DM may impact your heart, and gives an overview of the cardiac electrical system, common symptoms associated with conduction problems, and preventative measures.
Watch the video. View the presentation.
Patients Report Out: Living with DM Over 50
Moderated by Laurie Gutmann, MD, University of Iowa
This interactive panel session will be similar in format to the Living with DM: Patient Report on Changes Over Time that was presented at the 2018 MDF Annual Conference. Panelists will discuss the disease symptom changes they have experienced living with myotonic dystrophy, followed by facilitated audience participation. This session will help researchers and drug developers understand disease changes and progression from the perspective of over-50 individuals living with DM and their families.
Watch the video.
Industry Updates & Q&A
Representatives from biotech and pharma companies will provide updates on their drug development efforts in the DM field, including companies new to the MDF Annual Conference. The industry updates are followed by the Q&A session where questions submitted throughout the conference are answered by a panel of DM Professionals.
Date(s):
Friday, September 13, 2019

to

Saturday, September 14, 2019